Canada's Rogers network counting down to its own Galaxy S III preorders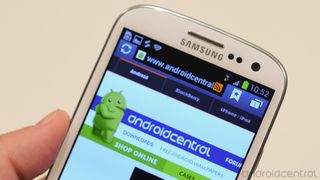 A countdown related to the Samsung Galaxy S III has appeared on Canadian carrier Rogers website, which ends at noon EDT, so it looks like we'll see preorders start today. We already knew that Rogers was going to carry the Galaxy S III, as well as a majority of the Canadian carriers. We've seen evidence that the phone will be released on June 20 in Canada, and this is just one more indication that this may hold true. There's no official word on specs or what proc is inside, but it's a pretty safe bet that the LTE flavored Galaxy S III will have the Qualcomm Snapdragon S4 inside due to LTE compatibility problems with current quad-core chips.
Source: Rogers
Here's the listing for the major Canadian carriers. All LTE & dual-core. http://www.bestbuy.ca/Search/SearchResults.aspx?path=ca77b9b4beca91fe414...

Seems like when you click on a specific phone, the link is no longer available.. anyone else getting this?

Yeah, they took it down now. I checked Bell, Telus, and Rogers and they were all dual-core and LTE. Should have taken a screen shot. :(

I can't decide which colour I want. I would normally take the blue however the blue looks more purple than anything. Does it look purple when you have it in front of you or only in pictures?

I thought I read it was a deep blue. Cause I thought it looked more purple too.

go check out the myriad unboxing videos on youtube for both versions for a better idea of how they look. The blue is actually very dark--looks almost black it seems. The pics make it look awful.

Alright, will do, thanks!

How much of a performance difference do you think there will be between the dual core and quad core versions of the phone???

U know guys id give up the LTE if they would leave the us version quad core... im thinking that it would be an even trade...i wish when i bought my note that i got the euro version ,its just something about quad core lol
Android Central Newsletter
Get the best of Android Central in in your inbox, every day!
Thank you for signing up to Android Central. You will receive a verification email shortly.
There was a problem. Please refresh the page and try again.