Our readers aren't too happy about the Galaxy S22 Ultra's rumored specs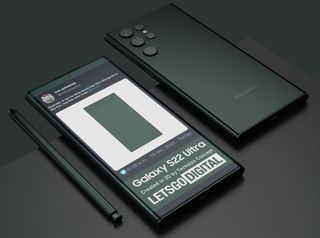 (Image credit: LetsGoDigital)
What you need to know
We asked our readers what they thought of the rumored Galaxy S22 Ultra configurations.
More than 50% said they prefer that Samsung keeps the same (or higher) RAM configurations as the S21 Ultra.
36% say they don't mind but would like more storage or a lowered price to make up for it.
Samsung's Galaxy Unpacked event is less than two weeks away, and we're expecting the company to launch its next exciting flagship lineup. We expect some big changes for the Galaxy S22 series, including an S Pen-touting S22 Ultra that will succeed the Galaxy Note series. However, with rumors circulating that the S22 Ultra specs will include lower RAM configurations than last year's Ultra, we asked our readers if they'd mind that Samsung may lower the memory.
Out of more than 1100 votes, 54% said they would prefer that Samsung keep the same RAM configurations as last year or increase it. Additionally, 36% say that the 8GB base RAM is fine, but that Samsung should offset the downgrade by lowering the cost of the phone or at least increasing the base storage. Only 8% say they're okay with the rumored base RAM.
One reader, Steelatx, isn't too happy given the compromises Samsung has made with recent flagships:
Another reader makes the arguement that Samsung could launch the S22 Ultra with faster RAM, which could make it better, despite there being less of it:
Others agree that 8GB is sufficient but still think Samsung is making too many compromises with their phones by removing other features:
After the decisions made that diverted from the S10+, not a huge fan. 8GB is sufficient, 12GB is ideal going forward. MicroSD slot is a must! Pricing is not justified.After the decisions made that diverted from the S10+, not a huge fan. 8GB is sufficient, 12GB is ideal going forward. MicroSD slot is a must! Pricing is not justified.— digitalhomeboy (@digitalhomeboy) January 27, 2022January 27, 2022
With Galaxy Unpacked happening on February 9, there's not much time before we get the complete picture of what Samsung is launching to compete with the best Android phones of 2022.
Derrek is a long-time Nokia and LG fanboy who loves astronomy, videography, and sci-fi movies. When he's not working, he's most likely working out or smoldering at the camera.
Yep, sticking with my s20 with the sd slot.

Sticking with my S10e with SD slot *and* headphone jack.

Guess you'll never upgrade your phone ever again. Sticking with an old phone forever because it has a feature you can replicate by buying higher storage doesn't make much sense.

Rumours are worthless, wait to be disappointed until there's something to be disappointed about.

Wanted to upgrade this round from my S8+ but will not be. If Samsung ask why it is lack of SD card support. That simple.

Is the SD card support for your digital camera? I personally can't fill more than 512gb on my phones internal storage, and wireless transfer and USB-c are excellent for data transfers. I'd take waterproofing over a SD slot myself.

Doesn't have to be a choice. My Note 20 Ultra has an IP68 rating and an SD card slot.

Looks like this new Galaxy will be closer to the Surface Duo 2 in specs. I don't think higher end specs are currently necessary. Then again I kept my last phone for 6 years.

Faster RAM does NOTHING for Android. I think too many people still compare Android to Windows when it comes to RAM. Android does not use a swap file and therefore the speed of the RAM (which is always faster than standard storage) is irrelevant. The only tangible advantage of more RAM in Android is to be able to have more apps "open" or loaded into RAM for faster app switching. For the average person who may have only a few apps open/running (email, text, browser, etc., etc.) 8GB is more than enough. So then the average end user will see NO difference if the phone comes with 16GB of RAM. SD slots and storage capacity is a whole different beast altogether.

MST Payments are like the Blue vs. Green bubble thing. A USA only problem. Americans are annoyed at the wrong people. Be annoyed at your local shops for still not supporting NFC payments, not Samsung for continuing to support what is at the end of the day legacy tech. Insecure legacy tech too. Those MST based card swipe machines are a security risk. Here in The UK Samsung never even bothered to bring MST to The UK because NFC card machines were everywhere. Banks were very quick to upgrade terminals.

MicroSD isn't coming back, a shame agreed, but you'll just have to get used to it. And you will, when your phone eventually dies.

If they're lowering the RAM they should lower the price. Simple. But they won't for the same reason they intentionally removed staple features from the S21, so you pay more.

I like that neither this piece nor the poll mention the actual RAM amount in the S21 Ultra. It's like the setup to a psychological study. "54% of people think Samsung should stick with the amount of RAM in S22 Ultra as was in the S21 Ultra, but 40% of people didn't know how much RAM was in the S21 Ultra." Or "54% of people didn't think the RAM of the S22 Ultra should be lowered to 8GB from the S21 amount, but surprise, the S21 amount was also 8GB!"

My Note10+ is great, has the MicroSd slot (and is waterproof) getting rid of the MicroSd is only to sell more expensive base units at higher margins since Samsung is the one also making the RAM. I always bought their SD cards so they were getting my money one way or another. I've got about 700GB of music, games, pictures and videos, what am I going to do with a 256GB phone? I'd buy from another manufacturer before buying a Samsung without the MicroSd, then they get no money or profit.
Android Central Newsletter
Thank you for signing up to Android Central. You will receive a verification email shortly.
There was a problem. Please refresh the page and try again.