RCS gets a boost as US Galaxy S22 models set Google Messages as the default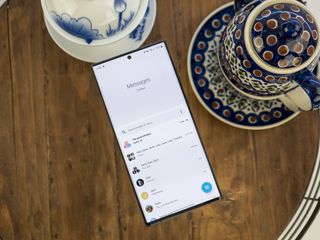 (Image credit: Nicholas Sutrich/Android Central)
What you need to know
Google Messages is the default messaging app for the Samsung Galaxy S22 series in the United States.
Last year, the Galaxy S21 series included Google Messages as the default service in Europe and regions.
Google Messages supports RCS messaging in addition to traditional SMS and MMS texting.
Google Messages isn't the first messaging app from Google, by a longshot, but it is the one that is gaining the most traction, and that is in large part to the implementation of RCS messaging. The good news is that starting with the Samsung Galaxy S22 series, Google Messages is the default messaging app in the United States. Alongside 9to5Google, we have confirmed that this is the case on our Galaxy S22 review samples.
In the US, all of the best Android smartphones are using Google Messages as the default — except Samsung. Though Samsungs own service supports RCS, it was at the mercy of the US carriers to allow it to operate properly. With last year's Galaxy S21 lineup, Samsung set Google Messages as the default in Europe and other regions outside of the US and at the same time pre-installed its own Samsung Messages.
Using RCS brings added security to mobile messaging, but it also offers a bunch of features like typing indicators, the ability to send larger files, read receipts, reactions, and more.
Image 1 of 3
As seen in the images above, Google Messages looks the same on the Google Pixel 6 Pro and the Galaxy Z Fold 3. However, looking at the image of the Galaxy S22 Ultra, it is quite different with flavors of Samsung's One UI 4. Whether this visual difference will make its way to other Samsung devices beyond the S21 and S22 is unclear, but the sentiment remains the same that Google Messages becoming more widely accessed.
That has good implications for RCS, which has been in public discourse lately due to Apple's lack of support for the growing standard. That said, major U.S. carriers have all announced Google Messages as the default on their newer Android phones in another major push for the service.
Bang for your buck
(opens in new tab)
Excellent for today and beyond
The Samsung Galaxy S22+ offers fantastic performance, top-of-the-line cameras, and a long-lasting battery. When the battery is low, top it off with 45W fast charging to keep on going without missing a beat.
Android Central Newsletter
Get instant access to breaking news, the hottest reviews, great deals and helpful tips
Chris Wedel is a fan of all things tech and gadgets. Living in rural Kansas with his wife and two young boys makes finding ways to get and stay online tricky. By utilizing his years of experience with the tech and mobile communications industries — success is assured. When not conquering connectivity challenges and testing new gadgets, he enjoys cruising a gravel road in his UTV with some good tunes.
Anyone else have the issue where the RCS message won't send because, and I quote, "waiting until online", even though I'm connected to AT&T or AT&T and Wi-Fi? The only "cure" I've found is to force quit the app and then reopen it (or to choose to send the message as SMS). And that doesn't even help when the person on the other end is "not online", even though they are online.

this has been an issue on Android since the 1st android. I don't understand why texting sms/mms etc is so broken on android. the only way to avoid it is use facebook messenger or other 3rd party apps. Sometimes it will tell you that it sent the message when it hasn't sent anything. messaging is the ONLY reason I have to use an iPhone as my main device and use the pixel as a toy phone.

I've had issues with RCS prior to getting my Pixel 6. I'd suddenly discover texts not going through and when I checked to see if RCS was enabled I'd see "waiting to connect" or " waiting to verify". It was frustrating to say the least and I'd have to shut RCS off. Since I got my 6 I haven't had an issue.

I have an S10, and I chose to switch to Google Messages once it added the delay-send option and once this very website said that Samsung was switching. It's been fine, other than the whole RCS issue. Oh, and Harry Mudd, awesome choice for an avatar.

So should you switch if you have an S20?

Doesn't Samsung messages already do RCS?

Yes. It said as much in the article.

Doesn't RCS have to be setup in Chat Features? How many people are gonna do that.

Is it the default messaging app on the Galaxy Tab S8 Series as well? The Google Messages tablet app needs help. Why does it have to connect with my phone constantly on the foreground and not connect to my phone in the background for a more seamless connection experience? Why is it when I wish to share a link, the Google Messages app is not an option and/or the link disappears when the Google Messages app loads? Why I cannot select GiFs from the Google Gboard app and insert them in a message conversation? I need for Google to take their Android apps on tablets seriously. Why would developers take Android tablets seriously and produce quality apps if Google doesn't do the same? I almost wish Samsung developed Android because Google treats Android like it is an ongoing experiment.

Couldn't have said it better. Google does the bare minimum for Android. Under Samsung Android would be a beast.

I think Apple has 100% market share at my training center. Even the 12 year olds have iphones. There was a 28 person group text during an event for our sport and everyone was a blue bubble. Iphone usage very high here. People don't even know what RCS is, or that it even exists. I think its been a couple of years since I've seen an android phone in the facility... maybe 2018 or so. I was the last person. With one (when I switched to the Note 9), and I went back to the iPhone a year later (only use the Note as a SIM-less tripod camera, now). RCS needed a ridiculous marketing push years ago, and not just on tech blogs. My note does rcs and the Samsung messages app is a lot better than Google Messages. We send a lot of video and stuff (training footage, etc.) So I have to be on iPhone otherwise I'm just constantly shuffling things via cloud storage. Not convenient.

That is some weird fake news there? Samsung did not replace their messages app with Google Messages on my EU S21 Ultra. It wasn't even preinstalled.

Something like this was also announced for the S21 series but it ended up only be for certain countries. I was bummed but also glad. The many times I tried Google messages, it would be okay but then stop working. Messages would not send. Messages would be missing. I love Google and what their vision is but all these years later and they still have a big mess on their hands. That's one of the biggest reason I haven't gotten a pixel. But subconsciously I think I haven't gotten the pixel because I don't like how it behaves or how the UI looks. I hate that Samsung has so many preinstalled system apps that can't be uninstalled. But I love all their features and functionality they bring. Good lock is a godsend. So much more customizability. I've enabled gestures. To get rid of the bottom keys. But I use one hand operation+ to control everything from the left and right sides of the phone because it's easier to reach then pull from the bottom of my 6.7in phone. Bless Google for trying. But they need to be a little more organized and have better thought out intergation and product launches. The Pixel 6 series was their first major step. But their still about 80 steps behind on everything they do as a whole.
Android Central Newsletter
Get instant access to breaking news, the hottest reviews, great deals and helpful tips
Thank you for signing up to Android Central. You will receive a verification email shortly.
There was a problem. Please refresh the page and try again.