Raspberry Pi's fifth birthday surprise is a Wi-Fi enabled Zero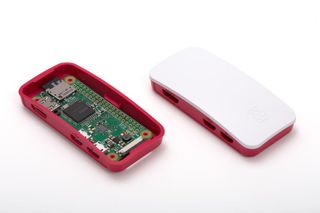 It's the fifth birthday of everyone's favorite little circuit board computer and as a special surprise there's a new Raspberry Pi Zero in town. The price has gone up, a little, but it's adding two very important pieces of hardware to the board: Wi-Fi and Bluetooth.
The Raspberry Pi Zero W now has a base price of $10, which is still crazily cheap, but it also negates the need to have external accessories for connectivity. Without needing to plug in a Wi-Fi or Ethernet dongle, you also have a much neater option for building your projects, like an OSMC powered Kodi box. It uses the same chip as the larger Raspberry Pi 3 for Wi-Fi and Bluetooth, which means 802.11n and Bluetooth 4.0 in a much smaller package.
Everything else remains the same, but these seemingly simple additions make a world of difference to making use of the Pi Zero. They're already selling like hotcakes, with one UK retailer shipping 1,000 units in the first few hours of availability. So if you want one you'll have to act fast or be prepared to wait it out a little. We've managed to get an order in already and we're looking forward to checking out what a wireless Pi Zero is like to use.
Also new with the Pi Zero W is an official case from Raspberry Pi. It's similar in style to the official Raspberry Pi 3 case, only much smaller, of course. The top lid comes away exposing access to the inside, you've full access to the GPIO pins and there's even a camera mount and lens hole built right in. Very neat!
Android Central Newsletter
Get instant access to breaking news, the hottest reviews, great deals and helpful tips
Nice, BT built in is very convenient for me and worth grabbing one of these for it.

Adafruit is out of stock. Canakit can't handle the traffic this morning. Micro Center is out of stock. Why can't they just let Amazon officially sell and ship these!?

RPI4 please - 2Ghz 64 bit 2gb ram and some other fun stuff

Not sure on the specific specs, but I hope a Pi4 is in the works. Personally, I'd hope it would run the full Windows on Arm that we've seen hints of.

Not paying $10 to ship a $10 product

Yeah, they are making up good money there. It would cost like $2 to send this in a padded envelope.

The case sounds nice. But, would be nicer if the camera lid thing could accommodate IR lights.
Android Central Newsletter
Get instant access to breaking news, the hottest reviews, great deals and helpful tips
Thank you for signing up to Android Central. You will receive a verification email shortly.
There was a problem. Please refresh the page and try again.