Quick comparison: Droid Turbo 2 versus original Droid Turbo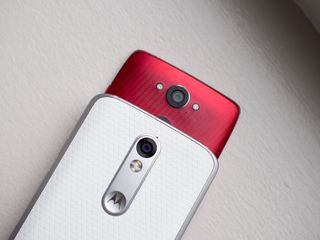 Droids are an odd line of phones, as they don't progress in design or features from one year to the next as much as they are each independent devices based on another phone model from that year. The original Droid Turbo was an odd take on the Moto X 2014, and now the Droid Turbo 2 is loosely based on the Moto X Pure Edition — but when you set these two Droids next to one another it's hard to draw many parallels. We're going to break down all of the differences.
Image 1 of 4
Image 2 of 4
Image 3 of 4
Image 4 of 4
Externally, there's quite a bit to say here. The Droid Turbo 2 has a larger screen and a bigger body to go with it, and also has a different take on design — a metal frame with a variety of back choices available through Moto Maker, taking place of the tough kevlar and ballistic nylon options on the prior model. The new Droid no longer has capacitive navigation keys but instead is busy in the front from a variety of sensors, speakers and a Verizon logo —and on the back the camera housing is completely changed as well.
On the inside, things haven't changed as much. We're getting a bump in processor power with a new Snapdragon 810, as well as a new camera setup with some improved numbers — but the RAM, storage and display resolution stay constant, and the battery even dropped in size from 3900 to 3760 mAh. The real differentiator here is the durability of the display on the Droid Turbo 2, which is now completely shatterproof — Motorola guarantees it — and ready to take as much punishment as you can dish out.
Then there are a few odds and ends — the Droid Turbo 2 adds an SD card slot, Powermat wireless charging, and a notably improved front-facing camera with its own flash.
In terms of the full spec sheet, how much have things progressed in a year? Check out the straight numbers-to-numbers comparison:
Feature
Droid Turbo 2
Droid Turbo
Operating system
Android 5.1.1 Lollipop
Android 5.1 Lollipop
Processor
Qualcomm Snapdragon 810
Adreno 430 GPU
Qualcomm Snapdragon 805
Adreno 420 GPU
Display
5.4-inch P-OLED at 2560x1440 (QHD) resolution, 540 ppi
Shatterproof display
5.2-inch AMOLED at 2560x1440 (QHD) resolution, 565 ppi
Corning Gorilla Glass 3
Battery
3760 mAh (non-removable)
Qi and Powermat wireless charging
Turbo Charging
3900 mAh (non-removable)
Qi wireless charging
Turbo Charging
Rear camera
21MP, f/2.0 aperture, phase-detect autofocus, dual-LED flash
4K video @ 30fps
21MP, autofocus, dual-LED flash
4K video @ 24fps, 1080p video @ 30fps
Front camera
5MP, f/2.0 aperture, wide-angle lens, 1.4um pixel size
2MP, 1080p video
Storage
32 or 64GB, microSD expandable
32 or 64GB (non-expandable)
RAM
3GB
3GB
Dimensions
149.8 x 78 x 7.6 - 9.2 mm
143.5 x 73.3 x 8.3 - 11.2 mm
Weight
169 g
169 g
SIM
Nano SIM
Nano SIM
Wifi
802.11ac Wifi with MIMO
802.11ac Wifi
Bluetooth
v4.1, LE
v4.0, A2DP, LE
Other
NFC, infrared sensors
NFC, infrared sensors
Image 1 of 4
Image 2 of 4
Image 3 of 4
Image 4 of 4
Once you hit the software you won't find much in the way of changes, and that's because the original Droid Turbo has been updated to Android 5.1, and the Turbo 2 is running 5.1.1 — both with gentle customizations from Motorola and Verizon. Ambient Display is alive and well, as are Motorola's slight tweaks to priority notifications, and you'll find the various gestures to work the same on both phones. You'll find the same Moto Camera app and the host of other apps, which are just updated in Google Play for all Motorola phones anyway.
This is definitely a new approach to the Droid Turbo, and one that bares little resemblance externally to the original. As you can see the internal bumps aren't nearly as significant, though — remember we're only talking about a year of differences here.
Andrew was an Executive Editor, U.S. at Android Central between 2012 and 2020.
Huh... I didn't know I have Qi wireless charging in my Turbo.. Posted via the Android Central App

QI is one of my reasons for getting my Turbo; we have 2, plus a mini and a maxx, and all take QI. I have a QI phone base in each car and one or two at home. Nice to be able to charge a phone without plugging it in - since even micro-usb jacks wear out.

Notice the Droid Turbo 2's battery is slightly smaller than the Droid Turbo.

Hopefully they pulled a Samsung with the Galaxy Note 5 and battery life is the same or better despite seeing a slight reduction.

Does´nt matter because the Turbo 2 Processors saves more energy

This we get.
But we can't get a simple Nexus 6 vs Nexus 6P comparison? Posted via the Android Central App

I'm sure it's coming soon

Didn't he already downplay the 6P a few weeks ago before it even came out?

Do you really need that? It's obvious which one they will prefer. AC hasn't even tried hiding their Nexus 6P boners at all. Posted via the Android Central App

The first droid turbo looks much better. Posted via the Android Central App

I know design is subjective, and the white model of Turbo 2 is hideous with all those visible sensors, but the red metallic fiber on the first Turbo is so slippery and collects fingerprints and oils so fast that after a while it feels slimy and gross. The ballistic nylon model is definitely much better. Also, while It's certainly a sturdy phone, all that plastic feels cheap and it's quite a chunk monster. I got a chance to play with a Turbo 2 with a black front and I walked away impressed. It feels MUCH better thanks to that metal trim and the more uniform curves. Plus since it's thinner it's not any more unwieldy to hold. I would've loved if they had given it curves more similar to the Pure, but with that gigantic battery there had to be a trade-off. Overall, though, this is the best designed Droid in a long time.

I had the first Droid Turbo, but I actually did not like the feel of the Ballistic Nylon. Looked cool, but felt weird. I ended up putting a case on it.

+1 Posted via the Android Central App

I very much love my original Turbo and I don't think I'm going to the 2. The original had great features and while the camera wasn't the best ever, it's a good phone all around. I have the black nylon version and I love how grippy it is and no fingerprints on the back! :-)
The Turbo 2 has the god-awful Verizon tramp stamp right on the front and all those visible sensor ports and marks just make the front look butt-ugly! I can't! Also, I loathe on-screen keys, because of them, the screen real estate on the 2 isn't any better than the original, because the extra screen space is taken up with the on-screen keys!

Hello Andrew, it would be cool if you would compare the first Droid to the Turbo 2. Dam It Feels Good To Be A Google Gangster

Not a big enough spec increase for me to upgrade my turbo this year and I was hoping for a fingerprint scanner (not really a deal breaker). I think my OG droid will satisfy me just fine until next October.

Don't forget that the original turbo gets 1 free screen replacement.

yeah but the Turbo 2 screen is supposedly "unbreakable"

For the Turbo 3 They should bump the screen up to 5.5" shatter proof and make the battery at least 4,000 mAh. No need to cut 2 mm of thickness off last year's model and make the battery smaller despite a bigger screen. SD 820 will help with battery life but remember that Turbo is supposed to be the king of battery life. 2 days? That's been the claim for 3 years running. Time to take the crown from Sony and get to 3 days of battery life. Personally? I'd recommend the same thickness as original Turbo, 11.2 mm so you can fit a 5,000 mAh battery in a body that sports a 5.5" screen AND then use a 1080 AMOLED display. Battery life and battery charge time should be the thing that manufacturers compete on so come on Moto! I know you can do it!

Agree 100%
Maybe fingerprint scanner is a battery hog? Posted via the Android Central App

OMG ITS TONY BAG O DONUTS When we die, we go bye-bye. - Sal Vulcano

Haha... Rare I know but I make an entrance Posted via the Android Central App

Went ahead and picked out the original Turbo a month ago for my work phone. I could have waited and gotten the new one, but looking at the minimal bumps to the specs and knowing it was going to be a physically bigger device, I had no interest. Went with the Ballistic Nylon and 64 GB and couldn't be happier. Why does every device have to keep getting bigger and bigger? Yes it's just .2" bigger, but no thanks. 5.2" feels perfect.

The Ballistic Nylon is stronger as a case material (I hope). I got the Ballistic Nylon in the hope of running it caseless, but then I bought a Tech21 case. It feels better in the hand with the case and looks like it's going to be far less likely to drop than caseless. Windows Phone refugee.

I can confirm you hopes. the Ballistic Nylon works just find as a natural case. I have dropped my phone about 3 or 4 times within the year I've had it and it's only came away with a barely noticeable niche on the side.

I've been saying it since all the leaks happened. This IS NOT an upgrade from the original. When you factor in the better screen quality of the original and a free screen replacement it's right on par. Plus it's smaller! 5.2" is right at the limit for too big.

Exactly! I was keeping a close eye on this phone but now I'm not impressed! I went and ordered an Original Droid Turbo in blue on swappa for half the money! Posted via the Android Central App

I've been using the original Turbo and love it. I looked at the Turbo 2 today at Verizon and I'm not interested. It's a little too big and not as sleek as the original. To me, the original Turbo is the perfect sized phone. Nothing really entices me to upgrade, as I don't need the sd storage or unbreakable screen or the better front camera. Some people don't like the capacitive buttons, but it allows the screen to have a little bigger display area. For example, the height of the turbo display was about 5-8mm more than the turbo 2 (with the on-screen buttons) but the Turbo 2 screen was a little wider. Total sq/cm screen size is probably about the same, when you don't include the on-screen button area.

+1 Posted via the Android Central App

The ONLY reason I would consider the upgrade is because I'm not a huge fan of the original Turbo's camera. It has gotten better since launch, but the camera rating from DxOMark intrigued me.

"loosely based on the Moto X pure edition"... Isn't it based on the Moto X force? Posted via the Android Central App

Original Turbo will be cheap to find used now. That's a deal. Posted via the Android Central App

The Turbo is available on my business account for $19.99. Awesome deal.

1) Place a 4000 battery
2) fingerprint sensor
call it Turbo Max

Sucks that the phone grew. The turbo was already a big device for the screen size, and now it's even worse.

Yep via AC App on
VZW Moto X DE/N7

Glad I'm sticking with the first Turbo.

I had the first Turbo and just upgraded to the 2. Not a huge difference, but I'm glad I did it. First, the screen on the 2 is BETTER than the original. That was my main concern, so I spent some time comparing the two at equal brightness levels and the 2 was clearly better. Not by a lot, but certainly noticeable. Toss in the faster processor and better camera and it's a solid device.

Had the 1st turbo the 64gb had no issues with it going to get turbo 2 around December or next year Posted via the Android Central App

lost me at no marshmallow and no fingerprint scanner. I want motorola and I think my droid turbo can make another year for the next refresh

The Turbo had much more in common with the Nexus 6 than the Moto X.

Lol definitely.. It's not even comparable to the X

Okay. Two things.
"The real differentiator here is the durability of the display on the Droid Turbo 2, which is now completely shatterproof — Motorola guarantees it." - Has anyone put this statement to the test? I mean, seriously put it through its paces. I really want to know.
Second thing. Why the hell isn't this phone launching with Marshmallow?

Because Verizon lol Posted via my Moto G 3rd Gen 2015 with only 1GB of RAM

There's two Turbos. Can we call them twin-turbos? (Lame puns)

I'm still waiting for the year that the newer generation phone is smaller, or at least the same size as the previous version. At this rate, by 2030 were all going to be carrying around 10 inch tablets.

Pretty sweet. I'd buy it "IF" I were on Verizon and wanted to lose my 30GB month plan. But since their monthly prices are from the year 2020, ain't happenin. Don't see the point of having awesome data speeds if you can't really use them. Verizon is like having a Ferrari with only 1/2 gallon of gas a week allotment on an already overpriced monthly plan, and then ten bucks a gallon for every mile after :-/ Posted via the GS6 Active, aka GS6 M.E. (Manly Edition)

Echoing others.. I'm a Droid fanboy, and a Moto fan. I've looked forwards every year to my upgrade to find out what new toys I'd get. This is the first year in many where I looked.. went "meh" ... and decided to stay with my Turbo. The new one is barely a spec upgrade - even on paper and doesn't seem to offer anything to make it worth it. To add insult to injury I thought I might just use MotoMaker to make a black phone with yellow accents (kinda Batman-esque) to find that bright yellow isn't a choice.

What was real world battery life like on the original droid turbo? Posted via the Android Central App

I get a day and quater with medium use. Very heavy use, dead by 9 pm. Very light use probably day and half, never tried

2014 x and turbo.. Are very different

I'm actually glad the aesthetics of the new turbo are lacking, and the spec bump is only incremental. I still love my turbo from last year (and I still love the ballistic nylon), so now there's nothing pulling me to upgrade early. I can wait until Black Friday 2016 to upgrade to the turbo 3. Posted via the Android Central App
Android Central Newsletter
Get the best of Android Central in in your inbox, every day!
Thank you for signing up to Android Central. You will receive a verification email shortly.
There was a problem. Please refresh the page and try again.