Qualcomm's Snapdragon 845 might make its way to Chromebooks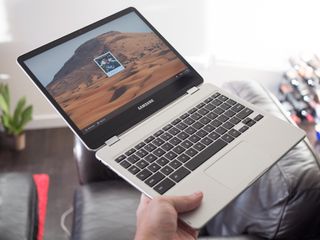 (Image credit: Android Central)
Qualcomm officially took the wraps off its Snapdragon 845 processor on December 6, and in case you haven't heard yet, there's a lot to be excited about.. The 845 has big improvements in performance, camera quality, and data speeds on phones, and overall, it's a big step up from the already great 835.
Alongside the 845, Qualcomm also announced "Always Connected PCs." Always Connected PCs are Windows laptops that are powered by the Snapdragon 835, but according to new commits found in the Chromium Gerrit, we could see the newer 845 make its way to Chrome OS.
According to the folks at XDA Developers, there are a few different commits that hint at this. One of them is a board that's referred to as "cheza", and another commit that follows this reveals that "cheza" is the board overlay used on a Snapdragon 845 reference device.
This would be the first time a Qualcomm processor makes its way into a Chromebook, and that's exciting for a few reasons. The two Always Connected PCs (the HP Envy x2 and Asus NovaGo) have already shown that the 835 is plenty powerful for driving Windows 10, and the use of the 835 allows for gigabit LTE data connections and battery life that's said to last four times longer than modern smartphones. Now, imagine what kind of performance and battery life we could see with a more powerful processor (the 845) running on a lighter desktop operating system (Chrome OS).
It's unclear when exactly we could start seeing Chromebooks powered by the Snapdragon 845, but even so, it's exciting enough to know that something like this might be in the works.
Top 5 reasons to be excited for the Qualcomm Snapdragon 845
Joe Maring was a Senior Editor for Android Central between 2017 and 2021. You can reach him on Twitter at @JoeMaring1.
Hey now, that's interesting! I was sort of wondering when Microsoft announced snapdragon windows laptops if/when someone was gonna figure out how to run Android apps on it. A Snapdragon Chromebook never occurred to me. I may be interested in such a device...

I would almost certainly buy one. An 845 only makes sense for a Chromebook with a fast 4g connection. But where I live, that might be the day the landline gets cut.

I say go for it, even if only for the battery life alone. The Winblow's laptops are getting up to 22 hours.

Yeah, Chromebooks were born for the Always-Connected initiative. I think this is really good news as most innovation in processor space seems to be happening in the mobile arena now. Chromebooks can ride that wave.

I am very supportive of this kind of machine. It can be a future PC which is made together for each other alternating Windows PC. Windows is for x86 format, not good idea to run on Snapdragon. (You need 40 seconds to run Power Point only for example)... But Snapdragon IS BETTER THAN INTEL chips IN RUNNING ANDROID APPS, so, yes, it makes a real change....
Microsoft wrongly responds competition from Google by running Windows on Qualcomm Chips which is disaster technically. In the other hand, Microsoft can switch Windows 10 mobile to x86 kernel and want a deal with Intel's chips processors. This way, customers can buy the best of both worlds they would prefer... Thanks!
Android Central Newsletter
Thank you for signing up to Android Central. You will receive a verification email shortly.
There was a problem. Please refresh the page and try again.