Press shot of forthcoming ZTE Grand S leaks ahead of CES unveiling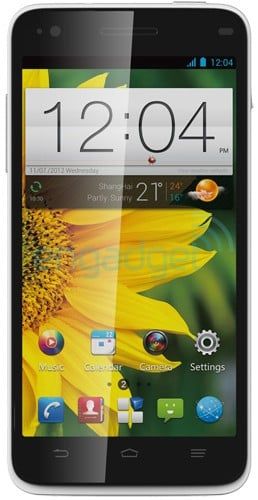 We've already seen the first signs of ZTE's forthcoming CES announcement, but as we enter the holiday period we're treated to an alleged first look at the device. This leaked press render is supposedly the 5-inch, 1080p ZTE Grand S. Other than an image and a name, we still know very, very little about the device aside from its size and screen resolution. Oh, and it's thin.
Further confirming the Grand S name, ZTE has been teasing the device themselves over on their Sina Weibo account. Posted there are some sketches of the Grand S -- and by sketches, we really do mean sketches -- and a promotional flyer depicting the Grand S name adorned on the side of a boat. The writing may be in Chinese, but "CES2013" definitely is not. Whatever the finished product actually ends up being, Android Central will be on the ground in Las Vegas to bring you it all.
Sources: Engadget, Sina Weibo
So we're heading into 2013 without on screen keys. . .

Hopefully it stays that way through 2020 as well

Yes. They eat screen real estate. This means they're bad.

And physical buttons increase bezel space. What's your point?

Damn that looks like iphone 5. I guess apple lawers are already scripting a suite in regards to the shape of the device :D

This looks nothing like an iphone 5 or any other. So stop try to stir up trouble between fanboys. That is what Engadget is for..

that looks nothing like an iPhone. unless you mean the shape (yet again) which doesn't even look totally the same.

Yes, a big slab of glass with a speaker on top...definitely looks like an iPhone!

F***K AN OTHER 5"SCREEN, I WANT A REALLY GOOD LOOKING PHONE ON A 4.3" SCREEN DAMN.

I would recommend you the HTC One S. I have this phone the size is just perfect at 4.3 inches. Now it doesn't have JellyBean yet but it should be getting it soon.

What about the Droid RAZR M? Come with jelly bean out the box. Been rocking one for three weeks and its an amazing capable phone.

just some brief translation: the linked post on Weibo says "#DecodingZTESuperphone many people are asking for news about Grand S~as a superphone poised to be a 'global high-end flagship device', it's got lots to show off! we'll leak a bit~it's the designer's own drawings! Take a look if you can understand!"

This phone actually looks really nice.
Android Central Newsletter
Get the best of Android Central in in your inbox, every day!
Thank you for signing up to Android Central. You will receive a verification email shortly.
There was a problem. Please refresh the page and try again.