Poll: Do you prefer foldable displays or dual-screen phones?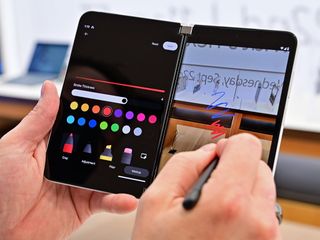 (Image credit: Daniel Rubino / Android Central)
This week, Microsoft finally took the wraps off the Surface Duo 2 with plenty of upgrades all around. The device features a largely similar slim chassis, but the internals have been greatly improved to better compete with some of the best Android phones of 2021. Compare that to last year's Surface Duo, which featured a previous-gen chipset at launch and a measly camera setup, and Microsoft seems to have a winner.
But the Surface Duo is going against a heavyweight contender, the Galaxy Z Fold 3, which features a folding OLED display as opposed to a dual-screen. So naturally, we want to know which type of phone you'd prefer.
A case can be made for either display type. Foldables are great when you want to watch fullscreen content like videos and movies but can also be suitable for viewing large, full screen. That said, the experience there isn't perfect, and Google and Samsung have been trying to improve the app experience on foldable.
Samsung has also worked to improve multitasking for its foldable as well, but the argument can be made that a dual-screen smartphone is better equipped for that. Now that Microsoft has a dual-screen foldable with a modern chipset and a bit more RAM, we could see much better multitasking.
Some apps could even take better advantage of the dual displays, particularly for gaming with services like Xbox Game Pass. However, the experience here can be hit or miss, and fullscreen video isn't exactly an ideal experience on a dual-screen phone either, unless perhaps you're using an LG Wing.
Double the fun
Multitasking made easier
The new Surface Duo 2 is Microsoft's latest dual-screen Android device, with plenty of upgrades like a new 5G chip, stereo speakers, more cameras, and a cool way to glance at notifications while the device is closed. The Microsoft Duo 2 just might be the best way to multitask.
Get the Android Central Newsletter
Instant access to breaking news, the hottest reviews, great deals and helpful tips.
Derrek is a long-time Nokia and LG fanboy who loves astronomy, videography, and sci-fi movies. When he's not working, he's most likely working out or smoldering at the camera.
Neither. Just a simple phone. Otherwise I use a tablet or NUC with 85" monitor.

I have both the Duo and Fold and this is a difficult choice... Both are beautifully engineered Samsung's software is more polished though, hopefully the rumored Android 11 Duo update will rectify this... Really can't choose between them... I use my Duo for work and the Fold is my personal phone... For most people the Fold will be the better choice I guess... Can't ever see me going back to a single screen phone... Love that I can use my Fold one handed and open it to view and mark up drawings that have been sent to me...

I just wish the Fold's outer screen was more like normal phone. And agreed OneUI is excellent. It's a problem for the Duo.

If I have to pick, foldable. But Z Flip, not Z Fold.

I've had my Z Flip 3 for almost a month and I'm loving more and more every day. I'm coming from the Note line and while I really enjoyed the big screen, I didn't enjoy trying to fit it into my pockets. The Flip has a big enough screen but folds into a 2 inch square to store in my pocket. No more worries of it falling out or getting broken in my back pocket. I'm fairly sure this article is more about the Fold than the Flip but the technology is great either way.

I'll take the Fold simply because it manages a combination of single-handed use and a large screen for browsing etc.
I prefer the design and aesthetics of the Duo, but the dimensions make it unusable as a one-handed device...

I'd go as far to say impossible. Although the new Notification panel is neat.

Neither. Nothing wrong with the regular form factor. Not interested in either foldable or dual screen.

Bigger display is better for viewing websites?

A "Fad" is considered short-lived. Typically lasting for a total of one season. I would say we are well past that. I have ordered every Google phone since the Nexus S. But bought the Z Fold 2 to use until the Pixel 6 Pro came out. Already have my Fold 3, because I can't and won't go back. A solid Google foldable will be ideal. Foldables aren't for everyone, but neither are regular phones anymore.

So your life is all about dumping $1000's on mobile devices... What a fool.

Perhaps he can afford it, and you can't.

Google Fold IS coming. Possibly to be announced at the next Google event. It really looks like the Samsung though

Much too late for this to be a fad.

So were goatees funnily enough.

LG's dual-screen case on a normal phone.

Right now my preference is foldable, but more than anything, the key for me is the outside screen. I use the outside screen at least 70% of the time. If the Duo had that, or even just a way to see the name of the person calling, I'd be more likely to get it. Maybe in a year or two or if I got a promotion and had to do more work on the go.

No thanks, zero interest in any foldable or dual screen phone.

I have the LGG8X ThinQ Dual Screen. After owning it I can never go back to a single screen phone. So much so that although I was waiting for either the LGV70 or the LG Rollable phone, alas they pulled out of the phone business. So I decided after my 18 months lease was over, I added (keeping the G8X) the LGV60 ThinQ 5G dual screen to my stable as my daily driver because I wanted 4 things: more RAM, a bigger dual screen, the better, faster Snapdragon 865 processor and 5G to be future forward. I may not be upgrading for awhile because the V60 is a beast and I loved the form factor of either folding it back to be one screen or taking it out of the case. The phone itself is tough as nails. It took a flying header onto concrete as it sailed from above my head to the ground and since it's military grade, it was unscathed. I doubt the Surface would fare as well. I like the dual screen because the second screen is a game controller, hologram platform, selfie light, keyboard and even a place to run social media apps side by side. Using the dual screen for Google Earth or Sky is a whole other experience. I like the heft of the dual screens over the plastic/flexiglass of the Samsung. I have big hands. I want to hold the Surface in my hands but I think it's still too delicate. I'd wait for the 3rd incarnation to see how they handle the selfie camera and the durability.

I don't like any of them, i just like a normal phone.

Y'know dual screen phones can always be folded backwards or removed from the second screen case. Once you've owned one you'll wonder how you live without it!

I dislike both categories. I prefer the commoner candy bar form factor. They're thinner, lighter, cheaper(sometimes) and have no issues with hinges and quirky screens.

I don't like the foldable displays or dual-screen phones.

Cause you've never used one

I'm not sold on the use of foldable or dual screen phones yet but I just say that the Flip is the most interesting to me. It goes from compact to regular sized phone which I prefer than going from regular size to tablet. The Duo devices look great but I'd be making up uses for having two screens. I never use split screen today and I don't see any benefit for the way I use my phone.

Not into gimmicks...so neither.

They're not gimmicks. Both designs have practical benefits.

Dual Screen, but it needs to have an outer screen too. Both the Duo 2 and Galaxy Z Fold 3 (terrible name) have design issues: 1. Duo 2 = Difficult to take photos
2. Galaxy Z Fold 3 = That outer screen is much to narrow to be useful. I'd choose the Duo 2 because I think two apps side by side is more useful but don't plan to get either. A regular phone is just more practical.

Neither, the simpler the better.

While I'm not really bothered either way. I do prefer the look of the duo. Its IMHO kinda blackberry passport ish (i loved the passport). The slight square, metal design really sets it apart from the others.

For me doing more work type stuff on a phone the Duo fits what I need more. that said I still have a note 9 as I feel phones are just way to expensive now and being on more of a budget I will wait for the price of folding phones to come down. Definitely more interested in the Duo though but both great phones in their own ways.

I prefer not to say........

Neither really but if I had to pick, it would be the fold.