Poll: Do you care if the Galaxy S22 Ultra launches with less RAM?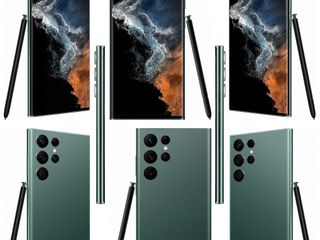 (Image credit: Evan Blass)
Samsung is expected to launch the Galaxy S22 series on February 9, and while the standard and Plus models aren't expected to change too much, the S22 Ultra may see the most drastic change of the S series. However, not looking beyond the inclusion of the S Pen, Samsung is expected to make a rather curious change to the configuration of the S22 Ultra.
Rumors and leaks have pointed to Samsung lowering the base RAM of the Galaxy S22 Ultra to 8GB, down from 12GB on the S21 Ultra. RAM would top out at 12GB instead of 16GB. Yet, rumors indicate that the phone will arrive with the same launch price as its predecessor.
We want to know if our readers care if Samsung lowers the base RAM on its upcoming premium flagship.
One might argue that your Android phone doesn't need 12GB or 16GB of RAM and that 8GB should be just fine for most people. Especially when you take into account optimizations in Android and even Samsung's new virtual memory feature found in One UI 4.
However, given that Samsung may charge the same price for less RAM, some users may prefer that either the cost of the phone goes down to compensate or perhaps the S22 Ultra should come with 256GB of storage to start, especially given that we likely won't have an SD card slot on the device.
There are many factors as to why Samsung might have chosen to go this route. We are still dealing with the effects of the chip shortage, which has impacted the availability of many of the best Android phones, so that could have some bearing on the decision to ax the 16GB variant. It would also be a way to keep the price from going any higher due to the inclusion of a built-in S Pen.
Whatever the reasoning, it seems not everyone is too happy with Samsung allegedly backtracking with its RAM. We should learn more once the final specs are officially announced, but let us know in the comments what you think.
Derrek is a long-time Nokia and LG fanboy who loves astronomy, videography, and sci-fi movies. When he's not working, he's most likely working out or smoldering at the camera.
well, i've currently got the S21 Ultra 512gb, which has LOTS of ram (16gb I believe) and I'm happy it does. I won't be downgrading to the S22.

If I had the S21 Ultra, I probably wouldn't upgrade for another two or so years. With that said, it is an upgrade. Not a huge one but an upgrade nonetheless. Especially for folks like me with a Note 9. I'll be getting the S22 Ultra 512 on launch.

So micro SD card, less RAM? No thank you. If the rumours are true, it's not the first time Samsung has made stupid choices.

The SD slot removal definitely hurts but that's the way it's been with their top tier for a while. Doubt it's coming back. As a side note, Apple never had SD slots. As far as ram goes, I think it's just the base 128gb model with 8gb's ram, which by the way is more than enough. Even my Note 9 with 6GB ram runs perfectly smooth and snappy just like the day I bought it, 3 plus years ago.

Well, I'm OK with the base model of the S22 Ultra having an 8GB Ram / 128 GB combo so long as it's significantly cheaper (between $1000 and $1100). That would at least put the device on par with the iPhone 13 Pro Max.
That being said, as there are plenty of Note 20 Ultra owners, like myself, who waited patiently for a proper successor to this fantastic device, the S22 Ultra should come with a 12GB Ram / 256 GB combo with the same price range of the Note 20 Ultra's original price, if not cheaper. I'd settle for a 12 GB Ram / 128 GB combo is it has expandable storage via an SD card slot.
Anything other than this would be a betrayal and not an "upgrade" - and I will not be purchasing. My current device runs like new. On principle alone, features and performance should not be lost when "Upgrading".
And No, I will not accept a year of free cloud storage with DropBox or OneDrive in place of the physical expandable storage - because that's the kind of BS I can see Sammy pulling here.

The lesser of two weevils. It's most likely either that or having a store page that looks like this 365 days of the year: https://www.amd.com/en/direct-buy/
I have a feeling the increased price is also an indicator that they know the chip shortage definitely isn't getting better this year.

I didn't get the s21 because of the downgrade in screen resolution, lack of SD card, reduction in RAM, and the change in mobile payments. It seems that this iteration of the S22 (base) is going to be similar or more compromise. However, I got to thinking , what if Android 12 is a better more efficient OS with better memory management? Could this be a reason to cut RAM ? Because the OS is no longer hogging it? Law of diminishing returns , right? If 8 gigs performs optimally, why do we need 12 or 16? Increased cost is all we'd be facing. I am in desperate need of a new phone, my s20s battery is shot, but not quite sure what to think. I need a small phone and even the s20 is too big :(

Pixel 6 Pro has 12GB of RAM for the base model and they own Android 12.

Same/Higher price and less RAM? Nope. First they take the removable battery, then the SD Card, then the headphone jack.
They aren't lowering specs and jacking the price on an already astronomical price. Nope, I'll just go to a different OEM.

You said it!
In these times, there are much better things I can do with my $1300 than blow it on a downgraded device with slightly better spec'd SoC and camera. My current phone works marvelous.

Samsung is just proving they can do whatever they want and people will still buy their phones.

I don't care if it launches at all. The heart of a device or SOC, like a care engine, should remain similar for several years. I scoff at all the technology companies and their reckless abandon for the environment. They are the most wasteful, planned obsolescence industry on the planet. What a joke.

Yeah it's going be a NO for me dawg. Definite deal breaker. Probably wouldn't mind as much if it weren't still going to be about $1400 US. Getting stiffed on the price and now the specs is not the business. Pixel 6 Pro sure starting to look better and better.

A question that I cant see is answered is what is needed when it comes to size of RAM for running a S22 Ultra smoothly and what is there only for strengthening the e-p3n1s? Is 8 GB enought for doing most of the thing a advanced user will do on a S22 Ultra or do we need 12?
This is an important question for me as I plan to buy the S22 Ultra and do not want a crippled device but are not prepared to pay extra only to be able to show of my e-p***s

This isn't about need. No one "needs" a 6.8 inch smartphone with a QHD+ screen and a 108 mp camera. 95% of us would be just fine with a $450 - $600 mid range phone that meets our needs just fine. We purchase these highly expensive devices with bleeding edge specs because we want them. We want the extra performance, the extra speed, battery life, features, etc.

Well I know most people don't do this...but I've started editing 4k videos for youtube on the S21Ultra 16GB ram, 512 GB storage version directly on my phone with video shot on the device and video editing software on it..I can use DEX with my monitor, keyboard and mouse, after shooting in field..the extra RAM undoubtedly helps with ALL of that. It's great to easily shoot, edit and upload video on 1 device without moving data files around or worrying about corrupted SD cards. I am getting the most out of this phone and its great cameras, losing RAM for this is not what I want so I'll pass on the S22 most likely.

I don't mind, I can live with 8GB - Of course you can live with 8GB. Even a 6GB works fine... 8GB is fine, but Samsung should lower the cost or increase the storage - Lower the cost during a global chip shortage? lmao I do mind, Samsung should stick with last year's RAM configuration (or more) - Living under a rock? This is the pandemic.

I mind it, these are pricy devices, why would you downgrade the specs? That just makes it even less worth it than it already is.

With six apps running on my S21 Ultra it says I am using 7.6gb RAM. Not sure 8gb is enough.
Android Central Newsletter
Thank you for signing up to Android Central. You will receive a verification email shortly.
There was a problem. Please refresh the page and try again.