Pocket Casts, one of Android's best podcast apps, is now free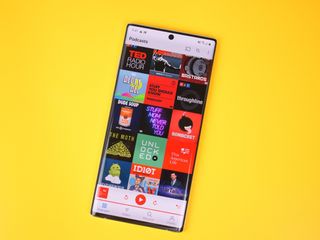 (Image credit: Android Central)
What you need to know
Popular podcast app Pocket Casts is now free to download.
All of the app's existing features remain, and new ones will continue to be added.
Pocket Casts Plus is available for 99 cents a month and offers access to the desktop app.
Pocket Casts has long been one of the most popular podcast apps for Android and iOS, offering a clean UI and powerful playback features. However, its $4 asking price has likely held some people back from pulling the trigger on it. As of Sept. 18, Pocket Casts can be downloaded for free.
Despite the shift to a free model, all of Pocket Casts' existing features will remain — including things like playback speed controls, easy podcast discovery, downloads for offline listening, and three app themes (Light, Dark, and Extra Dark). Furthermore, Pocket Casts reassures that it'll continue to add new features to the free version of the app for everyone to enjoy.
Commenting on the news, Pocket Casts CEO Owen Grover said:
Pocket Casts is still aiming to make money with its app, so with the core experience now free, Pocket Casts Plus is being introduced as a monthly or yearly subscription. Pocket Casts Plus subscribers will get access to the desktop app (macOS, Windows, and web), cloud storage, and exclusive app icons and themes.
You'll need to pay 99 cents a month or $10 a year for Pocket Casts Plus, and if you previously purchased the desktop app, you'll get three free years of Pocket Casts Plus. Considering the desktop app used to cost $9, that's a pretty generous offer.
The idea of having yet another app subscription to keep track of might sound like a step in the wrong direction, but I think this is a smart move for Pocket Casts. It now has the potential to get its app in the hands of substantially more users, and for those superfans out there, they'll get a better experience than what was previously offered while Pocket Casts secures monthly and yearly income.
So long as Pocket Casts stays committed to keeping the free version as feature-rich as possible, this should be a win for everyone.
Now free for everyone
The ultra-popular podcast app is more accessible than ever.
Pocket Casts, one of our favorite podcast apps, is now free to download. All of the existing features remain in the free version, and new goodies will be added, too. If you want the ultimate experience, you can get Pocket Casts Plus for 99 cents a month or $10 a year.
Android Central Newsletter
Get instant access to breaking news, the hottest reviews, great deals and helpful tips
Joe Maring was a Senior Editor for Android Central between 2017 and 2021. You can reach him on Twitter at @JoeMaring1.
Taking away the PC app for those who bought it is unacceptable. Yes, they are throwing an olive branch of 3 years of the plus subscription for it, but they should have grandfathered in those who already paid for it, and charge the subscription to new users. Taking away something I've paid for means that this weekend I start searching for a new podcast app.

At least you have plenty of time to search! I'm in the same boat, but not sure how I feel about it. I use the PC app daily.

Poor form really. I'm pretty sure it was marketed as a one-time payment of $9. $10 a year is not going to break the bank but there's only so many recurring subscriptions that I like to be burdened with.

Personally I couldn't pay a monthly subscription for an RSS aggregator on principal.

This news just makes me think that I need to give Google's Podcast app a try.

It's a mess. Missing simple things like automatic downloads.

I've been using podbean and it's been a pretty good experience. Also Spotify has really upped their podcast game so if you're a minimalist with your apps that might be worth looking into. I decided a while ago that it wasn't worth paying money for a podcast service.

The problem with that is it's Google, which means it could be pulled at any second.

+1 I paid to support the developers. Guess I'll be using Pocketcast till the desktop app expires in 3 years.

Taking away web app access after selling it as "lifetime access" sure seems like it should be fraud, no? I'll sell you a lifetime supply of cokes. Wait, I miscalculated, please support me! I'll sell you a coke a month for $1. Don't U suhport devs tho?

Guess it's time to find the next podcast app. Oh well, all good things come to an end.

Well, looking at the Play Store reviews it is far from being best... I would recommend Podcast Addict for those who look for alternative...

I use podcast addict. Pocket casts definitely seems cleaner looking and prettier, but podcast addict is far more fully featured and flexible. That means it's also more condoled, though. I think an iOS or pixel user may have trouble getting their head around it lol.

So we're bagging on pixel users now? God forbid an app be designed well. Give me an app that looks like crap and is hard to use! Sounds great 🙄

I don't know if *we* are, but *I* am. And rightly so, it seems haha. It's not that podcast addict is ugly or badly designed, it just doesn't sacrifice functionality to look "clean", and certain users might find options beyond play and skip a bit confusing.

It's review numbers use to be much greater. If you go look, they have been getting hammered after this greedy tactic.

Podcast Addict is definitely my fav! Esp with the great service from the builder.

Now I've downloaded it, what was all the fuss about? This is not rhetorical.

People bought the app for sync across devices ($4). People bought web app access ($9). Both of these were sold as "lifetime access." PocketCasts now charges $10 a year, including to people who previously bought the app outright.

Himalaya Podcast app has come out of nowhere. It is clean and runs smooth. Needs just a free now features on upcoming updates and it will be all set.

Love PocketCast. One of the very best apps I own. Happy to support them.

I'm happy to support them, too, which is why I bought the app in the first place... I can't be the only one who'd just rather pay for apps once and be done with it. Too many freaking subscriptions these days... I also worry about the "cheapening" of the experience if they go free. How long before we have ads inserted? What other things might they lessen or take away entirely to make a part of Plus? Argh...

I am 100% with you i paid because it WASN'T a sub, both desktop (web) and the ios and android apps. I paid for them all. Everything is a subscription base these days its out of hand $10 here $20 there oh look $5 behind you. I was just adding up all the useless monthly entertainment crap I have, got alot of cancelling to do.

I supported them, bought the app on EVERY platform (iOS, WindowsPhone, web app, Android). Now they're coming back and saying that wasn't actually support, and that surely I can understand. The app design has gone downhill for the past year, and now the business is getting all screwed up. Also, sync SUCKS and breaks constantly. The number of times I've launched the app on iPad, and then triggered a download of months of unlistened to podcasts on my phone must exceed 10. Which is a massive pissoff considering it's a primary selling point of the app.

I paid for the original app. I'm good with people getting the opportunity to check it out for free. I didn't pay for the web-based version, and I don't plan on paying for a subscription service, either. I'm good with what I have; as long as everything still syncs to multiple devices, I'm all right.

I'm pretty sure that is what the article says though, that cloud syncing is going to be behind the sub service so people will lose that ability(unless there is something more to it).

I've been asking for the same to features for years: 1) Work (by voice command) with Google (Nest) Home
2) Playback on WearOS devices

Good news! Paid web users now get lifetime access to Plus! https://blog.pocketcasts.com/we-heard-you/amp/?__twitter_impression=true
Android Central Newsletter
Get instant access to breaking news, the hottest reviews, great deals and helpful tips
Thank you for signing up to Android Central. You will receive a verification email shortly.
There was a problem. Please refresh the page and try again.