Android Central Podcast: Pixel 4 Review Deep Dive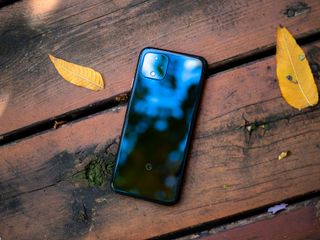 (Image credit: Android Central)
Jerry Hildenbrand, Andrew Martonik, and Daniel Bader dig in for a conversation about Pixel 4 and Pixel 4 XL. From the good, the bad and the ugly, there's no stone left unturned.
You should listen to the whole episode, but if you're dying for a TL;DR summary, skip ahead to 1:24:19. We've also provided a chapter marker there for your convenience. Enjoy!
Listen now
Subscribe in Google Play Music: Audio

(opens in new tab)

Subscribe in iTunes: Audio

(opens in new tab)

Subscribe in RSS: Audio
Download directly: Audio
Show Notes and Links:
Sponsors:
Candid

(opens in new tab)

: Candid makes clear aligners that fit your budget and your lifestyle. Visit candidco.com/acp

(opens in new tab)

and use code ACP for $75 off.
Thanks guys, good chat! Couple of thoughts. I think that wireless charging, IP68 rating and seamless, regular updates is worth something - in addtion to the camera of course. How much extra over the One Plus 7 PRO is a tough call, considering One Plus provides 128 GB storage too. Also throwing in comparisons to the Samsung 10 series current price, which came out 6 months ago, is unfair. Sure folks can buy a discounted S10 and put up with Samsung's non existent (almost) update process. I've owned the original Pixel XL, the 2XL and the 3XL as well as Nexus phones prior to the Pixel - and because of the almost universal concern by reviewers about battery life, for the first time I'm debating whether I might skip this generation. I'll wait to see if Google offers any discounts for Black Friday, I guess, because at $100 -150 off, I'll probably jump in.

Not everyone cases about updates. How about Samsung offers featured rich software and is way ahead of pixel.

Again, good podcast. Most surprising to me is how battery life has finally come into your discussion as a deal breaker (specifically for Daniel) where this was never, I believe, addressed with such a high priority before. Maybe it's time to split ratings into 1) technical excellence and 2) real-world (or practical) capabilities for all phones reviewed. For some of us getting through the day on a single charge is more than useful. It's how we see one of the foundation utilities of a phone for convenience, access, and maybe even safety. I can be impressed by the geek factor of the Pixel phones and others (such as the Samsung Fold), but not be willing to invest in phones that are ultimately not practical for day-to-day use. Other factors to consider is what the actual phone size becomes when you take into account the at-times necessary case, the screen protector that either wraps with the screen or doesn't, or the camera bump that can be safely protected or not. When discussing phones in a real world setting, these mundane factors become useful considerations when deciding on how to invest one money and time. Thanks.

Great podcast as ALWAYS kind regards Richard U.K

Is there not a battery case for the pixel 4?? I have one for my Pixel 3xl and, for those days when I'm out and about, I put it on
Android Central Newsletter
Thank you for signing up to Android Central. You will receive a verification email shortly.
There was a problem. Please refresh the page and try again.