Here are most of the Pixel 2-exclusive wallpapers for download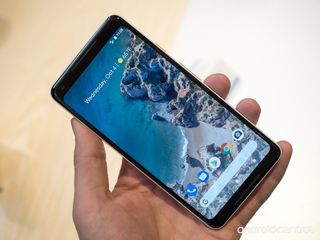 While not everyone may be able to get their hands on a Pixel 2 right away, users can make their own phone look like the Pixel with a bit of work. Earlier we had the Pixel launcher become available, and now Reddit user shivy2390 has shared the Pixel 2's wallpapers to complete the look.
The wallpapers are divided into three downloads: an underwater collection, the "Rainy Day" image that has been in most press images, and the "Keep Looking" collection. There's no pattern to the last collection, with images ranging from hot air balloons to Slinkys to my personal nightmare: two cups of coffee in the midst of spilling. We have a small gallery of wallpapers, with the download links to the full collection below that.
Image 1 of 4
Android Central Newsletter
Get instant access to breaking news, the hottest reviews, great deals and helpful tips
Finally! Thanks for the heads-up. I really want that shore wallpaper since I first saw it.

Don't think that's in there.... I could be wrong

Yeah, just downloaded, just a bunch of corals and stuffs I guess I'll just be content with the wallpapers being high quality.

I am pretty sure the one you want, is a live wallpaper. It was moving when I saw the early reviews.

There are all the new exclusive wallpapers except the new.live wallpapers

"Living Universe" live wallpapers please

Those are Pixel only unfortunately

http://phandroid.com/2017/10/13/download-get-these-amazing-google-pixel-... Not all of them work, but enough of them do

Thanks! I'm using it on my tablet right now but its obvious that it wasn't made for the 4:3 aspect ratio as you can see some of the black void edges on some of the wallpapers and incomplete clouds on one wallpaper. I did found a poor work around so I'll keep using it as its gorgeous on a 2k display. edit: Just want to note that the shoreline wallpaper looks so washed out on the pixel display on the screenshot compared to my tablet but maybe its just the camera's fault.

Yeeees!! :D Been looking for these everyday since the launch. So many nice wallpapers. Thank you very much @shivy2390 & TOM WESTRICK for posting the article. :D

I just installed the apk on my s7 edge, but cant find the live wallpapers anywhere. Any ideas?

If you go to wallpapers then scroll all the way to the right and select live wallpapers. Should be in there. Most of them don't work but the beach one does.

Dam I didnt even know that was there. Thank you very much!

Thanks so much. Really been looking for that live shore wp. Looks great on my S8.
Android Central Newsletter
Get instant access to breaking news, the hottest reviews, great deals and helpful tips
Thank you for signing up to Android Central. You will receive a verification email shortly.
There was a problem. Please refresh the page and try again.