You can now download the Google Pixel 2 launcher on any phone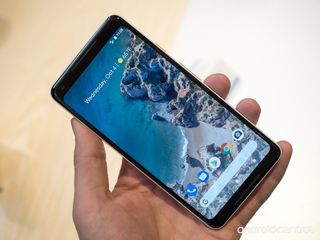 Google's been known to tweak its vision for Android's home screen setup with each new release, that's no different with this year's Pixel 2. Thanks to the folks at Android Police, you can now download the Pixel 2's launcher onto any of your devices.
The launcher on the Pixel 2 isn't as drastic of a change as we saw last year, but there are still a few changes that are worth checking out – most notably the repositioned Google search bar and updated weather/date widget.
Google's search pill in the upper-left corner of the screen has been replaced with a more traditional search bar below the apps in your dock, and it now features a transparent grey color with a white "G" (although the "G" seems to be colored for some users). Tapping on the search bar still brings the regular Google search that we all know and love, and while its new placement does take some time to get used to, it does help tremendously for reachability.
The second big change is with the new At A Glance widget. This is the centered widget that shows you the date, time, and upcoming calendar events, and it's also an improvement over what we had last year.
Tapping on the date will open Google Calendar, and tapping on the weather will open (you guessed it) Google Weather. If you have an upcoming calendar event, the weather icon will be shrunk down and the date will be replaced by information for that event, including the name, when it starts, and its duration.
Along with these bigger updates, there are smaller changes as well. The app drawer now shows slightly more apps than before (about half of an additional row), folders have a new opening animation, swiping quickly to the top or bottom of the app drawer now has a subtle bounce to it, and the clock app icon now updates accordingly to the actual time (similar to what iOS has done for years).
If you want to get the Pixel 2 launcher on your device, you can do so by downloading the APK file here. The launcher can be downloaded to the Pixel and Pixel XL without any sort of modifications, but if you want a working Google Feed on the left-most side of your home screens, you'll need to install the launcher as a system app.
Get the Android Central Newsletter
Instant access to breaking news, the hottest reviews, great deals and helpful tips.
Joe Maring was a Senior Editor for Android Central between 2017 and 2021. You can reach him on Twitter at @JoeMaring1.
Crashing on my S8 plus. Sigh.

Same on s8. :( I was able to get Nova to mimic the look pretty well. Search bar in the dock etc...

I had that, too. Weird that others are reporting it working.

How did you get the search bar in the dock?

Have to remove all the icons then slide the search bar in the dock. There is a tutorial online on how to do it using Nova

Does anyone know why? I would imagine that this phone would run it just fine. I have it on my BlackBerry KEYone and it hasn't crashed or stuttered yet. You don't have it on your SD card do you?

I just get an app not installed notice with no other information. Not sure what the issue is...

I got the same message, but when I hit the Home button it was in the list. I don't know how to install it as system though.

I found directions online, but it requires Root access.. http://howto.highonandroid.com/android-how-to-tutorials/how-to-install-p...

You can also download the Google Camera apk from the Pixel 2 (this and the new Pixel Launcher were first uploaded by us XDA-Developers before it was posted on APKMirror).

" (this and the new Pixel Launcher were first uploaded by us XDA-Developers before it was posted on APKMirror)" Good for you, have a cookie, while the rest of keep not giving a flying **** who was first. We're not 5 year olds.

It's working on my note 8 the other launcher makes my apps disappear.

How do you install the launcher as a system app?

aren't all launchers considered apps?

Have to have a rooted phone.

Can you turn off the search bar? I do like the look of this way better than the pill. I just don't need the search bar when it's just as easy and more convenient to open my browser.

I don't mind the search bar (though I prefer the pill - and have Nova set up that way). What I hate about it, though, is that it brings up its own 'browser' for the results. Presumably this thing is still Chrome, but it doesn't support tabs - so you can't select multiple search results to open. Why on earth...?

Yep, that's exactly why I use my browser instead of Google search.

You can disable functionality to open a link in the Google Search's custom browser. Steps to follow, go to the Google Feed page. Hit the overflow menu i.e three vertical dots. Then select Settings>Accounts & privacy and then hit the switch that says "Open web pages in the Google App".

That doesn't really help. I want the search results to open in chrome (or better yet, my default browser). Otherwise, I still need to navigate back to the search results in order to open more than one page. I.e., you can't open results in the background. I guess the Google search app is its own separate app, and maybe it has to be for the 'assistant' context stuff to work. There must be a reason it has this limitation. I just don't like it.

Also, the Google search app doesn't seem to appear in your 'recent apps' list. Once you navigate away from your search results, there's no way to get back to them. Sure, if you set it to open web pages in an external browser, Tha back button gets you back. But if, say, you click on a notification and that navigates you away, you can't go to recents to get back. Of course, the search history makes it easy to rerun the search. But still...

Works great on the OG XL.

I like both apps and they are working on my OG XL. But what I'm noticing is incredible battery drain. I have noticed the phone feels a bit warmer as well. Prior to loading these, I could go off charger at 7:00 AM and make it to about 8:00 PM with 50% left.
Today I had to hit the charger at 5:00 PM with 20% showing, charged it to ,96% and at 12:33 AM I have 56% left with light usage since coming off charger at 5:45 PM.

I really don't get the big deal about the search bar on the bottom. With always on "OK Google," and Assistant, I rarely type anything into the search bar. In fact, I don't have any search bar on my home page. Don't need it.

Well if you are in public comes in handy. I don't know, are a the one who is annoying by talking to your in public?. Not judging

It looks great, but I wish they would have kept a swipe right, Google Now type option in the stock launcher. It's extremely convenient for glancing at things you need and interest...

Tried it on my P10 but of all the launchers the Pixel one has to be the most boring. Wanted to like it but it just does nothing for me. I'm guessing it'll be the first thing I change when I get my 2xl

Nova prime > Pixel launcher My Google search bar has been at the bottom of my home screen for about 4-5 years now. I always thought having it at the top of the screen was just plain dumb.

Works great on the OG Pixel XL!

How do you get the weather to show up? I can get it to show.

I can't get the weather either (Note 8)

You need to add Google weather short cut to the home screen (search weather in Google, click on weather card, go to hamburger menu, click add to home screen)

Thanks , it works Display google apps to the left of the home screen is not working

How do I get Google Now I'm the left pane, and how do I get all circular icons??

Looking and working great on my OG Pixel XL. Love the search bar at the bottom and gone is the translucent rectangle surrounding whatever 4 homescreen apps at the bottom. 👍

I'm liking Microsoft (arrow) launcher too much right now

Agreed. Tried the Pixel launcher then quickly went back to the Microsoft Launcher. The more I use it the more I love it

Runs on Moto Z (without left window), but not impressed. Don't think I care for the search bar on the bottom. That may be useful if it would pop up in the held the home button.

I really want that live wallpaper on the pixel 2. I hope someone finds the file

Here ya go. https://plus.google.com/105142287214759768365/posts/bVzaCBnjvqj

I'm getting the black bar on my soft keys when using the launcher on my LG G6. Very annoying because otherwise it works well.

You need to adjust the scale of the Pixel Launcher app to 18:9 in settings\Display\App Scaling.

Will this be officially released through the app store at some point? I have the original Pixel and I'm wondering if the launcher will update to the new version at some point.

Here I was hoping it was in the Play Store, oh well.

I wish there was a way to have the Google feed without having it as a system app, like some other launchers..

I'll wait for Nova Launcher to get the new Pixel look. No need to download a whole new launcher.

Don't get what's so special about it. Nova can do the same, and more...

I downloaded the launcher and it's nice. But I don't get anything showing under "at a glance". I have created events in calendar for today, but nothing shows on the home page other than weather and day/date.

How do you uninstall the app if you no longer a want it on your phone? I'm keeping it for now but may want to remove it at some point. Thanks!

I don't think it's as nice as the first pixel launcher. Mind you, I haven't rooted my phone, so I'm not getting the proper notifications.

I have the Google now launcher on Nexus 6p. I downloaded the Pixel launcher, but I think the Now launcher looks better on the 6p screen. Maybe the size or something about the screen size. Anyway went back to stock launcher on the Nexus 6p

I am not getting the weather nor the calendar events

I've gone back to the first pixel launcher... Much nicer, probably because I haven't rooted my 6P.

Not compatible with GS7 Edge

You can download Rootless Launcher directly from the Play Store. It's the same thing, but comes with the Google news feed automatically.