The Android phones we're using, December 2016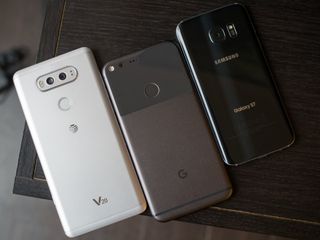 Part of our jobs as editors here at AC is using all sorts of different Android phones. Big ones, small ones, red ones and blue ones — we try them all. And while you'll usually find more than one phone in our pockets or bags, we always have one that we use a little more than the rest and do our personal stuff like posting on Instagram or texting our friends with it. We tend to think of that one as our phone.
When we're talking about phones, which is like all the time, we get the same question over and over — which phone do you use? The answer will change as often as the weather, but this is what we're using right now.
Here are the phones the AC editors using in December 2016.
Alex Dobie — Galaxy S7 edge
After a brief stint on a 32GB Pixel XL, I'm back on the Samsung Galaxy S7 edge, and using it with the current Nougat beta. The Pixel is the quicker of the two phones, sure, but I'm enjoying being able to use wireless charging again, as well as having a 128GB microSD installed, which basically ensures I'll never run out of space for photos or music. There's no question that the GS7 edge is one of the better looking Android phones, too, compared to the relatively bland "Quite Black" Pixel. Battery life is top-notch too, and I can safely use it without any explosive mishaps.
Andrew Martonik — Google Pixel XL
After some time using the smaller Pixel and enjoying its size, I've landed back on the Pixel XL and it all comes down to one thing: battery life. Traveling this past week and using roaming data, it just showed how much I appreciate the extra battery the XL offers. I'm still loving the software and am completely enthralled by what the camera can do, but moving to the XL means not ever worrying about the phone lasting a full heavy day of use.
Daniel Bader — LG V20
I used the Google Pixel (the smaller one) for almost the entire month of November, and loved it. From its clean-as-a-whistle software (that expression makes no sense) to its excellent software, there probably isn't a better Android experience right now.
But for December, I decided to go big, transitioning to the LG V20, a 5.7-inch phone (in)famous for its Second Screen and removable battery. I have to say that despite dropping a decimal in terms of Android versions, the V20 holds up nicely, especially after a recent performance-improving update, and the software has no jarring deviations from Google's own — just a number of questionably-useful gimmicks that can easily be disabled or ignored. The hardware is solid, certainly more so than the G5, and I am a big fan of the V20's manual camera features that, combined with its second sensor, offer some unique and truly fun experiences.
Florence Ion — Really Blue Google Pixel XL
I had a seance for the Nexus 6P, but I'm hoping to revive it with Android 7.1 over the holiday to see how it fares. I've got sage at the ready if that backfires.
Until then, the Really Blue Pixel XL is my trusty steed and I don't think that will change even after next year's flagships come a-callin'. This phone is simply everything and I love it even more now that there's a Google Home and Daydream VR to accompany it. The camera on this thing is still blowing my mind, too. Just look at the way it captured the Fiords in New Zealand.
Jerry Hildenbrand — Google Pixel
Specifically, the smaller and more superior Pixel. The phone I carry out of the house is a thing I need to depend on. I need it to be able to contact the people I need to contact in the ways I need to contact them without any extras getting in my way. Sometimes I can do more fun things, and I do have a game (opens in new tab) or two from Google Play installed, but mostly my phone is a phone — it's for making and taking calls, sending messages and getting my email. A few phones do all this the way I like it done, but I think Google does it the best.
The Pixel gives me the no-nonsense software I want that's always up to date. I'll use it until another phone can do the same thing.
Russell Holly — Google Pixel XL
Because Daydream is awesome, the camera is amazing, and the battery gets me through the day.
Get the Android Central Newsletter
Instant access to breaking news, the hottest reviews, great deals and helpful tips.
Senior Editor — Google Ecosystem
Jerry is an amateur woodworker and struggling shade tree mechanic. There's nothing he can't take apart, but many things he can't reassemble. You'll find him writing and speaking his loud opinion on Android Central and occasionally on Twitter.
I'm using the Honor 8 as my primary phone now. It's an absolutely top notch device that is also a bit underrated I think. I just wish better life were a little better. I'm also enjoying Nougat on the S7 Edge. It made a great phone that much better. Also worth noting I just downloaded the December security patch with even more added function.

What battery mode do you have on? Performance or smart? I agree with it being underrated.

I've kept it mostly on performance. Is smart more efficient?

Yep, it is but for some notifications, you have to whitelist the apps or else.

Got one in my shopping cart now, i just can't pull the trigger. I need to sell my monstrous Nexus 6p first.

Surprised to not see any Moto Z's in here. The Moto Z Play is a great buy with outstanding battery life.

The Z Play? In this company?

Moto Z Force Droid here. Great Phone on par with Galaxy S and Pixel.

I know Alan F. over at PhoneArena has a Moto Z Force Droid (he did a write-up about coming back to Android and that was the phone that brought him back). I like the idea behind it, but then I think that to have those benefits I'd have to carry those mods around with me. It takes me back to having my old Panasonic Lumix camera (one that looked like an Eos Rebel) in a bag with a replacement battery, charger, memory cards, etc). That's why I was glad when smartphone cameras started getting good enough that there wasn't as much of a trade off using them in place of a dedicated camera. To go back to that is kinda a step backwards for me. But I do see an appeal if you don't mind dealing with that, it's just not for me.

Because Motorola are crap hence why no Moto Z lag or Moto Play lag.

Moto X 2014. Can't let go.......

When did you buy yours? I bought mine two years ago this month, and the battery life is practically non existent. It's a shame cuz mine still runs pretty smooth, but I can't get to 2pm with light usage without having to find a charger. It also randomly dies anywhere from 20-50% without warning. My pixel will be here in 2 days....

Had it about 18 months, battery not as good as it was but it's ok. Accubattery tells me the battery is at 82% health.

I had the same issue with my Moto X 2014. I love that phone. I just replaced it with an Honor 8. Battery lasts me 1.5 days on smart. I do miss my Moto lock screen and all the Moto features. I'm tempted to sell it and get the Moto Z Play but I got my Blue Honor 8 64GB for $285. Hard to beat that.

My wife still rocks this phone. She swears it dies many times before it even reaches 15%. Still runs great though. She'll use that thing until it shatters.

Just received my PixelXL and couldn't be happier. After years of using Nexus devices I can say that the Pixel is the epitome of Android phones.

Moto Z right now. Awaiting Nougat to land on my device.

I can't put down the HTC 10.

Why? I'm debating if I should upgrade from the HTC one m8 to htc 10. Cheers

If you like the m8 you'll love the 10. It's hard to say what makes it so amazing since it's missing so many "must have" features but to me, it's greater than the sum of its parts.

Thanks for the reply.
Is it really that much smoother and faster? I fell that my m8 is pretty smooth, still. Don't you miss the front stereo speakers? Is battery life much better? Cheers

You're right about the M8 -- my friend has one, and I can't believe how fast that phone STILL is. Honestly, I can't claim that the 10 is any faster than the M8 for the things I use, they're just both really fast. What the 10 does have is incredible build quality. The phone just seems so classy and high-end to me (I don't use a case). A lot of phones look similar these days, but the HTC 10 *feels* premium. I also like the USB-C port, for the simple reason that I don't need to fumble with the orientation of the cable. Headphone output is first-rate, and the speakers are also good. However, they are not front-firing stereo speakers like the M8, so if that feature is extremely important to you, then you may want to stick with your current phone. Edit to add: Battery life was stellar when I bought it over the summer (comparable to my Note5), but lately something has been draining it. This is most likely due to an app or configuration on my part, not necessarily the phone itself.

Thanks a lot for your answer. I haven't tried the 10 personally, even at a store but from what I've read I agree with you. I still love it, even the camara for my use at least and after replacing the battery it's gotten very good again in that department. I think I'll keep it a year more or until the 11 arrives. And I also think that the M8 feels very Premium, don't you? Cheers

Oh yeah, the M8 does feel premium. That phone is pretty amazing, considering when it was released and what the competition was like. The camera on the 10 I would rate as "good". The quality is quite nice, but it may take a few tries to nail a great shot. Whereas the Note5 has the best phone camera I've ever seen (some say the newer S7 camera is actually a small step backwards). One thing I forgot to mention: A fingerprint reader is a must for me now, and the 10 has a very good one.

I'm using the LG G5 at the moment and honestly love it compared to my S7.

G5 is a great phone if you get past the attempt at modularity. I know I did but then I decided I wanted bigger and went V20.

I just got a G5 and don't care about it being modular, just got a good price, and upgrade over my G4, and it charges fast and lasts all day with my regular usage.

G5 running Nougat. Couldn't be happier.

Yep. Nougat makes such a difference in the phones performance too. I think it runs very smooth and performs a lot better running Nougat. Marshmallow was kind of a rushed process throwing out .

Agreed, I think it is a great phone for the price. I snagged a couple using the T-Mobile One plan for $199.99 a piece. Paid both off on my last bill. Not too shabby at all. I think it is just as good as my S7 that I have.

Minus the LG V20 being bigger in size I just couldn't really wrap my self in paying the extra money for it. Don't get me wrong, it's a gorgeous phone, just not for me.

I had the G5 and it was phenomenal. Much faster and smoother than the S7e I also had for a bit

Note 5. Next stop: Note 8

Same here. Had to give up my Note 7. Bought a 5. Now waiting for the next big thing from Sammy. Never gonna rock a phone other than a Note again!

1st s7 edge exynos nougat + pixel launcher
2nd iphone 7
3rd pixel

Love my S7. Flashed the US unlocked ROM and I couldn't be happier.

Yes it was one! I found this to be super interesting in how different and how similar they are.

Asus Zenfone 3 Ultra. Go big or go home, baby

That's not a phone, that's a tablet with a dialer.

And people complain that screens are too big. That's part of the reason I still have my Nexus 6 as my daily driver, it's still a very capable phone.

Using a phone as a phone?! That's just silly, Jerry...

You gotta get that sick new Phone app. It's probably pre-installed. It's like texting but you get to talk right at em.

It's cool to let us know what y'all are using and why. It's kinda like if AC is using a certain phone (on a regular basics) you know it's top notch. Yall makes me want the pixel XL 😔

I'm a big stock Android fan, but even I think that Alex and Daniel are the smart ones here.

@DanielBader ... With regards to clean whistles ... think of those big steam whistles big boats and steam trains used to have

Cm14 with pixel launcher brought new life to my Nexus 6p

I have a 6p and love it but can you explain what cm14 is? Also I don't see any pixel launcher on the app store

Whoa, why are you posting here?

Or you could have answered the question.....clearly not everyone has the expertise like others.😒

Cyanogenmod. You would have to download the apk for the pixel launcher from apkmirror.com.

For Android, it will always be the Honor 8 for me, until a smaller phone is capable of being on the same level, if not better and isn't a Galaxy.

Using my Moto X Pure Edition since its debut in Sept 2015. Still a decent phone. its not the sleekest or the fastest - but it still holds its own rather well in everyday tasks - which is all I need. I may switch to the Pixel once the price drops - but as of now my Moto X still serves me well.

Moto Z Force ... With Nougat :-)

Agreed...a somewhat underrated phone.

U betcha 2nd that motion!!

Had a S7 Edge, but that was a lagfest. Currently with a Moto Z play enjoying the battery life and smoothness of it. Looking at getting a pixel though.

Really Blue Pixel here. Love it.

Still rocking the Note 4. Still a great phone, still works great. I'll be using this until the Note 8 drops.

Ara Wagoner - HTC 10 Bluetooth has been a little witch on this phone for months, but Nougat's at least helping the battery and settings.

if you are having issues with bluetooth why didn't you try exchanging the phone or did you?

At the time I thought it was my headphones. By the time I realized it wasn't, HTC wouldn't do anything. Still won't do anything.

What does your bluetooth do? Lately I've had bluetooth Skip around every 30 seconds or so. Had this phone for a year and it just started.

starts glitching when the phone I have the phone i my pocket and headphones on my head. Which is just ridiculous.

No love for the Moto Z Force Droid...a phone I didn't expect to really like when I grew tired of waiting for the Pixel XL to get in stock. The camera is slower on it but the quality is on par with Pixel, Galaxy S and it is a darn nice phone. Also has 7.0 and it is Daydream compatible now.

I'll stick with my Nexus 6 until next year's Pixel. I hope they bump the screen size up on the XL.

After being Nexus user from day one Pixel make me move on. To expensive and still dues not have what I was looking for. I make a move to V20. Everything I wish for it's here and much more for slightly less money. New days I have no more time for flashing and playing with my phone. All I need is working phone with all I need on it and V20 dues it better then I expected. LG V series is my new age Nexus/Pixel phone. ;)

It's fantastic that every writer from every major tech/android blog is using a Pixel/Pixel XL It would be even more fantastic if a regular consumer could purchase a 128GB version and not have to wait 2 months to get it. But I digress.

S7E (after, sniff, having to relinquish my Note 7). Looking forward to Android N on it.

I'm a budget user who tried a LeEco Pro 3, and am now the happy owner of a OnePlus 3T. After the LeEco Pro 3 failed to recharge, I sent it back for a refund, then dug a little deeper into my pockets to purchase the OnePlus 3T with 128gb internal memory. The UI is sweet and the phone flies. The battery life is excellent and Dash charging recharges faster than QuickCharge 3. This will be my primary phone for the next couple of years.

How is the smaller Pixel superior?

Lol probably just Jerry gloating because he's happy to have a small phone again. Last year he loved to talk about how the gold Nexus 6p was the only phone to get

One of the few still using the BlackBerry PRIV. Never was a huge pkb fan, I just loved the look of the phone when it came out. Now, I don't know if I ever want to use a phone without one.

Galaxy S7 running the latest Nougat beta. This phone is just amazing on Nougat. And I'm very happy with it. Won't be upgrading until the S8 is released in March. The display is still amazing, battery is great, my favorite Android to date

LG V20, still getting used to the 5.7 inch screen. Great phone, love the dual screen.

I'm using a Oukitel U 15 Pro, an obscure mid range Chinese phone that performs like a high end Android phone, I'm looking to get the One Plus 3T (most likely) or S7 Edge next year.

OnePlus 3T. Got tired of waiting for 128 GB Pixel XL to come back in stock. Also saved $400.

I went from the M8 to the Pixel and loving the upgrade even though the M8 is my favorite smartphone ever.. The Pixel is a nice upgrade for Android period... It's definitely a premium device! I am holding on to my M8 as a back up.. love that phone!!

Moto G4. It just works, and that's what I like.

Very Silver Pixel XL 32 GB on T-Mobile, came from an S7 Edge

Nexus 6P and Galaxy S7 edge here. Best of both worlds! But been using 6P mostly. Once S7 gets Nougat I'll switch back again.

I'm still using my trusty Note 3. For what I use it for, it just works. I have replaced the battery once but that's it.

My wife and I each use Nexus 5x on Project Fi. The phone fits our needs as does Project Fi.

I'm using a Nexus 6 still... Cracked screen and all!

Nexus 6P Gold 64 GB and loving it.