Pebble Time Best Buy Pre-orders are now live for $200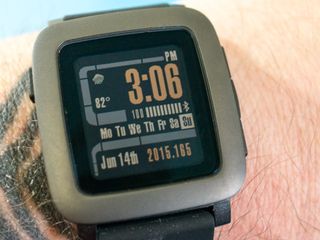 As previously covered, Best Buy has scored exclusivity rights over pre-orders in the US for the new Pebble Time. Today's the day for non-backers to begin pre-ordering the accessory for their bare wrist.
It's worth noting that these listings are for the Pebble Time only and not the Pebble Time Steel. Also, if you haven't already done so, we strongly urge you to check out our full in-depth review of the Pebble Time.
Here are the Best Buy store links to get you started:
Will you be picking up a new Pebble Time? Be sure to let us know in the comments below which color you decide on.
Android Central Newsletter
Get instant access to breaking news, the hottest reviews, great deals and helpful tips
When it gets to $50 I'll get one.... Posted via Android Central App

Sooo you won't be getting one Posted via the Android Central App

Good thing you don't run this business Posted via the Android Central App

Maybe he will. The Pebble Steel is $75 right now at AT&T stores so this one will probably be $50 eventually. Posted via the Android Central App

2 years after release? Sloths>Leopards>Bags of Chips>Humans.

Shhhh Posted via the Android Central App

I believe the Pebble Steel was released February 2014 and even then it wasn't readily available. That's closer to 1 year by my count. Regardless, "David Jones13" said he'd get it once it hit $50 and didn't state a time frame for it to hit that price. Posted via the Android Central App

So I can either get this or spend another $50 on a Moto 360. Tough decision. Posted via the Android Central App

You could've scored a Moto 360 for $150 last week at Best Buy. Posted via the Android Central App

180 at amazon Posted via the Android Central App

If you're looking for something nice on your wrist then go for the Moto 360 nothing beats that design. But functionality wise hmm the pebble it's still a very interesting device. Posted via the Android Central App

True. Android wear is inferior in functionality terms. Posted via the AC App
VZW Moto X DE, N7,Note 4

I really don't understand the appeal of this thing. It looks like a Fisher Price toy. I realize this type of comment gets posted on every Pebble Time article. That's great if you ordered one and will enjoy it. However given the number of comments like my own, it's clear Pebble missed the boat with their 2nd gen offering.

With a Star Trek NG watch face Posted via the Android Central App

I hope Michael Okuda received some money for that design...

However given that they hit their kickstarter goal in less than 15 minutes and have the record for most money funded on kickstarter, I'm gonna say they didn't miss the boat in the slightest. Posted from my Droid Turbo, Kelly and Ozone

Exactly. Usually the Fisher Price comments are from the same people cause they're the only one that dictates the Pebble appeal. Posted via the Android Central App

Because it's the people that DON'T have one that are making comments like your own. Us that already have the product (and/or the Champions edition like myself) are too busy enjoying ours. We don't mind y'all talking down about it and saying it's not worth it. It doesn't really do anything to my feelings..... I'm already rep'n it on my wrist so why should I care about the opinion you have about the product you DON'T have. Anyway, carry on~

Pebble Time Steel or bust. Personally I'm waiting for the Pebble Time Steel: Reduced Bezel Edition (RBE)

who would want this over an Android Wear device?

Anyone who wants 7 days of battery life instead of maybe 1, the time always displayed (you know, like a watch should be), to be able to see the screen outdoors, or to use it on both iOS and Android. Andriod wear is nice, but there are some definite pros to having a pebble.

It's like a Casio digital watch compared to a real smart watch. No wonder it gets a week of battery life.

My g watch r and urbane have screen on all the time and last over 2 days on a charge which takes about 30 minutes Posted via the Android Central App

Same here on my R. My 360 not quite as good but still easily a whole day at least. Posted via the Android Central App

Android Wear is overrated. Just my small no one cares opinion. I left AW long ago and sold my 360. Have no rush to return till 3rd gen watches. Hopefully refined by then. Posted via the Android Central App

True but totally irrelevant to the question.

And who would want an Android phone over an iPhone or a Windows phone? See what I just did there? My reply was no more ridiculous than your initial question.

Man, this thing looks like a toy. Posted via the Android Central App

Well, good news..... Your profile pic is of Iron Man and I know for sure they sell toys of him at Toys R Us. But anyway I guess all tech looks like toys in your opinion. Because..... You know, it's a tech device. I guess the Apple Watch looks like a toy as well right? Because it can have a Mickey Mouse watchface...... Good talk.

Gonna be a flop Posted via My G2

Yeah a massive flop following the 78,471 backers who pledged $20,338,986 via Kickstarter....

Wow, 75,000
Tell that to LG/SONY/SAMSUNG/APPLE Posted via My G2

Tell that to Apple? Sure. Tell that to LG, Sony or Samsung. Not so much when the combined sales of Android Wear is probably less than 1.5 million, and that counts all the devices that you can get for half price (if that) on eBay and Groupon. Google has completely retooled the OS from its original "voice driven remote control for your phone" emphasis, including adding Wi-Fi support and rushing to get Google Hangouts support for Android Wear, as well as completely re-doing the launcher and giving OEMs the freedom to add physical buttons/knobs and implemented the wrist flick gestures, totally abandoning the primary voice navigation concept. Basically they are scrambling to turn it into a standalone mini-tablet device which WAS NOT the original plan for Android Wear. And if sales do not improve, it may well turn out to be yet another product that Google quietly abandons.

Ok I will do you burned me bad then. Posted via the Android Central App

Right! Ohhh wait..... You didn't get any of that money. They did. I guess you're just all peanut butter and jealous bc you're not as rich or have a big pile of money. I guess you flopped at life. Yikessss. Anyway, try harder (maybe)? Good talk.

Function over form this go around Posted via the Android Central App

Way to expensive for a closed, single platform plastic watch!! I paid that for my zenwatch. 360 has been $150 for months!

When did Android and iOS become a single platform? Posted from my Droid Turbo, Kelly and Ozone

And Windows phone and Bb10. Pebble unofficial supports the small 2. It's the closest thing to a universal smartwatch. Sloths>Bags of Chips>Humans.

Great, another overpriced smartwatch.

Great, another ridiculous and self opinionated comment.

I love Pebble but this is DOA I'm afraid... Hope to be wrong

The kickstarter has already proven you wrong.

Guess you don't love them enough or you would have KS'd it and already have it on your wrist like myself (Champions edition too).

Why do people keep saying it looks ugly personally I love how this watch looks not only that but the timeline OS is just so unique looking really thinking of getting this or the time steel Posted via Android Central App

Beauty is in the eye of the beholder so there is at least a few who don't think it got hit by an ugly stick. I'm guessing you're one of them. Posted via the Android Central App

I currently have a Pebble Time that I got last week from the Kickstarter campaign. The bezel is not plastic, it's metal. The main body is plastic, but doesn't look cheap. It's also water resistant meaning I can get it wet with out worrying about it. 7 days of battery life, yes I can confirm that. The Pebble Time also has support for smart bands that can be used to add functionality to the watch, think extra battery, cell modem, etc. I know of no other smart watch manufacture that has anything like this functionality. I also have a Pebble Time Steel that will be showing up soon. So my question to all of the people who are bashing on this watch. Have you ever used one or even held one in person?

I've never owned one because it's hideous but I have held one. Posted via the Android Central App

Did it turn into a slithering maggot in your hand? Well, you said it was hideous.... I was curious.

I have had both the pebble steel and LG G watch. I thought I was upgrading going to Android wear but it actually felt like a downgrade. The battery life sucks on all android wear watches.
Sometimes they lose alot of battery randomly.
They suck in sunlight.
They feel a little bit sluggish
The always on features sucks because it basically blacks out the screen and just the time shows. Then you got to press the button so your watchface pops up and then you can scroll through what you want.
Or you can raise your wrist to your face so it turn on but it takes a second and it's annoying. The pebble steel has
7 day battery.
Always on screen.
None of this having to touch the screen or flick your wrist to see.
You can see it perfectly in direct sunlight. Posted via the Android Central App
Android Central Newsletter
Get instant access to breaking news, the hottest reviews, great deals and helpful tips
Thank you for signing up to Android Central. You will receive a verification email shortly.
There was a problem. Please refresh the page and try again.