OnePlus Type-C Bullets vs. Google Pixel USB-C earbuds: Which should you buy?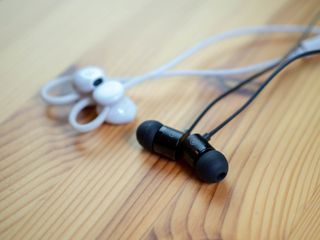 (Image credit: Android Central)
OnePlus Type-C Bullets
OnePlus has recreated the success of its original wired earbuds with the Type-C Bullets, offering decent sound, wide phone compatibility, and plenty of value for the price.
OnePlus Type-C Bullets
Comfortable
Great sound for the price
Compatible with most Android phones
Three ear tip sizes
Google Assistant integration
Limited bass response
In-line remote feels cheap
Google Pixel USB-C earbuds
Google's $30 USB-C headphones sound great if you're really into bass, and the Google Assistant integration is fantastic, but you need to be running the latest Android hardware to get it.
Google Pixel USB-C earbuds
Big, boomy sound
Easy-to-adjust ear cinch
Robust Google Assistant functionality
Can do live translation and read notifications on Pixel phones
Wide phone compatibility
Highs are muddled
Bass can overwhelm the mids
Only comes in white
May be uncomfortable due to lack of ear tips
Until very recently, USB-C headphones have been difficult to find and even more difficult to justify — there just wasn't a market for cheap, off-the-shelf earbuds terminating in the newish port. But now that most phones have done away with the headphone jack of yore, and dongles are getting thrown into drawers (or garbage cans), USB-C headphones are filling in the inexpensive side of the market, especially for people discouraged by Bluetooth's finicky nature and lower sound quality.
Google and OnePlus put out inexpensive USB-C headphones within a few weeks of one another, and I thought it was important to evaluate both of them for anyone who's thinking of picking up a cheap pair of earbuds for their next excursion.
Sound quality and hardware
These two pairs of earbuds couldn't look more different. OnePlus has adapted its straightforward, diminutive design for USB-C, and it's immediately familiar — thin, flat, rubberized cord, plastic housing, slightly protruding driver, and silicon tip. They're small and lightweight, and sort of disappear into a pocket or bag. The USB-C plug is also fairly compact despite housing the Digital-Analog Converter (DAC), and the in-line remote, while small and a bit plasticky, feels robust.
Inside the box, you'll find the headphones themselves and a small bag containing two additional eartip sizes. I found that the standard "medium" size — the default — fit in my ears just fine, but it's nice to have the choice. At the same time, I'd imagine you can probably buy a pair of Comply foam tips and get a better seal and improved sound than the included ones, but you do get some isolation from the silicon.
Swipe to scroll horizontally
| Header Cell - Column 0 | OnePlus Type-C Bullets | Google Pixel USB-C earbuds |
| --- | --- | --- |
| Cable Length | 1.15m | 1.12m |
| Weight | 14g | 15g |
| Impedance | 24Ω | N/A |
| In-line remote | Yes | Yes |
| Color | Black | White |
The Pixel USB-C earbuds are modeled after the underwhelming Pixel Buds, which were released in 2017 and despite some innovative features failed to find success. Google's USB-C earbuds forgoe silicon tips for a more Apple EarPod-style plastic housing, using an adjustable cinch to form a loop that helps keep the earbud itself in your ear.
There are a couple advantages and disadvantages to this style: first, the driver sits further from the ear canal, so there's considerably less pressure, leading to better long-term comfort than the Bullets, which I found myself needing to pull out every 20 minutes or so. Second, Google's earbuds offer much less isolation than OnePlus', which can be good or bad depending on the situation. There's more sound bleed, so they're probably not great for a loud office environment, since you'll hear everything around you and everyone will hear your music, but they're also probably better for staying aware of your surroundings while walking outside.
As for sound, these are both sub-$30 earbuds, so don't expect miracles. The Type-C Bullets have a much more even sound, with ample but not boomy bass, recessed but pleasant mids, and a considerable cut-off in the highs. If you're going for bright detail, these should not be your first pick — voices in podcasts sound a little far away, for instance, and your hip-hop and rock songs aren't going to be as impactful as they will be on the Pixel USB-C buds. On the other hand, Google's sound can get a little tiring after a while.
Features
Of course, you may want to buy the Pixel USB-C earbuds for their additional features, which range from rapid access to the Google Assistant and, on any phone running Android 9 Pie or above, access to notifications and Google Translate. These features debuted on the Pixel Buds last year, but this is the cheapest set of buds to support the features.
I like the notification-reading feature, but only in certain circumstances. For instance, while walking outside or when my arms are occupied, being able to press the up button on the remote to check the contents of a text message or email is very useful. On the flip side, hearing a "ping" every time I receive a notification (I haven't found a way to disable that sound) is annoying.
And as long as you have Google Translate installed, it's possible to translate in real time through the headphones, but as it was on the original Pixel Buds, I don't find this feature additive in any way — it's easier and faster just to use a single phone's speaker.
On the other hand, the Type-C Bullets also support Google Assistant by holding down the play/pause button for a second, and it works just as well as Google's implementation. In other words, you're not missing much.
Compatibility
Up until now, USB-C headphones have been plagued with compatibility issues — some pairs work on some phones, but universality has been an unfulfilled dream. Until now.
Both of these earbuds work with nearly every phone I've thrown them at, including the latest devices from Google, Samsung, OnePlus, LG, Huawei, and others. The one caveat is that to get the Type-C Bullets working on OnePlus devices older than the OnePlus 6T, you'll have to enable USB OTG mode.
Call and microphone quality
Simply put, the Type-C Bullets sound better, both from a voice and microphone perspective, than Google's Pixel USB-C earbuds. I verified this with several people over both Skype and regular phone calls — the Type-C Bullets were clearer and less sibilant than Google's version.
Which should you buy?
There's $10 between the OnePlus Type-C Bullets and Google's Pixel USB-C earbuds, and and while that's a fairly large percentage of the total cost of both of these products, they're still relatively inexpensive on the whole. So which should you buy? First, if you're a Pixel fan, you'll probably want to pick up Google's earbuds (that is, if you're using an older Pixel and didn't get them in the box, as they come inside every Pixel 3 box). They're likely to get new features, and compatibility is guaranteed.
But for most everyone else, I'd recommend the OnePlus Type-C Bullets. The sound is more balance, and the tips inside the box allow for greater variety in ear shapes. They offer a modicum of external sound isolation, and they're very comfortable to wear for hours at a time. They're relatively well-made and cheaper to replace, too.
Our pick
A headphone bargain at $20.
OnePlus makes great products for less than the competition, and the Type-C Bullets are earbuds that live up to that sterling reputation.
Bass-ic value
Google Pixel USB-C earbuds
Feature-filled but outclassed.
A solid pair of USB-C earbuds that are comfortable and feature-filled, but the sound leaves a lot to be desired.
Sign up for Black Friday email alerts!
Get the hottest deals available in your inbox plus news, reviews, opinion, analysis and more from the Android Central team.
Daniel Bader was a former Android Central Editor-in-Chief and Executive Editor for iMore and Windows Central.