A budget-minded OnePlus Z is necessary to win back longtime OnePlus fans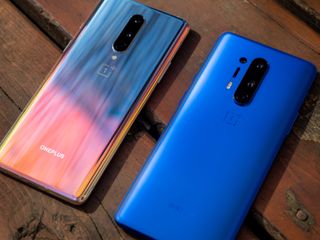 (Image credit: Daniel Bader / Android Central)
The OnePlus 8 Pro, starting at $900 (opens in new tab), is no longer representative of the classic OnePlus phone that earned the company its early recognition. Even the OnePlus 8, at $700 (opens in new tab), is pushing the limits of what a traditional OnePlus fan is willing to pay for one of its phones. If you jumped on the OnePlus bandwagon a few years ago because of its solid phones with almost too-good-to-be-true prices, the OnePlus of 2020 is basically unrecognizable.
OnePlus is now in the same situation as so many other companies: it needs to fill in the newly-created void underneath its ever-more-expensive flagship phones with a value-focused offering at a lower price. But in the case of OnePlus, it's even more necessary because of just how rapidly its phones increased in price. If you, like most people, only upgrade your phone every two years, you bought a OnePlus 6 for only $530 — and are now being asked to spend 30% more on a OnePlus 8, which isn't its top-end model like the 6 was, or 70% more on an 8 Pro.
While there's no disputing that the OnePlus 8, and perhaps the 8 Pro in particular, are incredible phones that really do challenge the top-end competition for less money, that isn't really the point. OnePlus fans don't just buy OnePlus phones because they're a great value against the "overpriced" competition; they also bought them, in part, because they were (historically) just downright inexpensive.
It doesn't matter if the OnePlus 8 Pro is a better value than the Galaxy S20+ because it's $300 less — ultimately, the 8 Pro is still $900, and that's too much for many people to consider spending. At the same time, if you're a OnePlus fan, there's a chance even the $700 for the OnePlus 8 is too much — and it's a core reason why I advocated at the end of my OnePlus 8 review that people should just buy a discounted 7T instead.
OnePlus already had this idea, nearly five years ago, with the OnePlus X. It was an ill-fated phone that failed for multiple reasons, but showed where OnePlus had its focus: a multi-device, multi-tiered strategy. The nominal figures feel crazy in today's context, as the OnePlus X was just $250, and the same-generation "flagship" OnePlus 2 was $380. But the percentages matter here — the X was roughly one-third cheaper than the phone above it. One-third less than the $700 OnePlus 8 would put the OnePlus Z at $465 — and it's no surprise that the rumored pricing right now is between $400 and $500.
That would make the OnePlus Z basically the same price as the OnePlus 5 when it launched three years ago — arguably the peak of OnePlus "flagship killer" fandom. And it would be an excellent price point to retain, or win back, the OnePlus fans that care dearly about price when shopping for their phone.
OnePlus has clearly kept a majority of its price-conscious fanbase even as its prices have risen considerably in the past five years. (And it's impossible to measure how many it saved by adding much-requested features.) But it's also lost many of those fans to other scrappy companies that are providing better value at lower prices — and it'll be poised to lose more as those who bought into the OnePlus 7 series look for an upgrade next year, only to be faced with the same sharp jumps the OnePlus 6 owners are seeing today.
All indications are that the OnePlus Z will launch at a really solid price. But then again, so did the OnePlus X — and, well, that was a complete failure. Obviously the second part of the equation, after you hit the proper price point, is to deliver a really good phone for the money. But OnePlus has a great track record of doing just that — let's hope that it hasn't forgotten how to deliver at a lower price after a few years of working with substantially bigger budgets.
OnePlus Z: News, Leaks, Release Date, Specs, and Rumors
Pay more, get more
(opens in new tab)
The more affordable OnePlus phone isn't so affordable
The OnePlus 8 is a great well-rounded high-end phone that delivers on the OnePlus theme — but does so at a higher price, with more features to match.
Get the Android Central Newsletter
Instant access to breaking news, the hottest reviews, great deals and helpful tips.
Andrew was an Executive Editor, U.S. at Android Central between 2012 and 2020.
I think worse than price OnePlus has almost lost their identity. Their phones have turned into "me too" devices and just too similar to Samsung now.

For me i don't like how they are bending over back to crappy US carriers. Yeah i know it makes business sense for them but personally i don't like companies dancing to tune of US carriers. Thanks god we have apple to treat carriers the way they need to be 😂

They've lost their charm, what made people gravitate towards them, but perhaps this was inevitable. What sucks the most is that once you have been known for several years to provide excellent value phones it's hard for people to get on board with more expensive Flagships.

As a OnePlus user, I definitely feel like I was stabbed in the back. Less mobile support than before, and now prices for mid tier Z lineup are gonna be similar to high tier lineup a couple years ago. They are making me consider jumping ship or purchasing a year old model from OnePlus instead, but I'll still refuse purchasing a $1000 device with lackluster camera and poor storage capacity. That price range should be reviewed on the same level as other high end devices without any compromises.

Never Settle has lost it's identity. 9oo.oo bucks for the Pro? The flagship killer days are a thing of the past. I'm interested to see just 🤔 many of these are gonna sell at this price?

The Z could be DOA if the 4a is priced as the rumors indicate and comes with a great camera.

I'm still on my OP6 - was interested in the 8 until I saw the price and lack of wireless charging (only on the even more expensive 8 Pro). I don't need the ultimate camera or 120Hz screen, I just want decent value with key features.

"...the OnePlus 5 when it launched three years ago — arguably the peak of OnePlus "flagship killer" fandom." 5T seemed to be the ultimate phone for the price. Tiny bezels, long battery life. Headphone jack. It was sufficiently waterproof to prevent common mishaps. I personally have no issues with the camera in the 5T, but I'm not a passionate photographer. Starting in the 6 series cutting features (headphone jack) while adding unnecessary ones (pop up cameras) while still raising the price became the norm. While the camera has improved, and we finally got wireless charging and waterproofing, it's weird to think these features cost $400 more even when they cut some tech and tech hardware gets cheaper over time. It is baffling that they haven't created a mid tier device before the prices shot into upper middle class pricing, effectively pricing out the people who helped them build the company because they believed in their vision.

When you ask for everything, you get everything. Including the price it cost to get it. If you compare the price of the OnePlus when it came out as a "flagship killer" to the flagships at the time, to the now flagship OnePlus to the others (specifically Samsung) it is still at the same value as the original. But now you are not getting a $400 or $500 cheaper phone with less features you are getting it with the same and in some cases better ones. I agree they need other phones in their line up that are great but cheaper like the original, Hopefully that will be coming with the Z.

I think that OnePlus couldn't have been able to sustain those razor thin profit margins so as components get expensive (the Snapdragon 865 and 5G) then prices are inevitably are going to rise but they could have not used the 5G modem for the OnePlus 8 and therefore kept the same price as the 7T.

No the 865 and 5G are a package deal with Qualcomm. You get one you must get the other.