The OnePlus 2 isn't getting Android Nougat, company confirms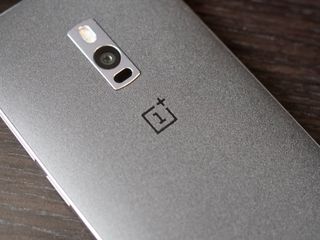 Confirming what we all expected, Android 7.0 Nougat won't be coming to the OnePlus 2 after all. It was just about this time last year that the OnePlus 2 was getting Marshmallow, but a similar platform jump won't be made in 2017 according to a OnePlus representative who confirmed the news to Android Central.
Despite not moving up to Nougat as the OnePlus 3 and 3T did, the OnePlus 2 had received incremental Marshmallow updates as recently as two months ago (opens in new tab), which kept hope alive. But alas, Marshmallow is indeed the end of the road.
For a phone that is just shy of its second birthday, it's a tough bit of news for the extremely dedicated OnePlus owner base to take. Phones are typically expected to get a single major platform update, but as we all know the second big Android update is far from guaranteed. There's little doubt that the enthusiast community surrounding OnePlus will continue to release custom ROMs for the OnePlus 2.
OnePlus has of course updated the OnePlus 3 and 3T to Nougat, arriving very quickly after Google's release, and the company has confirmed that Android O will come to those phones as well. If there's one positive that could be picked out here, it's that OnePlus has seriously improved its update reliability and cadence since the OnePlus 3 was launched.
Of course OnePlus has always had a reputation for focusing on looking forward — with the launch of the OnePlus 5 just a week away on June 20, it will be just about all hands on deck for the release of the latest phone.
Get the Android Central Newsletter
Instant access to breaking news, the hottest reviews, great deals and helpful tips.
Andrew was an Executive Editor, U.S. at Android Central between 2012 and 2020.
Do the 3/3T is confirmed to get Android Phone. Until it isn't?

Unfortunately, I can't edit my first comment because the comment system on this website sucks so it's just going to sit there not making any sense.

But apparently you're also incapable of posting a new comment explaining the old one. Also, yes you can edit comments 😜

The AC app works great for editing.

https://expertbeacon.com/what-do-if-you-think-you-are-having-stroke/

So you expect people to understand your gibberish?

Well, the One+ 5 is off the menu.

Fortunately, it should be easy to flash a custom rom on it, but this is an amateur move by a company that can't afford any more missteps.

Good to know their is one phone company I can cross off my next phone purchase when shopping...

The writing was on the wall, "bu bu but I have a 3T!" you wail. Yeah, and they will forget about that phone too when it is convenient for them. Still not sure why this site keeps claiming they have their update game under control considering they just left their most hardcore of supporters in the wind.

The 1+2 isn't the only device not getting updated that was released during this time and on that SOC - this isn't some anomaly. They simply misspoke guaranteeing something they can't deliver - perhaps 15% off (or more) a new device if you trade in your 1+2. The issue is Google! They need to fix their own fragmentation issues! OEM's should only be allowed to differentiate their products with totally optional apps in Play store. Nothing baked in that requires update delays. It shouldn't be a mystery which device gets the update. If your hardware supports it then you get the update, if not then you know why. This isn't a LG released first over HTC or Verizon beat T-Mobile with the latest etc. So point your frustration with the source - Alphabet company KEYᵒⁿᵉ

Don't forget good old Qualcomm.

A lot of other devices running on the 810 did have an update though. The Nexus 6P, HTC One M9, XPERIA Z5, Z3+ and a few others.

You're right, I had a brain fart on the chipset.

This isn't a Qualcomm problem. The SD810 was updated on multiple other devices. We don't to update cuz the device is too old is the reason

Lol, You're right, see above.

An epic failure on OnePlus part... They want to build a consumer base or a fan base for their phones but they won't update them for two years , I'm not buying one of their phones forget it

This speaks to what will most likely happen once the OP 5 hits the market. The 3/3T will be forgotten, and get an update here and there. I guess we shouldn't expect anything different, as the big guys do this too.

A L for OnePlus. If they're trying to "kill flagships", this isn't the way to do so. Granted, this is what Android OEMs do, but would be nice to see someone break from the pack.

I am new to Android and am liking the experience so far. But when I was on Windows Phone (mobile) never had this issue really. Kept my cost down so my wife wouldn't complain about new phones as frequently as I use to. I thought they OnePlus was build on customization the fact that they wouldn't update is really sad.

Lol. Why can they be trusted now with the 3/T? It was also confirmed before that the 2 was getting Nougat.

i've been using lineage 14.1, which is android 7.1.2 also known as Nougat and the phone is working quite well. i do use the oos camera and it also works as one would expect. so,yeah owners of the 2 did get royally mistreated by the company but that did not keep me from having nougat on my phone.

Great!
That makes it really quite clear that my next phone will be an HTC 11U and NOT a OnePlus 5.
https://www.androidcentral.com/e?link=https2F2Fcli...

Ditto. My OnePlus 2 will become a paper weight soon.

I would not go so far as the say a paperweight, as a matter of fact I just bought a new screen and battery for it.
However it will likely become a family hand me down within a year.
The HTC U11 is looking pretty good to me now

Though I would like to move to Android the OS updates is the main reason I will not do it. When Apple releases updates the vast majority will receive it, carriers are not involved, then within a month or two over 80% of iPhone users have updated on their phones. Android OEM not understand that phones that receive the latest updates is a hit and miss, thus users are left out in the cold. At this rate Android will not get my money nor the money of most iPhone users. Oh, forget flashing ROMs, most users will not go that route. Google, Samsung, LG, and the like get this OS update corrected you may well receive tons more cash.

Best decision they ever made, else the OnePlus2 owners would suffer from sudden battery drop shutdown syndrome, as we Nexus 6p owners are.

Can't reply to abekohen (hopefully the post is just above mine) as I get total gibberish after I click the "REPLY" link. So I just want to say to abekohen "Thanks for the info" as I knew nothing about this problem before reading his comment. Seems similar to Intel's "Dynamic Platform Thermal Framework" error (Event 256) that is plaguing many Windows 10 PCs and making them stop dead, and that no one - Intel, Dell, ASUS, etc - wants to take the blame for, or fix the driver.