One Million lucky Samsung owners can get Jay-Z's new Magna Carta Holy Grail release free on July 4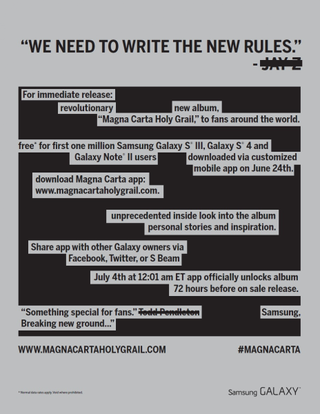 Be among the first to hear Jay-Z's latest, for free, from Samsung
Friday we told you that Samsung and Jay-Z had something in store, and it would be announced during the NBA finals game five on television. Everything has been announced, and it turns out that it's a pretty big deal. Jay-Z will be releasing his latest, titled Magna Carta Holy Grail on July 4, and one million lucky Samsung owners will get a free copy.
It's going to work like so. On June 24, Samsung is going to publish an app to Google Play, and folks using a Galaxy S3, Galaxy Note 2, or a Galaxy S4 will be able to download and install it. We imagine the app will keep you up to date on the happenings surrounding the upcoming release, but the magic happens on July 4, when the new tunes are released.
As soon as July 4 rolls around, the first one million users who have installed the app will get a free copy of the album. We've no details on the format, but what we understand is that it's yours to download and keep. Keep your eyes on the #MagnaCarta site to count things down.
Not too shabby!
Android Central Newsletter
Get instant access to breaking news, the hottest reviews, great deals and helpful tips
Senior Editor — Google Ecosystem
Jerry is an amateur woodworker and struggling shade tree mechanic. There's nothing he can't take apart, but many things he can't reassemble. You'll find him writing and speaking his loud opinion on Android Central and occasionally on Twitter.
This is wonderful good move Samsung Posted via Android Central App

I'm happy for the Samsung users that get to enjoy this. Jay-Z is a good artist. So, uh, HTC...your turn. You've already got the whole Beats Audio/Boom Sound thing going for ya; why not leverage that for a big artist's endorsement? Posted from my HTC EVO 4G LTE via Android Central App

HTC will give its users "Detox" free for a day. Enjoy.

They did with Pharrell but as you can see Samsung stole him!

Outstanding Marketing move for all its a win win situation Let's see one of the greatest entertainers /Hop Hop artist with the most sought after producers Timberland, Pharrell, and Rick Rubin and Samsung... the producers alone are sought after by all artists of all genres of music. But my looking at some of theses post, I gather.... some folks are just not up to date about music and the business of making Money. can't wait for the album Posted via Android Central App

This is a cool idea. Too bad I don't like his music. Posted via Android Central App

Same, I wish they just let us get any album of our choice or something like that. Posted via Android Central App

I wouldn't watch him perform if he were playing in my basement.

That's because you're ignorant. His live performances are great. MTV Unplugged, Glastonbury, the 9/11 show where he gave back to the firefighters of NYC who suffered losses.. Great artist.

If you don't like him why would you let him play in your basement? Or is really your mom's basement and she kicked you out so HOVA could play and you're just pissed?

No love for the Galaxy Nexus. Cold blooded move Samsung. Posted via Android Central App

Technically that's a GOOGLE phone.

Practically it's a Samsung phone. Posted via Android Central App

That is a brilliant way to get this album to go platinum in the first day. Absolutely brilliant idea.

pretty sure goin plat is based on album sales, giving something away free should hardly count as a sale.

Samsung bought 1 Million copies of his album to give away for free. 1 Million sold. http://blogs.wsj.com/speakeasy/2013/06/16/samsung-to-give-away-1-million...

Vaughn, pretty sure your wrong(Actually I know your wrong)... His album will go platinum thanks to Samsung regardless if he sell another copy.. Samsung BOUGHT a million downloads and they are giving them away. Them giving them away is another marketing ploy... Dollar's and cents my friend.

One of the richest musicians in the country, Warren buffet good friend Posted via Android Central App

He talks angrily about selling drugs, murdering blacks, and keeping slaves. All around great guy.

"Do you listen to the music or do you just skim through it?"

Lmao... I see what you did there.

He rapper from Brooklyn that's giving me a free album to download on July 4th that's who.

hackers could probably change our build prop to the gs4 then download it. Not that serious tho :-/

hackers could probably change our build prop to the gs4 then download it. Not that serious tho :-/

funny because i was thinking the same. NBD!

Who do you think would have been a better choice? I guarantee that whoever you name wouldn't generate half as much hype as the Jay-Z deal. Except maybe his wife, Beyonce.

Nice! Posted via Android Central App

Great idea! To bad hes lame. Glad I have the One. :)

Ha ha ha well said! Absolutely NO incentive there!

Not a fan of his music. But it's a interesting marketing idea. Don't think people are going to run out and buy a phone to get the album. Posted from my Samsung Galaxy S3 via Android Central App

I thought that was Jerry on the couch for a minute there

Areosmith would make me happy but who is Jay Z? Posted via Android Central App

Just a rapper who was born way back when Aerosmith was relevant.

Aerosmith?? You mean a band that's completely irrelevant today? They couldn't FIND a million people that would want a new Aerosmith album. Jay-Z has the most fans across demographics. This was an excellent deal for Samsung. Face facts.

Great move by Jay-Z. He's more businessman than artist and this will guarantee him a platinum "selling" album within days (hours?) of release.

Glad i went with the One then.

Jealous at all the Samsung users. I definitely wanna check out this album. I see all the negative comments. I wanna know who y'all listen to that's so great.. and if he/she/they truly are great I'm sure Jay listens to them too. Great Hip Hop artists listen to great music, period, not just other rap. Watch some of his live performances (Glastonbury was good) and you'll see him incorporate some of what he likes into them.

Makes me wish I was 18 again

I'mma take it as a bunch nerdy guys who are not into hip-hop or anything that's urban black music for making stupid comments like the ones I just read.

Same thing I was bout to say lol he is the Elvis and Michael Jackson of hip hop music,twitter last nite went from NBA finals talk to jays album talk he literally shut twitter and instagram down especially in the urban community... Posted via Android Central App

My life is now complete. (sarcasm) Thought it will be nice to rub this in my brother's face. He likes Jay-Z, but he uses an iPhone.

The word lucky in the headline should be in quotation marks.

Why does everybody seem to hate him so much? Lol. My guess is they haven't listened to any of his music, and if you think its just about guns, drugs, and power, you are ignorant. I've been listening to his stuff since I was a kid. He is an artist and a businessman that came up from having nothing. If this was a rock/techno album y'all would be going crazy lol. Just respect the fact that it was Jay Z and not 2 chainz, or Lil Wayne. Posted via Android Central App

But will it work on a Galaxy Note 2 International Model?... I'm going to guess not.

Great business move on both sides. It should be fun trying to be a aprt of that first million

Man.... Is it just me, or does Jay-Z suck at retirement?

No thanks leave me out. Posted via Android Central App

he's one of the best rappers in history, i don't understand why people keep trying to hate on him. You're insignificant. Other than that i'm excited, apparently not many people know about the app, i asked around to my friends with galaxies and they had no idea. There's only ~500k downloads.

Good! Secures me a spot in line... lol!
Android Central Newsletter
Get instant access to breaking news, the hottest reviews, great deals and helpful tips
Thank you for signing up to Android Central. You will receive a verification email shortly.
There was a problem. Please refresh the page and try again.