NVIDIA announces Shield Android TV without game controller for $179, shipping Oct 18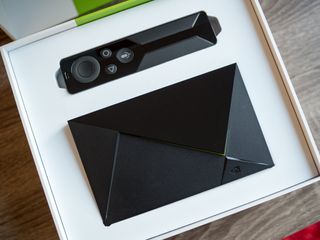 In order to keep things fresh in an increasingly competitive set top box market, NVIDIA is announcing a new version of its Shield Android TV that drops the price by $20 to just $179. The casualty in the process is the controller, meaning this version comes with just the TV-style remote for those less interested in playing games but want to enjoy the Shield Android TV's serious power and 4K HDR support.
It may not seem like a great deal to skip out on a full-featured controller just to save just $20, but if you weren't ever going to use the controller in the first place, there's no reason to overpay for that extra hardware. At the same time, getting the Shield Android TV's starting price down to $179 a handful of months after launch is good as new Fire TVs, Rokus and Apple TVs hit the market.
Pre-orders for the new Shield Android TV with just a remote will be available over at NVIDIA's online store (opens in new tab), with a shipping date of October 18. NVIDIA is saying that this particular configuration will also be available at other retailers before that date, so you can keep an eye on Amazon (opens in new tab), Best Buy (opens in new tab) and others if you prefer those stores.
See at NVIDIA (opens in new tab)
Android Central Newsletter
Get instant access to breaking news, the hottest reviews, great deals and helpful tips
Andrew was an Executive Editor, U.S. at Android Central between 2012 and 2020.
I understand the move, but question the size of the market segment interested enough in Android tv, not jaded by terrible Android tv experiences (with cheap, slow, unresponsive platforms), and not interested in games which would still pay such a price premium over Amazon, Roku and even Apple.

I think there's a bigger market of people looking for a 4K HDR box for $179 than looking for a sub-Xbox gaming console for $200. I completely get your point, but NVIDIA would have to release an entirely new product if it wanted to shave more money off of the price of this thing, so mid-cycle this is the best way to go.

I have a shield tablet that I got the controller with, is the "old" controller compatible with the newest shield tv? I might now pull the trigger on this deal! Should be more then 20$ but oh well... Gotta complain about something :) Thanks

Yes, the old controller is compatible with the new Shield TV. I think that when Assistant finally rolls out to the Shield, it will require the new controller to work, though.

Yup you can use the old controller with the new Shield Android TV

I have been saying this for a long time. But only knocking £10.99 off the full bundle with the joypad in the uk doesnt go far enough.

Something tells me the full bundle is going away because gaming on Android TV hasn't taken off (surprise surprise). So anyone who wants the full bundle should jump on it now.

NVIDIA says the original bundle with the controller and remote is sticking around.

Am I the only one who doesn't see how Android TV is relevant? Between Chromecasts, gaming consoles, and cable boxes, what does this do that's worth giving it an HDMI port?

I have one because I want a high-quality 4K streaming experience, and I don't have or want a PS4 or XBox. But with the full-feature gaming consoles as inexpensive as they are these days, people like me are definitely a niche market.

Agreed. You can get an XB1 or PS4 for around $250 these days.

You're not that niche. I know 4 people in my circle who have one. Of course, that means nothing but they are useful. $179 isn't very expensive, especially if you are looking for an HTPC alternative.

Agreed. My partner will probably take advantage of this offer, actually. Every time she's at my place, she mentions liking the UI better than the horrible, sluggish garbage dump UI on the Samsung smart TV she has at her place, and she only plays PC games, so I doubt the lack of a game controller would bug her.

What one is used to. My family pretty much only watches on our Sony Android TV experience. They've gotten used to the interface, where the apps are, how to use it. I have a Roku (old one) and fire stick. We hate how the fire stick's UI is and it's slow! And the Roku, I think, hasn't been updated and won't be. So Android TV for us it is. I have Chromecast to all other TVs and use them weekly but the rest of the fam just seems to like it, it works.

It's niche market for a $200 Android TV box for sure. But no other single box can emulate GameCube games, stream PC games, watch live TV via OTA antenna, play Android games, and does 4k HDR.

How is Super Smash Bros Melee support on the emulators? And how about multiplayer controller support on Android TV or the NVIDIA Shield specifically? (If you know that is!)

It's been awhile since I tried it, but the frame rate was pretty solid without having to tweak any settings, so I bet you could get it nearly perfect by changing some things. As for the actual controller support, it's not bad. Most 3rd party controllers work without any effort, but I found the shield controllers work a lot better. I mainly use mine for emulators, but the streaming service works pretty well though.

Everyone has different needs. If youre satisfied with what you have then great. I also have chromecast roku and apple tv. My PC is a plex server and runs kodi. In all of these, Nvidia shield is the best because its the only box that can do all of the above. Not sure if youre familiar with plex because its a whole new topic that everyone should explore especially the unsupported app store -- but I stream my movie collection to my ipad, my roku, my android phone my mac and my PC. No other box can run as a plex server even the immitation cheap chinese android versions. When i travel I just stream my movies from shield that i left running from home. And heres the best part, only shield can run show box without running a third party emulator. There are many other great things that i can say here (...ie...hardware) but I will cut it short. In my humble opinion Nvidia shield rules the realm of streaming at this time (9/22/17).

But is it new hardware? Or just a discounted bundle?

That's what I'd like to know. It seems like it's a discounted bundle.

Uhm. The controller alone easily sells for 30+ dollars.

My $40 Firestick looks great on my 75" 4k. I will eventually get the Fire TV for 4k, but why would anyone need this for $180

Almost 2 years since I bought my Nvidia shield tv. One of the best purchases I ever made.
Android Central Newsletter
Get instant access to breaking news, the hottest reviews, great deals and helpful tips
Thank you for signing up to Android Central. You will receive a verification email shortly.
There was a problem. Please refresh the page and try again.