Note 10+ review, Android 10, and rebranding [#acpodcast]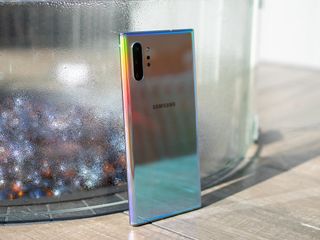 (Image credit: Android Central)
Ara Wagoner and Andrew Martonik join Daniel Bader for a conversation about their Galaxy Note 10+ impressions, including a worthwhile detour into USB-C Power Delivery and PPS charging technology.
Google has ditched letter/food naming conventions for Android in favor of numbers. What we know as Android Q will simply become Android 10. The company has also redesigned Android branding and is putting tighter restrictions on its use.
Listen now
Subscribe in Google Play Music: Audio

(opens in new tab)

Subscribe in iTunes: Audio

(opens in new tab)

Subscribe in RSS: Audio
Download directly: Audio
Show Notes and Links:
Google Home Mini to be replaced by better-sounding 'Nest Mini' this fall
Sponsors:
Thrifter.com: All the best deals from Amazon, Best Buy, and more, fussily curated and constantly updated.
I am super surprised on how well the new note works. The screen is beautiful and it's UI is super smooth.

Ahhh the Spen in my catering apps is just aweeeewsome!
Works well in my photo editing and retouching in lightroom as well. Very happy with the functionality of the note in hand. Admittedly, I did have two Spigen cases ready to pop it into days before it arrived in the 23rd. It says relatively safely in a black Spigen "Tough Armour" case and a Samsung 512GB card popped into it as well to top up the internal storage.
For the odd times I may want to use wired headphones I also have the Hidizs Sonata HD. Though I typically float straight into the apps I use, the general and navigation have been perfect though my note 8 was just fine before selling it out a few days ago. The addition of Gboard has been good as well.

Good show. I'm looking forward to Android10. The prospect has captured my curiosity like no other os update in years. Hopefully my Moto G7 will get it at some point but if not there is always the G8 next spring. I agree with Daniel about disliking dark themes. That's one aspect I'll be ignoring.

So now, when I ask my Google home to play the latest Android Central podcast, it gives me some jank show about gaming. WTF?

Motorola has been doing gestures simply and easily for years now.
Android Central Newsletter
Get the best of Android Central in in your inbox, every day!
Thank you for signing up to Android Central. You will receive a verification email shortly.
There was a problem. Please refresh the page and try again.