The Nokia 8.3 inches closer to release with Amazon sighting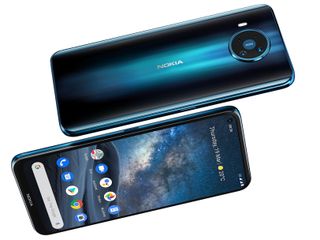 (Image credit: HMD Global)
What you need to know
The Nokia 8.3 has made an appearance on Amazon Germany.
It's an indication that the phone's release date is closer than we may have thought.
Nokia announced the phone was coming in summer 2020 for €599.
The Nokia 8.3 is Nokia's first 5G phone for 2020, and despite an announcement in March, it has yet to make a debut. But there are indications that the launch date is coming closer and closer. Spotted by the folks over at Love Nokia, Amazon Germany (opens in new tab) now lists the Nokia 8.3 5G. It doesn't go so far as to offer a price or a release date, it's just an addition of the upcoming phone to Nokia's pre-existing slate.
Nevertheless, Nokia did promise the phone would be released in summer 2020, and we're either already in summer or three days away from it depending on what you subscribe to.
The Nokia 8.3 5G is shipping with Qualcomm's Snapdragon 765, a processor that's proving to be popular with smartphone OEMs who want to ship decently powerful phones without paying the Snapdragon 865 tax. Camera-wise, it's coming with a 64-megapixel main camera, a 12-megapixel ultrawide camera with large 1.4-micron pixels, a 2-megapixel depth sensor, and a 2-megapixel macro camera to wrap it up. Shipping with Android One as all Nokia phones do, you'll find a bloat-free version of Android 10 on this.
When it launches, it'll be priced at €599 with Clove in the UK (opens in new tab) already listing at £499.
Get the Android Central Newsletter
Instant access to breaking news, the hottest reviews, great deals and helpful tips.
Just got the Nokia 5.3 for £150 and absolutely love it! Even the 720p screen looks good to my 54 year old eyes. It's plenty fast enough, got 4 cameras which I'll probably never use to the full, 2 SIM slots and expandable storage! If this phone is this good for the money the 8.3 should be a real bargain at less than £500. Oh yeah got the June security patch and will get android 12. Nokia doing things right this time.

When I first read the title I thought it had a 8.3 inch screen.

Can't wait to see the 8.3 released. Interested in the 5.3 as well. The next replacement for my current Nokia will be somewhere in the 5-8 line. I want to see the 6.3, and 7.3 especially, and what they have to offer spec wise. The 6 and 7 lines usually hit the sweet spot in mid-range category.

For the price the 5.3 is an absolute steal. I guess it can depend on your expectations of a phone but I can't fault it for the price.
Also it is on android 10 now and the June security patch and will get android 12 along with regular security updates being an android one phone.

Thing is that I've had my 7.1 for about only year now...and it is has saved my behind as a customer. Compared to the torment I suffered the hands of BlackBerry (LOL) , well TCL., Nokia has been like living on another planet...😜😂. I'm not ready to part with my 7.1 just yet... but yeah the 5.3 is definitely a steal for the price and an attractive option. I can't believe all the features the phone packs despite being a budget device. Looking forward to see what the 6.3 and 7.3 have to offer. The 7 line is the more attractive option, but never say never to other possibilities.

I think it's the 7.3 for me when I finally retire my 7.1.

Same here. I hope it's a 5G capable phone. Even though for now 5G Is still largely a limited service and more of a gimmick, it never hurts to be prepared for the future...

I feel like after being burnt with Windows phone Nokia are doing things right this time around and other manufacturers could learn a thing or two from them. Phones are not all about specs but the experience when using them and that is what Nokia has nailed. They are the new Motorola pre-Lenovo.

Same. 7.x line fan here. Nothing but good experiences with the 7. 1 and 7.2. Bring on the 7.3!