Nokia's failure is the final nail in the coffin for Android One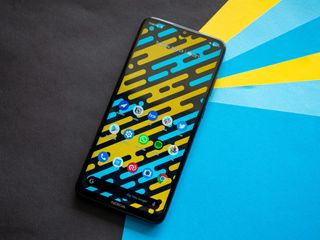 (Image credit: Apoorva Bhardwaj / Android Central)
I was at the event where Google introduced Android One back in 2014. The search giant selected India as the testbed for its ambitious initiative, teaming up with local manufacturers to deliver $100 phones with pure Android.
That experiment fizzled out shortly after launch, with Google and its partners failing to find any meaningful momentum. The lackluster hardware on offer with the first wave of Android One devices made them a nonstarter, so Google eventually scrubbed the program.
It rebooted Android One in 2017, this time turning to more established brands like Xiaomi and Motorola and focusing on the mid-range segment. The Mi A1 heralded the new wave of Android One: phones with great hardware along with clean software and the promise of quick updates.
The shift in strategy allowed Google to gain some traction with Android One. The biggest win for the program came when Nokia committed to the initiative for its entire portfolio, ensuring there would be a stable cadence of Android One phones.
Three years after the reintroduction of Android One, the initiative is in disarray. Nokia is the only brand that is continuing to release Android One devices in 2020. The Moto G Pro — a derivative of the Moto G Stylus — is powered by Android One, but that model is limited to select markets. Xiaomi abandoned Android One after the Mi A3; the brand ran into continual issues with software updates, and its Android One devices failed to get anywhere close to the sales figures of their MIUI counterparts.
If you're looking to buy an Android One phone in 2020, you will have to pick up a Nokia phone. While Nokia started out strong with the likes of the Nokia 7 Plus, the Finnish manufacturer was not able to build on that success. Nokia has failed to release a good mid-range or high-end phone, with its latest — the Nokia 8.3 5G — lacking in several areas.
But Nokia's biggest failure is not with hardware, but delivering timely software updates. Google released Android 11 over two months ago, and the update hasn't rolled out to a single Android One device yet. The stable build of Android 11 rolled out to the Pixels on day one, and OnePlus delivered the stable update to the OnePlus 8 and 8 Pro last month.
Samsung is set to roll out the One UI 3.0 update to the Galaxy S20 and Note 20 series before the end of the year, and even OPPO has committed to offering the stable Android 11 update to its Find X2 series by December. Nokia, meanwhile, has shared its Android 11 update timeline, with the Nokia 8.3, Nokia 2.2, Nokia 5.3, and Nokia 8.1 slated to receive the update by the end of Q1 2021.
As we're seeing with Nokia — and several times in the past with Xiaomi and Motorola — Android One phones just do not get platform updates on time. The Nokia 3.1 and 5.1 were updated to Android 10 in October 2020, a month after the release of Android 11.
That's antithetical to the fundamental idea of Android One, and Nokia's failure in this area means we have to rethink the program as a whole. It's guaranteed at this point that Android One phones will not get timely updates, so the only reason to pick up these phones is if you want clean software. Google should have done more to enforce manufacturers to roll out timely updates, and in failing to do so, it has once again doomed Android One.
Get the Android Central Newsletter
Instant access to breaking news, the hottest reviews, great deals and helpful tips.
Harish Jonnalagadda is a Senior Editor overseeing Asia at Android Central. He leads the site's coverage of Chinese phone brands, contributing to reviews, features, and buying guides. He also writes about storage servers, audio products, and the semiconductor industry. Contact him on Twitter at @chunkynerd.
I remember my Nokia 8.1 was the first non-Google phone to receive Android 10. Good ol' days.

Same here, when I got my 8.1 Nokia were consistent with security updates even though they would arrive between the middle or end of each month, they'd still arrive in that same month but things changed when Android 10 arrived on my 8.1 after getting the Android 10 update in October 2019 when security updates were a month behind and were coming later and later going into the following month (I no longer have my 8.1 due to water damage) and I got fed up and switched to OnePlus who are worse than Nokia with security updates with their bi monthly bs update policy and my OnePlus 7T hasn't even gotten Android 11 as promised (it was supposed to come last month), thankfully it's not something I worry about now I have an iPhone 11 Pro Max which is already on iOS 14.3 and the lousy Android updates is one of a few factors why I returned to iPhone after 2 and s half years away.

I'm missing some serious analyze in this article. Where is the problem? Is Google making it to hard for the manufacturers or why do they not update? I have an hard time to see that the blame is only at the manufactures side.

Well 2020 has been a bad year for just about everyone. Maybe we should cut them some slack. One of these days things will start to get back on track.

Android updates have always been a problem. Unless you have a Google made phone.

That is a shame, because i am sure there are plenty of people out there that wants an android phone without a load of rubbish stuck on by manufactures. I have a Huawei p10 lite and that comes pretty close to google stock.

This article does not once mention monthly security updates. It assumes that the only updates anyone should care about are version updates. This is a stunning indictment of the author and the site. Monthly security updates should be expected on every smartphone as a basic feature. My experience with a Nokia 5.3 is that the updates come two to three weeks after the Pixels get them -- but at least they arrive. (Also, the 5.3 does a pretty good imitation of a midranger, especially for the £130 I paid for it.)

My Nokia 7.1 which I just stopped using this week was still receiving monthly security patches. Albeit one month after the security patch was released, but it still got them.

I'll admit I'm not 100% up on what the security update situation is on lower end phones. There may be some merit to Android One if they have a better security update situation. That said, that is not what Android One was sold to us as. The takeaway was that it was going to make allow low end phones to get platform updates. I remember back when the first version of Android One was going to make phones more like chrome OS where there would be a set of specs defined by google that OEMs would use and then Google would do the updates themselves. Then they moved away from that to this weird nebulous 'everything will be stock-ish' idea, with the implication being that updates would be quicker/easier. What is it now? Just another poorly defined product that nobody at Google is interested in managing.

In order to sell the Nokia 3.1 Plus in America on Cricket Wireless, they had to drop the Android One branding. Unfortunately, this phone was never updated to Android 10 while the one in other countries were. Nokia does promise 3 years of security updates and it still gets updated with the October 2020 patch the latest update

Yes, Nokia do play the OS upgrade game by releasing a new device with the previous OS but their security updates always arrive, albeit a few weeks late, but at least you always know they're coming. I've owned the 7.1 & 7.2 and absolutely love the uncluttered, pure, clean Android with NO unnecessary bloat.

I had a Nokia 7.2 that I bought this year after my previous flagship phone died. Android One was the primary reason why I bought it, and also the primary reason why I got rid of it after 6 months.I didn't mind that it had the barebone features and it was quite alright really using Android 9.Nokia rushed out the Android 10 update, months after Google released it... With this mess, it broke half of my Nokia 7.2s functionality. Including slower performance after a few days that required clearing the Play Google cache, a camera that was not functional and required restarting, and lack of any updates from Nokia. They refused to believe that their software port resulted in this mess. Support requests simply had people mail in their Nokia to get another one back. They kept bragging about how being on Android One meant they got fast updates to the latest version on their phones... Maybe that's just the true Pixel experience of feeling like I'm using a beta version of software.

Same with me, my Nokia 3.2 feels half baked even the keyboard matching with the navigation bar is bad. The build of android 10 i got isnt up to it. At least i still get the security updates

Sounds to me like someone is just an inpatient child. Updating an older phone to a new OS is a lot more complex than you think. The fact this article got posted on a site devoted to android... Whilst displaying such ignorance? Shameful.

Nokia 5.3 still hasn't gotten december security update. So much for android one. Won't be buying nokia again.

Looking back at my comments, I shouldn't have blamed Android as a whole over the crappy update policies of most OEMs and I should have realised that were already a far superior alternative to Android One, a Google Pixel with exactly the same great software experience that is the original Pixel experience that I loved and still love and updates coming directly from Google in a timely manner rather than a faceless third party OEM that eventually breaks their promises of fast updates, yeah I'm looking at you Nokia and every other OEM that isn't Google (especially) and now Samsung.