Nokia announces €749 Nokia 8 Sirocco, improved Nokia 7 Plus and Android Go-powered Nokia 1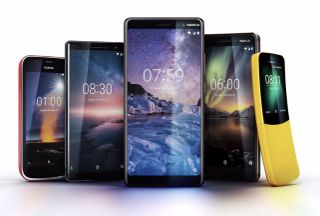 Last year's MWC marked a re-launch of the Nokia brand under new parent company HMD Global, so it was only fitting that the company would take to MWC 2018 to launch a few more phones.
We're getting three brand new Android devices, as well as an awesome throwback feature phone to capture even more of the nostalgia surrounding the Nokia brand.
The most eye-catching launch of the group is the Nokia 8 Sirocco, which is a super-high-end variant of the Nokia 8 from last year. At €749 it's a full €150 more than the original Nokia 8, and thus the most expensive phone to bare the brand name since HMD Global took over. The Sirocco version basically seems like an excuse for Nokia to flex its design muscle and try something new, while also testing the waters for a true flagship-level priced phone with the Nokia brand.
The most stunning part of the Nokia 8 Sirocco is its move to an 18:9 display with small bezels, rounded corners, and curved sides. The display is just 5.5-inches, keeping the phone small (notably smaller than a Galaxy S8) but also great-looking. The 2160x1080 pOLED display curves on the left and right edges, while the Gorilla Glass 5 on the front is dramatically curved on all four sides. Matching Gorilla Glass is on the back, and a metal frame shines through in contrasting colors between.
Nokia 8 Sirocco hands-on: Android One goes sexy and expensive
Inside, Nokia went all out the best it could: Snapdragon 835 processor, 6GB of RAM, 128GB of storage, 3260mAh battery, Quick Charge 4.0, Qi wireless charging and IP67 water resistance. And because this is a flagship-level phone, of course it has no headphone jack — that's a shame. There's a pair of Zeiss-branded cameras on the back, with a 12MP 1.4-micron sensor and f/1.75 lens as the primary and a 13MP 1-micron sensor with f/2.6 telephoto lens as the secondary.
Interestingly the launch of the Nokia 8 Sirocco coincides with Nokia's commitment to using Android One on all of its phones, meaning this is far and away the most expensive phone with that Google-sanctioned software on board. Nokia's phones already ran a very simple and clean version of Android, so it really made sense to go with an official Android One certification and take the Google support. It means the Sirocco will be launching on Android 8.0 Oreo, with 8.1 on the way quickly after phones ship, and there will be a guarantee of two years of platform updates in the wings.
Nokia doesn't have specific markets to announce here at MWC 2018, but I sure hope that it gives this phone a chance in the U.S. We do know that it's targeting an April launch, so we don't have to wait too long to see where it's headed for sure.
Even though the Nokia 8 Sirocco will get headlines, it's the Nokia 7 Plus that deserves attention for looking like a really solid all-around phone with great specs at an affordable price. The Nokia 7 Plus, as the name implies, builds somewhat on the Nokia 7 — but actually makes many upgrades in screen size, design and internals.
Nokia 7 Plus hands-on: A Pixel 2 XL for the frugal set
The biggest external change is the move to a 6-inch 18:9 display, which despite the large diagonal increase doesn't lead to a dramatically larger phone. The display is 2160x1080 resolution, but is an IPS LCD rated at 500 nits of brightness, which is all great for this price segment. The case is now a metal with a ceramic-like paint coating for better grip, accented by some nice metal finishes that together hide the embedded antennas.
Elsewhere you'll find an upgrade to a Snapdragon 660 processor, paired with the same 4GB of RAM and 64GB of storage. The extra size let Nokia add in more battery, bringing the capacity up to a sizable 3800mAh — which should pair well with the Snapdragon 660 and 1080p resolution for great battery life. The 7 Plus also moves to dual cameras, a 12MP f/1.75 main and 13MP f/2.6 telephoto secondary, plus a 16MP front-facing camera.
All of that will set you back just €399 — a great price for what's here. We don't know specific market availability, but we do know it'll be on sale from April.
Coming back down to reality where not everyone can buy an expensive phone, Nokia has a brand new low-end entry in the Nokia 1. This is Nokia's first Android Go phone, coming in at the equivalent of $85.
For the money, this is a really neat looking phone. It has that bit of Nokia flare with its solid-color polycarbonate shell and bright colors, plus some nice-to-have specs and features. There's a 4.5-inch display here, but it's a comfortable 854×480 resolution and is, impressively, an IPS panel. There's a MediaTek (MT6737M) quad-core processor, 1GB of RAM, 8GB of storage, dual SIM slots and a removable 2150mAh battery. You even get two cameras — 5MP on the rear and 2MP on the front — which still isn't a given at this price point.
It isn't flashy or exciting, but getting solid hardware and a familiar name behind a phone at this price is exactly the kind of thing Google was looking for when it announced the Android Go program. It also means that Nokia can get out a super-inexpensive phone and have it launch with Android Oreo software that's optimized for this low-end hardware. Don't expect this one in North America or even most of Europe, but it will hit in more emerging markets where price expectations are extremely low.
Andrew was an Executive Editor, U.S. at Android Central between 2012 and 2020.
Sure the Sirocco has a 2:1 display? It looks pretty short for one.

nice looking phones. hope they reach the U.S.

Their flagship launches with last year's processor?

I believe Samsung has some sort of agreement with Qualcomm to provide there best SoC to samsung for the first few months after the SoCs release...

When Samsung is allowed to ransom the new processors until they release their own phones (hindering competition) that's what happens. At any rate, since when is that a problem? Has the 835 suddenly become a bad processor?
Also...a 2018 flagship with the 845 but 4GB of RAM and 64GB of storage for 870€ is acceptable but one with 6GB of RAM and 128GB of storage but the 835 for 749€ isn't?

overpriced and with only an old 835? no thanks

The 835 is very powerfull. No regrets, my Sony ZX Premium just "flies". Can even shoot 960 Pictures per Second with it. And as far as I know it supports until 41MP Cameras, Dual Cameras, etc. This SoC is good enough, for you and for me also, it's up to the manufacturers, software wise, to make the most out of it. Some are good at this, Nokia, Sony, for example take software seriously. Some are not so good at this (LG, HTC etc)

Have they fixed the Meltdown vulnerability on the 845 already? Or is launching with it and they've fixed it in software and lost 5-50% of performance, depending on the task?

The 7 Plus looks very interesting although I don't like that they went with Android One. Stock-like OS with a few tweaks a la Oneplus is a better approach IMO.

If you want quality, you are going to pay for it. And if you want buy a phone at launch, you gotta pay for it. My Sony ZX Premium was 799€ also. I just waited until 569€.

Wow, this is fascinating! Go Nokia! Even the Nokia 1 sounds interesting as a concept.

Nokia 1? It looks like a Galaxy S3, so you'd be better off getting a used S3, which runs real Android, not Android Lite.

Stock Android is real Android by Google not Samsung's mutant version of Android, and so what if the Nokia 8 Sirocco looks similar to an S8? It's a testament to how beautiful the S8 still is a year after its launch.

"most expensive phone to bare the brand name". Um, I think that should be "bear", not "bare". Unless the brand name is naked.

I just want to know if these phones come to the US, will any of them support band 71?

Nokia 1: I understand the market...I think...but my word, HMD - 2010 called and they want their Nexus 1 back.
Android Central Newsletter
Thank you for signing up to Android Central. You will receive a verification email shortly.
There was a problem. Please refresh the page and try again.