Nokia 6 (2018) now available in the U.S. for $270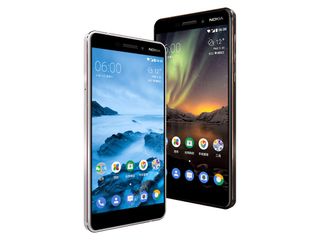 At the beginning of the year, Nokia announced a new and improved version of its Nokia 6 mid-range phone. The device was initially limited to the Chinese markets, but now just a few months later, it's already available in the United States.
The new Nokia 6 offers a lot of improvements over its predecessor, but its biggest change has to do with the processor it's touting. Where last year's model used the underpowered Snapdragon 430, the 2018 variant steps up to a much more capable Snapdragon 630.
In addition to the new processing tech, the Nokia 6 (2018) also offers an aluminum unibody design, rear-mounted fingerprint sensor, a 5.5-inch screen with a 1920 x 1080 resolution, and a 3,000 mAh battery.
You can buy the Nokia 6 (2018) for $269.99 in the U.S., and it's already available on Amazon (opens in new tab) and Walmart (opens in new tab) for that price.
The phone was also recently made available in the United Kingdom through Carphone Warehouse (opens in new tab), and while it starts out at £229 if you buy it SIM-free, there are a number of bundles available that help to cut costs if you buy it through one of the available contract deals.
See at Amazon (opens in new tab)
Joe Maring was a Senior Editor for Android Central between 2017 and 2021. You can reach him on Twitter at @JoeMaring1.
Huawei Mate SE is cheaper, has more storage and ram, looks nicer and has an equivalent processor.

It also has EMUI that will never get updated.

And its Chinese, now with spyware!

Also, to add to the other comments, it STILL uses micro USB. Other than ZTE it seems you have to get a $500 phone or more to get something that uses USB-C. Why are these companies still stuck on microUSB? I have become spoiled with USB-C in terms of not having to fiddle around with a freaking one-way connection, with USB-C it goes in either way. Little things like that (having to fiddle around with a one-way connection with microUSB) get on my nerves.

Amazon says USB-C in the description...

You need a prescription for better glasses or Lasik or something if you think a Mate SE is better looking than the new Nokia 6.1. Also, that Kirin processor in the Mate SE/Honor 7x gets smoked in benchmark testing by the 630 in virtually every category.

It also only has single band 2.4 Wifi

Yep. That was a deal killer. No 5 ghz.

Yes! This is sorta my dream phone. Im gettin this asap. It's the perfect phone for me.

Snooze. Call me when they officially release the 64/4 version for the US. 32GB is not enough anymore. Adoptable storage (if it's even available) is not ideal.

Consider yourself called, all variants are available on Amazon. I do have concerns about compatibility with US networks like AT&T and T-Mobile, these phones are international variants.

The Amazon version is being sold by BREED, not Amazon directly, which is odd. Also there isn't a Prime Exclusive version like the previous model. Also, Walmart is selling it for $274, higher than MSRP. Something about this is kind of fishy.

I guess Amazon will sell it directly in May.

Now the important question: how fast and for how long will Nokia pump out Android updates and security patches for this phone?

It's Android one now, 18-24 months at least

Android One says 24, but the proof will be in the pudding. Hopefully that pudding will be delicious.

I'm waiting for the blue version to be available in the US, then I'll get it.

I'll wait for the 4GB version. That's why I didn't buy the Moto X4 (which would have been perfect if they had the 4GB version)

Nice phone, but that SD430 isn't cutting it.

Damnit man, you're right, I was thinking of last year's, thanks. 😉 Whole different ballgame, perfectly acceptable.

This might be the route I have to take if I can't get ZTEs for cheap anymore. I can't imagine it would be for sale in the USA if it didn't work with the GSM networks like AT&T and T-Mobile.

From Amazon's site: "4G LTE may not work in the US ". No thanks!

Wut's dat launcher?
Seems new?

Does anyone know if the version sold by Walmart is a 4GB/32GB? The description says it is, but who knows. I thought they were only releasing 3/32GB and 4/64GB variants. https://goto.walmart.com/c/1943169/612734/9383?sharedid=159229&subId1=UU...

Anyone notice these are now unavailable on both websites? What an odd release.

someone jumped the gun as they're not going on sale until May. these were probably just international versions that unscrupulous 3rd party vendors were trying to sell.

Nope. Got mine today from Amazon and it is, in fact, the US version.

I really like the idea of having a android one phone much like the google nexus and motorola pre lenovo X phones thats free of manufacture software and long lead OS updates. Both of which ran very well with 3M or less RAM combined with a good chip set. Only gripe is that the screen only 5.5"s. Sure wish Nokia would import the 7 + to the US.....maybe next year...
Android Central Newsletter
Thank you for signing up to Android Central. You will receive a verification email shortly.
There was a problem. Please refresh the page and try again.