Nokia 3, Nokia 5, and Nokia 6 go official in India: Everything you need to know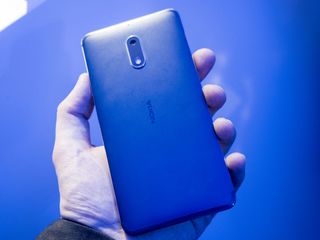 Nokia's phones have always been well-received in India, and while the brand's Windows Phones sold relatively well, customers have been clamoring for a Nokia-branded phone running Android for several years now. Thankfully, the wait is finally over.
At a media event in New Delhi, HMD Global — the company that has exclusive rights to the Nokia brand — has launched the Nokia 3, Nokia 5, and Nokia 6 in the country. The Nokia 3 will go up for sale initially, and will be followed by the Nokia 5 and the Nokia 6. There's a lot to talk about, so let's get started.
What are the specs?
Before talking about pricing and availability, it's important to take a look at what's on offer with the Nokia 3, Nokia 5, and Nokia 6. Here's the detailed spec sheet:
Category
Nokia 3
Nokia 5
Nokia 6
Operating System
Android 7.1.1 Nougat
Android 7.1.1 Nougat
Android 7.1.1 Nougat
Display
5.0-inch 720p IPS LCD
294ppi
5.2-inch 720p IPS LCD
282ppi
5.5-inch Full HD IPS LCD
403ppi
SoC
Mediatek MT6737
Quad-core 1.4GHz Cortex A53
Qualcomm Snapdragon 430
Octa-core 1.4GHz Cortex A53
Qualcomm Snapdragon 430
Octa-core 1.4GHz Cortex A53
GPU
Mali-T720MP2
Adreno 505
Adreno 505
RAM
2GB RAM
2GB RAM
3GB RAM
Storage
16GB
microSD card slot
16GB
microSD card slot
32GB
microSD card slot
Rear camera
8MP f/2.0 lens, LED flash
13MP f/2.0 lens, PDAF, dual-tone LED flash
16MP f/2.0 lens, PDAF, dual-tone LED flash
Front camera
8MP
8MP
8MP
Connectivity
4G with VoLTE, Bluetooth 4.1, NFC
microUSB, USB OTG, FM radio
4G with VoLTE, Bluetooth 4.1, NFC
microUSB, USB OTG, FM radio
4G with VoLTE, Bluetooth 4.1, NFC
microUSB, USB OTG, FM radio
Battery
2650mAh non-removable
3000mAh non-removable
3000mAh non-removable
Fingerprint security
None
Front fingerprint sensor
Front fingerprint sensor
Dimensions
143.4 x 71.4 x 8.5mm
149.7 x 72.5 x 8mm
154 x 75.8 x 7.9mm
Nokia hasn't made too many customizations to the Android skin, so you'll get an experience that's not too different from pure Android. In a country flooded by Chinese handsets with overly complex skins, Nokia's approach is a breath of fresh air, and makes its devices that much more enticing. Nokia is also promising timely updates for its phones, which is welcome news.
How much do the Nokia 3, Nokia 5, and Nokia 6 cost?
Here's the breakdown of how much Nokia's Android phones will cost in the country:
Nokia 3: ₹9,499
Nokia 5: ₹12,899
Nokia 6: ₹14,999
HMD Global is made up of veterans from Nokia and Microsoft, and they have a clear understanding of what works in the Indian market. Nokia's brand name by itself is a strong pull for millions of customers in the country, and by aggressively pricing its products, the manufacturer is looking to make a statement.
Although the devices don't offer the same value for money as Xiaomi's phones — the Redmi Note 4 has a Snapdragon 625 and is more affordable — Nokia's brand cachet combined with a pure Android experience should be more than enough to convince customers to pay up.
Where will I be able to buy the new Nokias?
Nokia is exploring different availability options for its latest phones — the Nokia 3 and Nokia 5 will be sold exclusively offline, whereas the Nokia 6 will be available only on Amazon India.
Nokia has 400 exclusive distributors that cover over 80,000 retail stores, which means that you will be able to walk into any retail store and have a good chance of finding a Nokia device for sale. All of Nokia's devices, including its feature phones, will be manufactured locally in India.
After-sales service will be handled by Nokia Mobile Care, which offers pickup and drop facility in over 100 cities, with service centers located in over 300 cities.
When will I be able to buy the new Nokias?
Nokia is kicking things off with the Nokia 3 initially, which will be available for pre-booking starting June 16. Nokia 5, on the other hand, will be available for pre-booking from July 7. The Nokia 6 will be exclusively sold on Amazon India, and will be available from July 14.
What are your thoughts on the pricing of the Nokia 3, Nokia 5, and the Nokia 6 in India?
Harish Jonnalagadda is a Senior Editor overseeing Asia at Android Central. He leads the site's coverage of Chinese phone brands, contributing to reviews, features, and buying guides. He also writes about storage servers, audio products, and the semiconductor industry. Contact him on Twitter at @chunkynerd.
2GB of ram isn't enough for Android - at any tier - and USB C is the new standard no phone should ship without it in 2017 - regardless to the demographic

2GB is more than enough on my G4 Play. It never once bogged down since I had it since it came out. Since 5.0 RAM usage has gone down a lot, so really anything over 2 is just say you have it. "My phone has 256GB of RAM!" Now the battery is another story. 3000? Minimum for any phone should be 4000.

Agreed, These devices were a major let down. At least they could have developed one high spec device. I would have purchased it right away.

That's kind of their strategy though. Release some lower end devices and then a higher end one later down the road. Rumor has it that a flagship is in development for the second half of this year.

I feel that Nokia's hardware + software strategy echoes the original Moto X. That phone wasn't particular powerful, but it did offer a very solid user experience along with timely software updates. These sub-$200 Nokias aren't beastly, but they should offer solid real-world performance and as of right now, they run on Android 7.1.1 with the June patch. The 6 might be in my hands soon, so I'm not expecting much at all in terms of performance, but I'm going to give it a shot. If my experience with the 6 is solid, that makes the sky clearer for the flagship. You can definitely find offerings from the likes of Xiaomi that offer more raw beef for the same price, but those phones usually run very heavy skins that offer a very different Android experience. Whether you like it or not is up to you.

As per an interview HMD's CEO gave yesterday, the objective of these phones is "offer the same experience of the Google Pixel but at lower price points". In other words, if you want an iPixel and can't pay for one, these would be it. They will also commit to delivering feature updates every time Google introduces them for 2 years and after that they'll continue to deliver system updates. (How that will pan out, we'll see). They also intend to offer two kinds of flagship, one in the lines of the OnePlus 3T (high end specs at lower price) and one in the lines of the Galaxy S8 (so, the throw-everything-and-the-kitchen-sink approach) for a higher price point.

I feel that HMD is going with a good approach, focusing on the end user experience rather than just raw specs.

And at that they're doing a terrible job.

There's always the flagship And PureView.

I wanted the 6 after it was announced. No longer interested. I do have my eye on their flagship though.

Their specs are let down. Moto in same price range is offering better display (moto g 5) and cpu (g5 plus).
Anything which could drive it's sales is its brand name that's it.
Let's c who wins.
Hoping for better specs sheet in future.
It's just a brand after all, you don't get any Nokia legacy things like clear black display, pure view camera, Nokia music, etc.
No reason to buy this device over Moto right now.

I would choose a quality experience over specs any day and that's what Nokia/HMD is promising to deliver. They are not just a brand, they are a company that wants to live up to the brand's reputation... I think we can expect a lot from them over the next few years...these phones are a decent start...
as for legacy Nokia tech, above mentioned may not be available because MS owns rights to it but other Nokia developed tech could be made available as confirmed by HMD CEO. Link-> http://nokiamob.net/2016/12/03/hmd-will-have-access-to-nokias-in-house-t...

Microsoft owns none of the legacy Nokia tech. All of the technologies present on old Nokia phones remained with Nokia.

Tbh, the Nokia 6 price-wise is equivalent to a G5.

1 - You do get ClearBlack which is just the name of a display technology that Nokia owns.
2 - No, you won't get PureView on a 200€ phone. You never did and you never will. That sort of camera tech is reserved for the more expensive phones. As it always was.
3 - Nokia Music hasn't existed for years... Next things and you'll want the Ovi Store back...

Hey DJCBS, greetings to you. Not sure you remember me, but you are the one who (back in 2014) assured me on windowscentral that Nokia will launch Android phones, and you were right! Absolutely excited, I am still a Nokia fan after these years. Do you think the flagship will get PureView? Can Nokia use the terms like "ClearBlack" and "PureView" for their new phones marketing?

Hi, First it's important to note that "PureView" is just a name. A brand. I'm not sure if Microsoft sold that branding back or not. But regardless of that, the technology that stands behind that brand never left Nokia's hands so yes, you will have PureView and ClearBlack on Nokia's Android phones even if they don't end up calling it that.

I have faith in Nokia's phone and quality whether they carry those name or not, Not just blind trust, but through experience.I am just concerned about the persuasiveness and marketing strength of not using PureView and ClearBlack. They have been with Nokia for so long and it would be nice to have those name in the upcoming flagship. N9 was the dream, but now I will settle for anything as long as Nokia continue to make phones.

I would love this device running Win10m. Would be a nobrainer to buy. This way, still no advantage over my Lumia950.

Windows Phone / Mobile is dead.
Time to move on, mate ;)

Specs doesn't matter as far as they keep the Android same as Vanilla Android. 2GB is enough for any app to run. If Nokia can provide timely updates, they can capture the market again in India.

They're using the same version of Android running on the iPixels. And they've so far delivered on the update promises. Their Nokia 6 which has been available in Asia for a while have already been updated to 7.1.1 and will received 7.1.2 as soon as Google makes it available for OEMs.

Nokia brand is still very trusted in india...a phone like 3310 has created lot of buzz in india and people are buying even if they dont need it...and lot of people are waiting for Nokia andriod phones...and it will sell...these are to get number and again awareness that nokia does come with andriod...iam sure nokia will sell well in india
Android Central Newsletter
Get the best of Android Central in in your inbox, every day!
Thank you for signing up to Android Central. You will receive a verification email shortly.
There was a problem. Please refresh the page and try again.