No, the international Moto Z2 Force doesn't have a headphone jack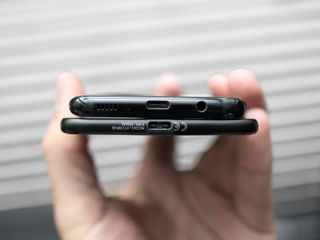 In the hours following the Moto Z2 Force announcement, rumors have percolated online suggesting that unlike the U.S. models, international versions of the phone, with 6GB of RAM and 128GB of storage, would feature a 3.5mm headphone jack. Predictable consternation followed, as it seemed Moto fans in the U.S. might be getting a raw deal — American Z2 Forces, like the earlier Moto Z, use USB Type-C for wired audio, as opposed to the older and more universal port.
However, we've been told by the manufacturer that there's nothing to these rumors, and that all Z2 Forces have the same USB-C port only for audio.
A Motorola representative confirmed that the report is incorrect and that regardless of memory configuration or region the hardware is the same.
So there you go. You'll be living the #donglelife when it comes to wired audio, wherever you buy the Moto Z2 Force — which isn't great, but at least the experience is consistent throughout the world.
More: Moto Z2 Force hands-on preview
Alex was with Android Central for over a decade, producing written and video content for the site, and served as global Executive Editor from 2016 to 2022.
Great, we're really pushing forward into #donglelyfe2k17

Yeah, sadly. Even the Pixel 2 is rumored to be ditching the headphone jack. :(

Awesome, another reason not to buy this phone. The problem is that more and more manufacturers are removing it. Hopefully the pixel and Samsung continue. Unless removing it adds more battery then there is no point in removing itit.

Latest Pixel renders show the headphone jack is no longer there. As little space as the headphone jack adds inside, there's not going to be any appreciable battery addition.

I was wondering about that. Oh well. I guess I'll have to stick to a phone with a headphone jack as long as it's possible. I don't use it as often as before but the times I need it, it's been a savior.

You'd only get about 50mAh worth of battery in the little bit of space.
If they are going to remove the jack, they damn well better replace it with something better, and the only one who has done that so far is HTC.

USonic is real nice. Sadly, it's proprietary

The big problem is that, like Apple, Moto adds nothing in terms of features or audio quality.

What a POS... I hate bluetooth. I have BT headsets for both my android and iPhone. I tried using them for hours every day on conference calls for work. it sucks having 1-2 more batteries to charge every day. Syncing them up before every call is a PITA too. So I dont use them... Ever. Give me a wire plug any day. Pass on this "flagship"... Puny battery, no headohone jack, junk

As I posted in Mr mobile YT Video
So in summary :
-Considerable reduction in battery life for no apparent reason except for forcing you into buying mods
-No OIS
-Average camera
-No waterproof
-Slower charging
-No headphone Jack
-Priced as high as most flagships that do sport all the features above and more Big F U to Lenovo and Motorola. I'll be selling my OG Moto Z play and stepping away from this now dead platform

I don't know if I would call the camera average right now. We haven't seen what the camera could actually do apart from some very early samples.

No headphone jack = no sale!

By this time of the year, phone manufacturer should have just remove the headphone jack and push headphone manufacturer to make more USB type-C products.
Android Central Newsletter
Get the best of Android Central in in your inbox, every day!
Thank you for signing up to Android Central. You will receive a verification email shortly.
There was a problem. Please refresh the page and try again.