No, Google won't be releasing a Pixel Watch this year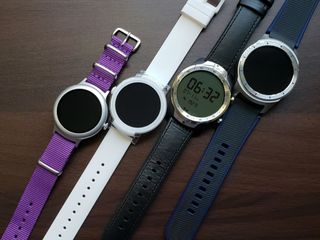 Ever since a rumor surfaced this past May, it's been expected that Google would debut its first Pixel-branded smartwatch alongside the Pixel 3 this fall (a Pixel Watch, if you will). Recent developments in Wear OS have led us to believe that 2018 would finally be the year, and now...
... it's been confirmed that there is no Pixel Watch.
During IFA in Berlin, Tom's Guide got confirmation from Wear OS's director of engineering (Miles Barr) that Google will not be releasing a Pixel Watch this year. According to Barr:
It's certainly disappointing to hear that we're still no closer to a Google-made smartwatch, but even so, there's plenty to still be excited about for Wear OS as a whole. Along with a slew of exciting watches from Skagen, Diesel, and Casio at IFA this week, Google also announced a brand-new UI for Wear OS that puts a big emphasis on the Assistant and the revamped Google Fit.
Additionally, we're just a few short days away from Qualcomm's September 10 event where we'll learn about the company's new smartwatch chipset and possibly see new hardware that's powered by it.
2018 is still a big year for Wear OS, just not quite as magical as we had originally thought.
Google debuts all-new Wear OS interface with Google Assistant feed, coming to watches in September
Joe Maring was a Senior Editor for Android Central between 2017 and 2021. You can reach him on Twitter at @JoeMaring1.
So much promise this year for Google then they under deliver with the Pixels and don't deliver at all with the Pixel Watch. (Sigh)

I purchased the LG Watch Sport (LTE) when it came out. It was generally disappointing primarily because it was slow and the step counter was just too sensitive. I could be in my office all day and have 12,000 steps. I switched to the Gear S3 Frontier (non-LTE) about a year ago and have been very happy with it with the exception of the app gap. I thought I'd wait for the new version to purchase an LTE watch. Last week I went and bought the Galaxy Watch (T-Mobile LTE) the day after it was released. However, we determined at the store that the LTE would only activate with a Samsung Galaxy phone and would not work with my Pixel 2 XL. Bummer - I had to return the phone right then. I then set my focus to the upcoming Pixel watch, thinking I would switch back to Wear OS as it's being updated and with the expectation of a new Pixel Watch. But now with this news, I may just dump my Pixel 2 XL in favor of a Note 9 and the Galaxy Watch. I suppose I'll wait to see if any new Wear OS watches are announced at the upcoming Qualcomm event. I don't understand why so many new Snapdragon 2100 watches are being announced now when there is an upcoming update right around the corner. I'm done ranting.

This was literally my same situation. Glad you mentioned Galaxy watch as I want lte. Hopefully something will be released that uses new chipset.

Dumping a phone because of a watch? Should be the other way around. Not judging, it's all good. You must really enjoy smartwatchs. Haven't owned one yet, so this is definitely a bummer.

Point well taken. The thing is that I want a good watch experience. I can get a good phone experience on Samsung or non-Samsung but if I can't get a good watch experience on non-Samsung I feel it may be worth it to flip. However still need to wait for the Qualcomm event next month. Fingers crossed that we'll see some new watches along with new processor.

What is a good watch experience? My Huawei Watch 2 Sport does a great job, with the new OS navigation will be a bit better. Two days battery life. I don't need a watch to replace my phone, yet. So for me, and the $119(open box best buy), was very well don't, and the watch works great with my Pixel 2 XL.

For me, a good watch experience means the following:
-LTE for messaging
-Fast (no lag)
-NFC and/or MST for mobile payments
-Basic app availability
-2+ day battery life
-Good fitness tracking
-Changeable straps I can get all but decent app support with the Galaxy Watch LTE
I'll wait a month or two to see if there is an Wear OS watch that checks off all the boxes for me
I think the Apple watch gives me everything

Didn't know that about the LTE version of the Galaxy Watch. Having used Tizen with a Note, I know for sure I would never go back to Tizen ("app gap" is a good term!) or a Samsung phone, due to the software. I can't stand how Samsung ruins Android with Touchwiz, personally. None of my 3 Wear OS watches overcount steps, so you may have had a lemon there....

Ya know, that's one thing I can't ever really understand... How exactly is 'touchwiz' so bad? I mean... I've used all sorts of Android phones, ranging from LG, to Samsung, to Kyocera, to no name brands... But They all are basically the same... Oh wow, someone has a different icon... or a menu is arranged differently... Big freaking whoop. . . If anything, out of ALL the phones I've ever used, Samsung's "TouchWiz" is by far the 'better looking' thing out of everything... LG's in particular is bland as a walnut...

Agree, I have no problem with touchwiz, especially since S8. Have Note 9 now. First time I haven't touched Nova.

It's simply down to personal preference. I hated it so much that I seek out vanilla, unskinned Android now. When I used it, Samsung even had the friggin back button on the opposite site from other Android phones.. There were also a ton of apps that could not be uninstalled.

I'm not saying they wouldn't sell but the only watches I ever seen people wear were Apple and Samsung. I barely seen a Motorola watch the other day. I don't see anything positive to come from Pixel watch since the OS can't be really modified so any Wear watch should just fuction the same as a Pixel watch would.

When the first Motos came out that was basically all I saw. Granted smartwatch are not that popular, especially three four years ago. Once every six months. Lol

I had the original Moto 360. I now use an Apple Watch Series 1 and it is in a different league to the 360.

Disappointing, was maybe going to buy my first smartwatch. I'll wait and see if the new Casio has the new processor.

Looks like I made the right decision to buy the Galaxy Watch yesterday. Until Google themselves (either through a partner or ODN) puts out a watch that sets the standard for smart watches WearOS watches will continue to be a mess.

Does Samsung use their own chip? I'm not a Samsung fan , I do not want to get into their ecosystem. I want to wait for the new Qualcomm chips to come out. But if they are fast and have decent battery life could be a possibility.

It's using an Exynos 9110 Dual core 1.15Ghz processor so yeah they do. You don't have to have a Samsung phone to use them. If they are like older Samsung watches there are functional benefits if you do.

Well, that's disappointing. I do hope some new hardware running the new chip is put forth on the 10th. There's no way I would buy a Wear OS watch right now running the decrepit SD2100, and there sure do seem to be a lot of them being introduced in the last few months for some odd reason.

That's okay. I think good watches are still a few years out. I've still got an older one from Samsung sitting on top of my dresser. With somewhat heavy use the battery wouldn't last a full day.

Ohh well..I have original Pixel XL and was hoping that I was going to get a Pixel XL 3 and a Pixel watch with it. Dreams don't come true...

Go to iPhone and Apple watch. put your money where your mouth is. People "hate" the pixel 3 and all android watches are terrible at best.
Switch.
Other than a minor bit on customization, the iPhone does literally EVERYTHING my pixel 2 does, and iMessage is a billion times better than sms/mms on android.
New watches and phones will be announced Sept 12th. Stop being fanboys and use what works rather than trying to be trash talker. I never in a million years will understand people that draw a line in the sand and just hate everything on the other side of that line.
you literally miss out on so much doing that. I love android (pure google AND Samsung), iOS, MacOS, Linux, Windows 10, and windows phone because I am a tech enthusiast instead of a one sided fanboy.
Apple watch blows android watches away. And I have Both.

I also have both, never understood why people think iMessage is so great. Doesn't do anything special that I've noticed.

It allows you to share full quality photos and videos. MMS messages are still expensive to send and WhatsApp makes photos look like they were taken with a potato.

take a picture on iPhone and send it to an iPhone, then send that same pic to android. its trash because of android compression. zero compression in iMessage. read receipts. encrypted end to end. etc etc

Wrong, it's iMessage itself that trash the picture. Because Apple has decided that a picture from iMessage to Android will be send as a MMS. If they instead did send it as a e-mail, it would be possible to send it without compression.

I agree just use what works for you. I personally don't like Apple software and their ecosystem which is why I don't use them. However, they do have some nice things, I can't lie about that.

that's cool. prefer vs hating or fanboying is ok. I just like all of it. I get why people like each one but its because I have all of them. use all of them. each has positives and negatives.

You make some compelling points.. I went from iPhone to Windows Phone to Pixel. Maybe it's time to start the cycle over again (excluding Windows Phone). The thing is that after having live tiles with WP and then widgets with Android, it's tough to go to a relatively bland and stagnant interface. On the good side, everything just works with Apple. You're actually making me think seriously about this. My whole family has iPhones. My wife needs a new one (she has a 6S Plus), maybe I'll look for a 2-for-1 deal when the new iPhones are released!

man I miss my Live tiles. if Windows phone had all the apps android and iOS has, I would be a Windows phone user. but I also noticed that I literally use 2 widgets on the android phone. so losing 2 widgets for a better experience is an ok trade of for me. I love the all screen on the X. its so fast too.
The apple watch is setting standards. It really is a game changer.

I agree. Thinking more about a potential switch a couple of things I would miss are the Google Feed and the ability to respond to texts on my Windows machine and/or my Surface Pro. Messages for web is awesome. Since I spend all day in front of my computer (I'm a CPA), I can respond to texts very quickly and not feel like I need to abbreviate every other word. The upcoming My Phone app for Windows also looks like a potentially great integration between my Android phone and Windows. Lots to consider!

And yet, there almost hasn't been any news or change to the smartwatches for the last four years. My 2014 Android Wear smartwatch is still as useful as ever.

My Garmin rocks. This really isn't a big deal to me. Quite sad Google hasn't come up with something. Not sure what they've been doing this year. Pie is a let down. Pixel 3xl isn't anything special, and now no watch.

Same here. Had Tizen and Apple Watches and thought I'd settled on Androidwear/WearOS after the past few years but since getting my Vivoactive 3 I've never been happier. It's the perfect blend of GPS fitness tracker and smart watch. I'll still probably trade up to the Fenix 5 next year but for now I'm happy.

And my Zenwatch 2 is still chugging along as good as day one. Never had an issue. All I need.

Mine is sitting in a drawer now. The vibration motor packed up a few months ago so now it's officially retired. Shame because it was still great

Disappointing. Really want to upgrade from my gear s2 but nothing really tickles me right now.

Maybe Google is going introduce some hardware next year, perhaps during one of those events? MWC or something like that. It seems like they only do their own events, but why not slide in with a Mid-range Pixel and Pixel watch?

As long as LG/Huawei give me an LTE watch with user removable sim card... in rose gold... I'm good. If they make it swimproof, even better. My Urbane 2 LTE is on its last leg due to the watchband breaking again and lines across the screen. So, yeah, straps need to be use replaceable as well this time around.

Came here for new SONY XZ3 phone news. Does AC even know this company still makes phones? Looking at the forum here, I think the answer is :yes. Not even a thread for the XZ2 Premium, laughable. Currently THE best smartphone in the World? 🤣

Let's be real. Sony has no direction when it comes to phones. They have been going downhill for a while. They're really not even a thing in the US.

And uh, Anyone else kinda weirded out that they combined two articles into a single one? First their bs advertisement for the Note9 screen protector, and then just below it, a thing about the Pixel Watch? Like really? Come on Android Central... we get it.... that whitedome or whatever their name is company has paid you crap loads of money to post articles about their screen protectors EVERY, SINGLE, DAY.... But geez.... This website has become more of a 'hey lets try to sell things people don't need and will probably just annoying the crap out of them if they bought' sort of a site... We don't want to see article after article after article of what is essentially you being paid to 'talk good' about something... kind of makes people not believe/trust/care about 80% of the things you put out... Give quality content, fair reviews, and have fun... Don't be the next "YogsCast" failure because you want to accept every deal that gives you cash.... -.-

I never under the smart watch and the need for one myself.

Glad I got the tic watch pro!

All I see are Samsung and Apple watches at Hospital I work at. Im a watch person so I notice wrists! I cant say Ive seen any other smart watch.
Android Central Newsletter
Thank you for signing up to Android Central. You will receive a verification email shortly.
There was a problem. Please refresh the page and try again.