Nextbook Ares 11a Android 2-in-1 tablet set to ring in at just $220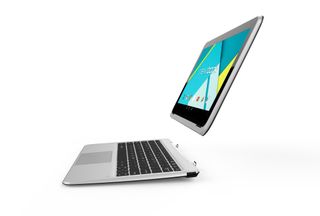 Nextbook, the manufacturer of various budget Android and Windows tablets, will be expanding its lineup at CES 2016 with the Ares 11a. This will be a 2-in-1 tablet, featuring a full-size detachable keyboard. The tablet itself features an 11.6-inch display, and will run Android 5.1 out of the box. Inside, you'll find a quad-core Intel Atom X5-Z8300 processor that is paired with 2GB of RAM and 64GB of on-board storage.
This 2-in-1, like the rest of its line up, will be aimed at the budget crowd, coming in at $220. The Ares 11a will be on display at CES ahead of its Q2 2016 release.
Press release:
Nextbook Brings New Ares Android 2-in-1 Tablet to CES 2016
Nextbook Ares 11A from E FUN Features Android 5.1 and Intel Atom x5 Processor
WEST COVINA, Calif., Dec. 30, 2015 /PRNewswire/ -- E FUN, a leading supplier of tablets and detachables, is expanding its line of Nextbook Ares Android tablets at CES 2016 with a new 2-in-1 model. The 11.6" Ares 11A features Android 5.1 and is powered by a quad-core Intel® Atom™ x5-Z8300 processor with 2GB system memory for smooth performance at an affordable price. The Nextbook Ares 11A will be available in Q2 2016 with an MSRP of $219.99.
"We are excited to expand our Nextbook Ares tablet line in 2016 with upgraded features," stated Jason Liszewski, managing director and VP of sales for E FUN. "The new Ares 11A was built with consumers in mind to be the right combination of features and price."
Featuring a detachable backlit keyboard, the Nextbook Ares 11A is an affordable solution for students, professionals and casual users. It features:
Android 5.1 Lollipop with Google Play
Detachable backlit keyboard with two standard 2.0 USB ports
1366 x 768 IPS capacitive touch screen
Quad-Core Intel Atom x5-Z8300 processor
2GB system memory
64GB onboard storage memory, microSD supports up to 64GB additional
Bluetooth 4.0 and WiFi 802.11 b/g/n
2.0 megapixel front and rear cameras
miniHDMI, microUSB, and microSD ports
Unlike tablets, the Ares 11A comes with a full-sized, detachable keyboard, perfect for getting work done no matter where life takes you. For those more interested in entertainment, the Ares 11A is great for watching movies and TV shows through VUDU or Flixster, playing games from the Google Play store with its 3-axis G-sensor, or reading an eBook from the preloaded Barnes and Noble NOOK for Android app.
The 11.6" screen and 16:9 aspect ration means these entertainment options are all available in high definition. For the ultimate experience, these great features can be enjoyed on the big screen with the Ares 11A's built in miniHDMI port, allowing users to mirror the device directly onto any compatible TV.
Jared started off writing about mobile phones back when BlackBerry ruled the market, and Windows Mobile was kinda cool. Now, with a family, mortgage and other responsibilities he has no choice but to look for the best deals, and he's here to share them with you.
I've got a Nextbook 8, and for what I paid for it, it feels like a pretty well constructed device. Maybe its got the same junk internals that the BF $25 RCA tablets do, but they spent a little bit more on packaging it all. One complaint with this tablet and all of their other offerings is that they need to bump the resolution up a notch.

See? That's the keyboard the pixel c should of had. Track pad. Posted via the Android Central App

Isn't that the same specs as the new predator line? Posted via the Android Central App

This looks really tasty. Might be the perfect thing for the kids.

Was thinking the same Scott

Looks very interesting Posted via the Android Central App

Hate to say it, but this would be a better device with Windows 10 on it. Specs would allow for it, too.

True but the nice thing is all the apps/games I've purchased will not have to be purchased again

Go to their website and see what they have to offer. They make a similar version with Win10 called the Flex 11.

Depends heavily upon what you're doing with it Posted via the Android Central App

They actually have a Windows 10 version on their site for $227 called the Flexx 11

Wow for that price, I might have to pick this up!

Looks like a great price Posted via the Android Central App

It's the exact same thing thats been available at Walmart for almost a year. Exact same specs, they added a A to the model and 29 bucks to the price of what you can walk into any Walmart and get right now for 197.

not exactly. this one has a better processor and better ram.

Shots fired at Asus. This looks like a decent priced two in one Android tablet. But Asus kind of started the trend with the transformer line. Would love to see that come back without the tegra zone crap. Posted via the Android Central App

Ouch... That resolution! Posted via the Android Central App

Android 5.1? Ha, throw this **** in the trash.

How does ATOM compare to a recent high end Snapdragon? Posted via the Android Central App

So it's the old Ares 11 with a beefier processor, step-up RAM (?) and a new, more "Chromey" aesthetic. Seems to me that this all adds up to an incremental evolution of a budget two-in-one complete with a slight price hike. I guess this falls under the general banner of good news, so I certainly can't say too much bad. And having the Ares 11's Windows equipped clone (the Flexx), I can say they are decent devices for the money. But a) it'd have been more exciting had this all happened without the price hike, and b) based just on this picture, I'm not entirely sure I don't like the look to old version better. It also makes me wonder if we're going to see a "Flexx" version of this since the previous Flexx and Ares were the EXACT same piece of hardware, only with different OSs installed, and with different stickers on the keyboard keys. It seems silly that they wouldn't. Bottom line: this seems like nothing to be too disappointed by, not very excited about. Bummer they didn't improve the screen, though. Also, with the screen ratio, and so many apps mandating portrait, that's gonna be a bad time, I'd imagine.
Android Central Newsletter
Get the best of Android Central in in your inbox, every day!
Thank you for signing up to Android Central. You will receive a verification email shortly.
There was a problem. Please refresh the page and try again.