New Samsung Galaxy S II commercial whets our appetites ahead of this week's launch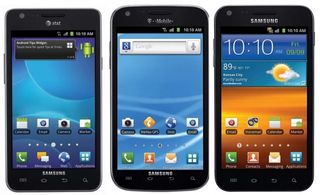 It's finally here. Today marks the kick off of launch week for the highly anticipated Galaxy S II (Sprint's variant, the Galaxy S II Epic Touch 4G, goes on sale this Friday) here in the United States, and Samsung is marking the occasion with a brand new ad campaign headed for a TV set near you. What more can it say? It's fast, it's beautiful, and it's coming soon. Enough teasing already! For those of you who are chomping at the bit now more than ever, check out our Galaxy S II buyers' guide for the full rundown. Patience, we're just around the corner!
Source: Samsung (opens in new tab)
Easy to say until you get the Prime...

Well it is not confirmed that verizon will have a prime, we will have to wait and see.

After all the trouble thousands of others along with myself went through with the Fascinate, it's no wonder that Verizon wouldn't go with another version of the Galaxy S platform. That being said even if Big Red did manage to release one later on, I still wouldn't spend my money on this thing, too many bad memories.

Let me amend my last statement : I would reconsider buying a Galaxy S phone, but it would have to be running Android Zuccotto :P

It's so tempting, I just don't know if I could commit to a samsung phone after watching all my friends' frustrations over updates...

90percent of those people didnt even know what the updates entailed. they just want a higher number, lets stop exaggerating that. lets also hope these Droid Nexus rumours are true. (awaits the annoyng nerd DROID NEXUS is a oxymoron,you cant have...blah blah)

It depends on what group of people you are talking about. Most average users didn't even know an update was coming AT ALL, much less what the update entailed or what version number it was. But Android fans definitely knew. Also, if you are talking about the update from 2.2 to 2.3, I would agree with you. That update doesn't really add anything important, but I definitely disagree with you on the update from 2.1 to 2.2. That update was HUGE & people knew that their phones still weren't Flash compatible because of update delays.

Seeing as how all my friends knew what froyo was and why they would want it (I.e. flash)...I would definitely define them as "having been very angry with their phones." So in having seen the way that was handle (or mishandled) I could say there is no exaggeration in my statement. Unless you would like to assume some more...

...forget the updates .I can do that myself.The SUPER AMOLED+ screen is the best out there and the ZEYNOS dual core.Those are first and foremost.Imgettn mine WEDNESDAY,but im gone get rid of it when the GALAXY NOTE comes to SPRINT. SUPER AMOLED HD!!

I already have mine. It came with Android version 2.3.3. I already updated it to version 2.3.4. I can say it's the best cell phone I have ever had. My previous one was the first Galaxy S.

I can not wait to check this thing out in stores.

I'm more interested in the Galaxy Note and the Epic 4G that will have a side sliding keyboard, not to mention, the "Nexus Prime".

No one seems to be talking about the wonderful price this is supposed to have which leads me to believe either no one knows, or its a hoax. This may or may not be just a rumor, but I heard walmart is selling the 3 versions of the galaxy s2 for $99. Is it just me? I may be leaving Verizon and returning my DROID bionic to get the sprint galaxy s2.

and there is no activation fee, and when you port your number to sprint u get $125 credit...that means you almost pay none for this amazing cell phone.....

Port credit only applies if you order through Sprint online or telesales. I wanted the best of both worlds too, but it won't work that way unfortunately. By the time you figure out tax ordering from Sprint there isn't much difference between doing the port credit or getting the $99 deal through Letstalk. There was an additional $10 I saw for Letstalk too so you can get it for $89. I don't believe there is an activation fee through Letstalk either. Sprint is currently charging an activation fee when ordering directly through them aren't they?

Yup... Then you get to pay a monthly fee for a service that doesn't work, and you can't use your device on any other service... $125 credit ain't worth that!

I'm not sure what you mean by can't use on any other service. Sprint has a roaming agreement with Verizon, so you can use Verizon towers at no additional cost when Sprint isn't available. Are you referring to the $10 a month premium data fee? This is for all smartphones whether they have 4g or not. If you don't have 4g in your area (which I don't) I'd still be willing to pay it. A family plan with 2 smartphones on Sprint is quite a bit cheaper than Verizon. I have been with Verizon form many years and am ready to switch. I had Sprint years ago and never had an issue with them. Although Sprint has not progressed like I hoped, I don't think they've gotten worse.

Sprint is like Ford Motor Co, they were crap at one time and have come a long way. Are they the best? No. But are not the worst either.

Where I live, Sprint coverage and data speeds are awful, and I live in a pretty big city. So Sprint can throw all the credits and cheap monthly plans at me all they want, but until they strengthen their services, no point in "saving money" for a service that doesn't work.

If you live in a large city, I doubt the coverage is bad.

Went and received my 50 gift card today. Should have the phone on Friday. I was able to check out one in ST. Thomas this past friday, and I must say I surprise how it felt in my hands. It was thin..really thin. Going to love this phone..exp with the SSP setups...

Is anyone asking the question of how long it will take Samsung to skin Ice Cream Sandwich with TouchWiz and have it available for these devices????? Update : Seeing as how the TouchWiz update for the 10.1 is a requirement for future updates, it might not take them that long.

This is one bad ass phone. Don't care how long Samsung waits to update, this thing will be rooted about 10 minutes after I power mine up. I will be in heaven, the developers are having a blast with this phone. This thing will be well updated.
PS I prefer the European version with the cursor button. I think I might buy mine from one of the local importers.

is it me?? but did that sprint version say sprint on top on the front and samsung on the bottom above the keys??? and that version looked pretty narrow not as wide as we seen in the pics...

I was wondering the same thing myself. In all of the pics I've seen there was no Sprint branding on the front of the device.

in my personal experience almost no one cares about updates only techy people most people i know who have androids, have never changed their screen icons from stock. half of them dont even know how to delete/put icons on the main screen. its amazing when your a techy but its true, most people know NOTHING about their phones and could care less.
Android Central Newsletter
Thank you for signing up to Android Central. You will receive a verification email shortly.
There was a problem. Please refresh the page and try again.