Which Samsung Galaxy S II is right for you?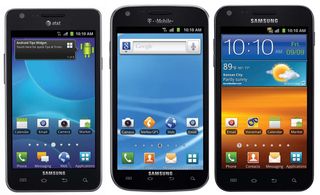 So here's your obligatory shot of the three U.S. versions (so far) of the Samsung Galaxy S II. We crawled all over these guys at the U.S. launch event, and they're definitely lookers. We could ask you which one you like the best, or which one you think looks better. But to anyone who's actually held one (or all three), it's pretty obvious that you're pretty much dealing with the same device here, insofar as look, feel and performance go.
And the Super AMOLED Plus displays? (They're so named because they have more subpixels that a mere Super AMOLED display.) You're going to want to see these in action if you haven't already.
Oh, there are some subtle differences in software (but nothing really to write home about just yet), and the AT&T Galaxy S II (that's it's official name, by the way) is noticeably smaller at 4.3 inches, instead of the 4.52 inches seen in Sprint and T-Mobile's versions. Trust us when we say you'll be OK with that.
No, the deciding factor over which Galaxy S II version you get in the United States really comes down to which carrier you're on. Let's break it all down, after the break.
AT&T Samsung Galaxy S II
Watch our hands-on | Find out more in the forums
This is the skinny one of the bunch, at 4.3 inches in diagonal. It's got AT&T's "4G" data, which is different than other carriers' in that it's typically got a big asterisk with "enhanced backhaul" attached to it, which you might or might not have where you live.
Hands-on video
It's an interesting follow up to the Samsung Infuse 4G, which in all respects as (and still is) a great big (4.5 inches) smartphone. But the Infuse doesn't match up to the SGSII in the power plant department, and the SGSII has a newer version of Touchwiz. As much as we like the Infuse, we're very much looking forward to giving the upgrade a go.
And there's the question. Should you upgrade to the Galaxy S II if you're on AT&T? If you're rocking a Captivate or older phone and have an available upgrade, or if you can swing an off-contract up-front cost, we wouldn't think twice. It's definitely AT&T's top phone now.
T-Mobile Samsung Galaxy S II (official name TBD)
Watch our eyes-on | Find out more in the forums
Strangely, this one was kept under glass. Dunno if that's because the software isn't finished, or if there's some showstopper bug, or whatever. But either way, it's odd to have a launch event where one of the phones being launched is untouchable. In fact, even T-Mobile's curt press release was out of the ordinary in that it actually was just a statement. Here's the entire thing.
That's it. No more. Doesn't exactly ooze confidence from the carrier that'll be selling the thing.
Hands-on video
We're inclined to agree with This is my Next's Chris Ziegler, who opines that T-Mobile's likely differs more than the Sprint and AT&T versions by having to use a different chipset to support its wacky AWS radio bands. But unless that's keeping T-Mobile's version of the phone from living up to the reputation its cousins are quickly setting, it's really not a spec that should have much life outside of the smartphone nerd circle.
Samsung Galaxy S II Sprint Epic 4G Touch
Watch our hands-on | Find out more in the forums
This fellow sort of stole the show at the launch event. Maybe there were a bunch of Sprint fans in the crowd. But we're betting it's because it's the thinnest Wimax smartphone available. And lightest.
Sprint Epic 4G Touch
Seriously, it's thin, and light. And did we mention it isn't thick and doesn't weigh much? Basically, it's set a new standard for Wimax phones. That's its differentiator. If you want a true 4G phone and don't want the thickness of a Verizon LTE device this is the phone to get.
It'll be interesting to see Verizon's next move. Not that it puts out phones in reaction to Sprint, but Sprint's first to market with a truly thin 4G phone. And for a lot of people, that's going to be a reason to go with Sprint over Verizon.
So just where was Verizon?
Most readers of this blog already knew that Verizon was going to be a no-show at the U.S. Galaxy S II launch. That's not to say Big Red won't be getting something very similar -- and we completely expect it to. But for now? We wait. It could still be something as simple as a scheduling thing -- Verizon's certainly got plenty of phones in the field right now, and the Droid Bionic is still on the way.
And which Galaxy S II should I get?
If carrier is no object -- that is, you have great coverage on all three carriers and can switch at you leisure -- it's going to be a tough decision. These are all great thin, fast, phones. We can't wait to see how the cameras perform, as Samsung's really stepped things up in that department.
And you really do need to check these out for yourselves just a soon as you can. Or check out our hands-on posts a few more times. But our initial impression is that you can't go wrong with any of the U.S. variants of the Galaxy S II.
Get the Android Central Newsletter
Instant access to breaking news, the hottest reviews, great deals and helpful tips.