New Moto Voice app now available for 2013 Moto phones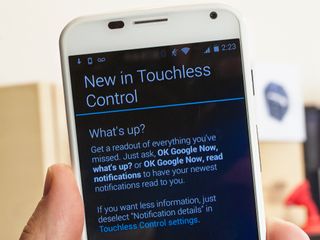 New features come to first generation models
The new version of Motorola's Touchless Control app, now rebadged as Moto Voice, has been updated today in a big way. Along with the bug fixing goodness that accompanies any and every app update, some of the new features from the 2014 Moto X have been pushed to the first generation Moto X phones. That means your Moto X, Droid Ultra, Droid MAXX and Droid Mini have some cool new features!
The official changelog:
When Moto 360 is active, only your watch will respond to your voice
Supported on: Droid Ultra, Droid Mini, Droid Maxx, Moto X (first generation)
Customize your own launch phrase to make Moto Voice respond only to you
Voice command support for YouTube, Facebook and WhatsApp
Turn on Talk to Me and other Moto modes through voice commands
Support for Moto Hint and Moto 360
User experience improvements and bug fixes
Compatible only with Android 4.4 KitKat
The update is live on some of our own Moto phones here, so it's a good idea to have a look and see if yours is ready. Check via the link at the top of the post.
Big thanks to megatomic!
Get the Android Central Newsletter
Instant access to breaking news, the hottest reviews, great deals and helpful tips.
Senior Editor — Google Ecosystem
Jerry is an amateur woodworker and struggling shade tree mechanic. There's nothing he can't take apart, but many things he can't reassemble. You'll find him writing and speaking his loud opinion on Android Central and occasionally on Twitter.
Woo downloading now No new features here :( Posted via Android Central App from my moto x

Okay. This update does not include the new moto x features. Posted via Android Central App

Sadly I don't see where anything has changed functionally in my phone yet. I will play around with it some when I get home from work in a bit.

That's the impression I'm getting, other than being able to toggle the Moto settings via voice and the 360 auto-toggle (nifty, but only for the 360 and not any Wear device?). Punit Soni has said that some of the features would require an OS update (guessing one is coming reasonably soon, hopefully won't be waiting until the L release). Near as I can tell, the launch phrase rework is still missing (absolutely certain it is hard-coded into the sub-system firmware so they will need to update that), as are the more advanced commands and thrid-party integration.

I think you are right, I read the post from Punit Soni on G+ you are referencing also. Seeing Moto Voice as an available update excited me unnecessarily. lol

Ok so what is the difference between the two? I thought I already had these features with my Droid Ultra on the old App?

Yes! Thank you Motorola =)

I'm going to hold off on DL until more feedback. I've not had any trouble with the current version, and saying "ok google now" does not bother me.

There's nothing new as far as features. But an update is welcome none the less Posted via AC app from my amazing Moto X

After updating mine is still called 'touchless control' and I don't have any new features... Posted via Android Central App I think this just adds compatibility with the Moto 360. Lame Also, not sure where that changelog came from but it is not correct. The Play Store just says 360 support and requires 4.4

When I installed the update the changelog looked just like what Jerry posted.

Are you looking at the description or 'what's new'? Because what's new doesn't say 2013 phones get new features Posted via Android Central App

The what's new showed just what Jerry posted above. The entry was edited later is my guess.

Seems more like this is AN update but not THE update.

Hey you might want to mention that the feature where you can name it whatever you want is only available on the new X. Just found that out, thanks Jerry

This seems the same...... Maybe once the 2nd gen Moto X launches? Posted via the Android Central App

I'm not seeing any difference. Posted via Android Central App on the Moto X

Yeah the changelog still says the new features are for the new x and the old x will be getting them soon, plus I don't see any changes.

I agree with everyone else here.. it was an update but not THE UPDATE... nothing to see here, move along. =]

Update but not the update Posted via Android Central App

The Moto X 1st Gen is still on 4.4.3, this says 4.4.4? Something tells me my voice is going to break

I'm on 4.4.4 and it ain't working. :'( ------------
Android: It will make you a sexual tyrannosaurs, just like me.

I'm on 4.4.4 and it's the same Posted via Android Central App

does any one know 100% for sure whether or not the pure edition will keep the warranty if bootloader unlocked. i cannot seem to find any definitive info on it and moto care chat is saying both yeas and no.

1st Gen was not written anywhere, rather was an announcement or promise of sorts. thought that was during Google times, who knows now under Lenovo.

http://motorola-blog.blogspot.com/2013/11/you-asked-we-listened-announci...

Not aware of Motorola currently being under Lenovo. Did that finalize? Posted via Android Central App

A lot of this stuff looks to only be for 2nd gen. No custom launch phrase here on Verizon Moto X in 4.4.4.

Love the "what's up" feature, don't know if I could do that before tho? Either way, decent update. Thanks moto. Posted via the Android Central App

You could always do that.

My att 4.4.4 is exactly the same. Posted via Android Central App

Why no Moto G love, Moto?

This is the update we're going to get. New custom launch phrase isn't coming to 2013 models it seems.

Do you have any reason why you think this is all we are getting on the 2013 Moto X? I assumed we would get it with L

Bummer, "OK Google Now" is getting tiresome. Still love what it can do, I just hate the phrase. Posted via Android Central App

Punit Soni already said we will be getting all the features of the New Moto X that the hardware would allow. He also said that most of the features would need an OS update to work. I'm almost positive the only reason we are getting this update today is to allow support for the Moto 360, which I will be picking up tomorrow when it goes on sale. Posted via Android Central App on the Moto X

Perhaps you should update the article to make it more clear that the new features aren't showing up as part of this update. I just updated the app on my Moto X, and I am having the same results as everyone else here.

No Custom Launch Phrase updated on my 1st gen Moto X either. Posted via Motorola Xoom

42 Mb!!!!
My first computer had a 40Mb hard drive.

If you read the update in Play Store, it says that updates are coming soon to the 2013 Moto X Posted via Android Central App

Mine just updated itself:) Posted via the Android Central App

I HIGHLY doubt we'll see the new features before the Moto X (2014) is actually released. We'll most likely see the update a few weeks after.

Spot on. The PlayStore description for the 1st Moto X reads 'Stay tuned for updates to Moto Voice / Touchless Control coming soon'.

Aaaaaannddd... Most of the promises are not delivered upon in this "update". More typical Motorola bullshit. As soon as I can get my hands on a Sony Z3 or Z3c, I can be free of them forever.