Mysterious Android tablet shows up in North Korea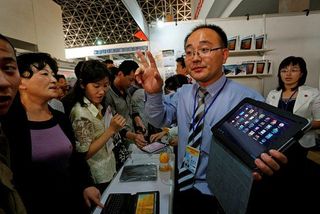 Yes, you read that correctly; a tablet was spotted presumably running Android in North Korea's capital of Pyongyang. The photo was taken during a trade fair where various approved electronics were being shown off.
Due to the closed nature of North Korea, we don't know much about the tablet. No hardware specs, no software information and certainly no dates for availability. One of the only tidbits that was discovered was a box in the background that read Samjiyo, which is the name of another North Korean tablet introduced in June.
From the photo, it looks to have around a 10-inch screen and has some applications installed. Other than that, it's anybody's guess. If we were to surmise about a North Korean tablet, we'd assume it's extremely locked down and will not run Google's core services. Remember North Koreans are prohibited access to the wider Internet. Interestingly enough, it seems as though the Seoul Google office took interest in this photo as well and are trying to find out more information, just as we are.
There's a certain irony in a closed nation like North Korea being able to develop its own tablet because of an open-source OS like Android, don'tcha think?
Source: WSJ
it can control nuclear power plants from a distance

"INTRODUCING OUR NEW KIMPAD! OUR COUNTRY'S NEWEST TOUCH COMPUTER IN A TOUCHABLE GLASS SLATE AND THE MOST ADVANCED INVENTON IN THE WORLD!, IT HAS APPS TO PAY TRIBUTE TO OUR SURPREME LEADDAH AND APPS THAT CAN LET YOU SPREAD CANCER TO AMERICANS BY THE HOLY POWERS OF THE SURPRIME LEADDAH'S IMAGNATION! THE FRONT FACING CAMERA IS THERE TO MAKE SURE YOU SPEAK GOOD THINGS ABOUT THE SURPREME LEADDAH OR THE SLATE WILL CALL THE SOLDERS AND YOU WOULD BROUGHT TO THE GULAGS!" "YES! THE NEW KIMPAD! CALL NOW OR GO TO YOUR NEAREST SUPERMARKET (if there is ever one.....) SERIOUSLY! BUY NOW OR YOU WILL BE SHOT TO DEATH"

I was going to post something, but you pretty much covered it :)

I had a hard time reading so many capital letters but...good quote :)

You know if you switched solders with Apple secret police, and references of Kim to Jobs this statement could have been all about Apple...

I take it racism and bigotry are allowed on this site? Nice to know people can spew offensive bilge here and people will find it funny. I guess this lends support to the demographic studies that indicate IOS users are better educated than Android users.

Yes. One person writes something like that and a few people finds it funny. And that means that iOS users are better educated than Android users.. Nice logic you got there!

You clearly know nothing about north Korea.

the KIMPAD. perfect name..lol

North Korean App store: Kim Jong Un's Daily Blog Kim-chi Recipes How North Korea Rules the World How to grow food out of rocks/ which rocks make best soup Today's Communist Blog Where to dispose of unwanted baby girls GPS tracker, so government can help you Facebook, pictures of our god Kim Jong Il's Face How to be a better Communist Re-Education Camps maps Report a Capitalist spy Gulag Vacation spots A-Bomb's for Dummies North Korean Flag Wallpapers How to censor information What Books and Magazines To Burn eBooks: Karl Marx, 50 shades of Red, Work Camps: Good For You and you're Government

Haha funny joke there. Indeed, a closed source nation like North Korea shouldn't be allowed to use an open source OS ;)

Of course they shouldn't - they should only be allowed to build the garbage and send it to the US and Europe so that we can live off the slave labor. Perhaps you didn't notice that China is also a communist country and, in spite of PR to the contrary, their human rights record (and treatment of most of their citizens) doesn't vary that much from North Korea. Embrace a bit of capitalism, supply the world with cheaply made products, and people will ignore that very important things have not changed.

Are you really trying to equate China with North Korea? Wow! That is at least 100 times more racist than the post at the beginning of these of comments.

That's where all those refurbished Touchpads went. :/

I believe the key word is "presumably." Lets just take a single photo and run with it wherever we want to take it. People do know there are knockoffs of pretty much any product you could name across China and much of SE Asia.

Is It Sad That I Was Surprised That North Korea Was Even Allowed To Have Trade Shows?

North Korea invented Android. Seriously. Ask any North Korean.

Holy cow! Does this mean there may be North Koreans who are browsing
stuff on AndroidCentral like the rest of us? At least they're not using iPads/iPhones! :D

Its n korea, we or any sane person would care why ?

Is it just my eyes, or is that tablet running ICS?

WHAT? NO JELLY BEAN!!!??? The "Great Successor" will not be happy about this.
Someone get hims Jelly Bean ASAP! Edit: apparently he uses iPads.... too bad...

"There's a certain irony in a closed nation like North Korea being able to develop its own tablet because of an open-source OS like Android, don'tcha think?" That's not Irony, that's Hypocrisy.

The lady in purple looks very much like a lady in Lisa Ling's story about North Korea from a few years back!? Just putting it out there.
Android Central Newsletter
Thank you for signing up to Android Central. You will receive a verification email shortly.
There was a problem. Please refresh the page and try again.