Multi-window feature could be headed to Galaxy S3 in Android 4.1.2 update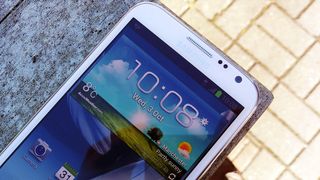 The Galaxy S3 may have just been updated to Android 4.1.1 Jelly Bean in Europe, but it seems Samsung may already be focusing on the next major software update. According to reports from SamMobile, the S3 will be updated to Android 4.1.2 before the end of the year, and that new firmware will also include one of the Galaxy Note 2's killer features -- "multi-window" support.
The Note 2's multi-window feature, shown in our quick demo video above, allows true multi-tasking by having two applications open on-screen at any one time -- for example, a browser window up top, and a YouTube video down below. Not all apps are supported yet, but all major Google and Samsung apps work just fine, as do some third-party offerings like Twitter.
SamMobile has a pretty decent track record for revealing Samsung software secrets ahead of time, so there's a good chance they're right about multi-view on the S3. And as the international Galaxy S3 and Galaxy Note 2 share much of their hardware, it shouldn't be a huge technical challenge to get it up and running.
If these reports are true, we're sure S3 owners will be eagerly awaiting that 4.1.2 update.
Source: SamMobile
Alex was with Android Central for over a decade, producing written and video content for the site, and served as global Executive Editor from 2016 to 2022.
This could make me go back to stock from CyanogenMod

Awesome this could be pretty handy

Thankfully, with Siyah Kernel 1.7rc1 I don't have to give up CM10 for this. I can just dual boot them :D

So glad I went for this phone last week, huge step up from my Desire HD - 2gig of Ram, Quad Core Processor, JB out the box, LTE, amazing screen, millions of accessories available and soon to get this update - SG3 Rocks!!

Notice it says 4.1.2? We don't even have 4.1.anything here in the US. It'll be many moons before we see 4.1.2...

Sprint s3 will have 4.1 soon

You apparently didn't read the article. We're gonna receive 4.1.1 this month in the next few weeks, and then 4.1.2 before the end of the year in a couple months. I wouldn't put it past Samsung. Don't come on here and diss Samsung, that's for Apple lovers.

INNOVATION, INNOVATION, INNOVATION, I think Samsung is leading all in this area. Just no competition.

i don't think it will come to the usa s3 only dual core chip i think that it requires 4 cores at least. and yes is asweome the multi window stuff on my note 2. there is even more then just that that makes the note supreme. And yes SAmsung is innovation . Leaving the competition in dust.

But doesn't the US versions have a similar feature where they can watch vids while looking at emails, web surfing etc..? Why wouldn't it be able to handle this feature? I would tend to think it could. The US SGS3 is a pretty powerful phone..

I would have to agree. To me watching a video and having the rest of the phone be as smooth as it is while doing so would require more CPU usage then looking at a couple of different web pages.

The S4 is most likely plenty stout to handle this. Cores aren't everything.

The S4 is most likely plenty stout to handle this. Cores aren't everything.

Samsung suddenly becomes too fast. Other have to catch up - their domination in the Android space is not good.

True multitasking shown on a phone. That's kinda impresssive..wow! Samsungs headed in the right direction as far as innovation.

Should be available on Verizon's variant by 2015. This is great news!!

Cooler than the other side of the pillow!

and people say that the gs3 and the iphone(s) are the same and some people complain about touchwiz it seems better feature wise than stock android cant wait for 4.1.2 4.1.1 is awesome

Maybe, this is the reason those of us in the US havent gotten it yet. We may be headed straight for 4.1.2 just wish Sammy would say that

been using it on my galaxy tab 10.1 tablet and I love using it feature. From a competitive standpoint, this is huge perhaps a game changer for many people in the iPhone android decision. Everyone stop multitasking now. Side-by-side is what I wanted for a long time. I would like to see more apps with in the system able to utilize the side-by-side technology. For those that have never used it it's great for the apps that allow it. I was trying to use it on getting data from a website and typing it in to a spreadsheet. It would let me use on the app I was trying to use.

THIS is why focusing on specs DOES pay off. The average joe doesn't realize this, but your tech enthusiasts and evangelists do. As long as the respective company focuses just as much on improving their software and finding new uses for their improved hardware the average joe will eventually take notice. Samsung figured this out (ie: #neveragain) and ever since has been on a roll that I don't see ever slowing. If LG, HTC, Sony (et al) ever figure this out too other platforms wouldn't stand a chance.

I'm excited to eventually see this in other ROM's, if it isn't already. I've been out of the community for a while, I'm currently deployed with the Army. Rocking a Samsung Galaxy Tab 2 7.0, unfortunately stock.

Split Browser in Play Store lets you browse two web pages at the same time (including video playback) and it also works in Jelly Bean https://www.androidcentral.com/e?link=https2F2F... https://www.youtube.com/watch?v=RRUdDPm0VFs
Android Central Newsletter
Thank you for signing up to Android Central. You will receive a verification email shortly.
There was a problem. Please refresh the page and try again.