Motorola to offer factory images for Developer Editions, no longer void warranties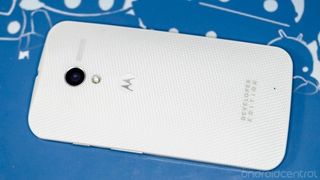 Warranties for 2012 and 2013 Dev Editions will be reinstated if previously voided for unlocking
In an interesting step towards pleasing the hacking community, Motorola has announced today two changes to the way it handles Developer Edition devices. First up, a change is being made to the process of requesting a code to unlock the bootloader on your Developer Edition device. Unlocking your bootloader with Motorola's consent will no longer void that device's warranty, and any Developer Edition device purchased in 2012 or 2013 will have its warranty reinstated if it was previously voided.
The next part of this developer-friendly program is making factory images available for Developer Edition devices. Just as we've become accustomed to on Nexus phones, factory images are a manufacturer-approved way to return to a stock state with files directly from Motorola.
This is a huge step towards making Motorola's Developer Edition devices even more desirable as a phone that can be tinkered with, and anyone who wants or needs these tools will greatly appreciate the new policies.
Source: Motorola; Factory Images
Andrew was an Executive Editor, U.S. at Android Central between 2012 and 2020.
Yea!!! TY Motorola!
.
.
FIRST!

Good job Motorola. Keep it up.

Someone qualified to make good decisions is apparently present. XT1060 via Android Central App

Motorola are really stepping up, you cannot be anything other than impressed with these guys at the moment

So now it's a real developer edition instead of just an unlocked version masquerading as a developer edition. How about we get some factory images for Google Play Edition phones Google? It wouldn't be so bad not having a KitKat OTA if we at least had a factory image like the Nexus 4.

Those would have to come from the OEMs, not Google.

OEMs write the device specific code and update the drivers for Google Play Edition phones, but Google still builds and pushed the OTAs. Maybe you heard that HTC sent the KitKat code for the GPE One to Google last week and said it's in Google's hands from there? So, Google.

This has nothing to do with the warranty.
Im quite sure that the phones are still manufactured by Samsung/HTC though. So they decide whose warranty gets voided and why
Edit: whoops didnt realize you were only talking about factory images... my bad!

they do that... here is the jellybean factory image https://groups.google.com/forum/?hl=en#!topic/android-building/_F67iLDcVzQ since the kitkat update is not ready yet they havent posted the factory image

Waiting for a good price drop on an unlocked one and I think I might choose this over the N5.

You won't be sorry. I sold my N5 and kept my Moto X Dev Ed. I love it. It just does what a phone is supposed to do better than the others I've used.

Motorola baby Posted via Android Central App

Motorola is on a roll. I wonder how much their current actions will influence other OEMs. I wouldn't be surprised if their market share (of Android devices) begins to increase significantly.

Motorola right now doesn't really have a phone I want, but I agree wholeheartedly. I want their actions of the recent weeks to cause a serious shift in the way our phones are handled right now. Posted via Android Central App

I agree on that. They don't have a single phone I want for now because the lack of sufficient storage and battery and no option for external storage or a replaceable battery. Anyway, I have my eyes on them as they are doing wonderful things: - System apps on Play store. You decide which feature you're interested on and they are updated individually of the OS.
- They stick to vanilla Android that for me is the one I like the most.
- They are dev friendly so you can put other ROMs on it an experiment.
- They are available in my country as opposed to Nexus devices.
- Fast updates. Lets see if they delivery on their promises and they start to build phones that I would love to have.

"I wonder how much their current actions will influence other OEMs." I doubt it does much. Remember that Motorola is able to do issue updates more easily because the software is basically pure Android. HTC and Samsung are not letting go of Sense and TouchWiz without a fight. Hell, there are actually people who like those garbage skins.

I...I kinda like Sense I've only owned Nexus devices until I purchased a HTC ONE a month ago (off contract). It's actually kinda nice and not really intrusive at all.

They do not have to let them go, just make them modular and cut out the carriers. They are the biggest problem Posted via Android Central App

Hi haters. Posted via Android Central App

I am so happy with Motorola right now!

Can anyone explain to me why Moto is not upgrading Atrix HD *Developer* edition to JB (their upgrade site says it will remain at ICS)? ATT atrix HD got JB quite sometime back. Usually it is the other way around.

I read somewhere that the Atrix HD would be getting KitKat. Posted via Android Central App

Jesus moto they are setting standards in every way and aspect right now for those who are educated about it. Hopefully it starts a new trend. Even if you don't know about this stuff their actions are still shown Posted via Android Central App

So here's my question, is anyone loading the DE ROMs on AT&T models? I want to customize myself a Moto X, but don't want to have to wait on AT&T to approve the updates. Posted via Android Central App

Moto, you have had uninspiring and mediocre phones for years now. But with the X, you have finally done something great. Now you are correcting all of your stupid policies and having timely updates. Keep it up and you will make a quick fanboy up of me.

Same here. The X is not my top pick for a phone right now, but Moto has seriously been impressing me as of lately. Samsung.....well, that is a different story. They lost my business a while back. Posted from the awesome new Nexus 7

Now give me the ability to use MotoMaker for a wood back developer addition X and I'll gladly buy another and sell my current AT&T version.

Motorola is really raising the bar high these days. I think I'll finally ditch Sammy and touchwiz and go Moto for my next device. Posted from my rooted S3 via the awesome new Android Central App

It sounds like we are seeing the very early stages of a shift toward Moto X (well its successors actually) becoming the Nexus program. I may be completely wrong, but it already sports a nearly stock Android experience, and they are making the developer edition/program more...well...developer friendly. Its a little hard to ignore that the Moto X has 4.4 before most Nexus tablets have it. Just my $0.02, but I could be completely wrong. Maybe the Moto X is just a Bizarro Droid, I don't know.

All this while Samsung is going the other way and voiding warranties of standard phones.

I just found my alternative manufacturer to the Nexus!! Posted via Android Central App from Nexus 7 2013
Android Central Newsletter
Thank you for signing up to Android Central. You will receive a verification email shortly.
There was a problem. Please refresh the page and try again.