Motorola Droid Turbo gets new blue color at Best Buy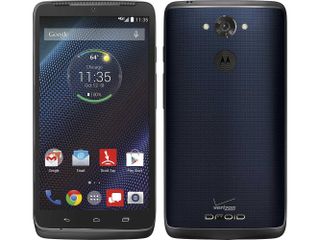 The Motorola Droid Turbo for Verizon is now available from Best Buy in a new blue color, a change of pace from the black or red normally available for the device. The new color is available exclusively from the big box retailer, with the same $199.99 starting price.
The Droid Turbo is the latest addition the the Droid lineup of phones, and is based on the 2014 Moto X. It features a 5.2-inch QHD display, a 2.7GHz processor, 3GB of RAm, and 32 or 64GB or internal storage. It has a 21MP rear camera, and a 2MP front-facing sensor. It also has a big 3,900mAh battery.
Be sure to check out our review to see our full impressions of the Droid Turbo.
Does the Droid Turbo in blue entice you? Leave your thoughts in the comments.
Source: Best Buy (opens in new tab)
Looks like it's the ballistic nylon back. I went with the glass weave model, the ballistic model "creaked" when I applied pressure to the back. I love the phone.

Ballistic Blue? Posted via Android Central App (Moto X)

How well would this device work on AT&T and T-Mobile? That blue is tempting.

Not well. No LTE for sure and maybe HSPA if you're lucky. Definitely don't do it.

Wrong. Wrong. Wrong. You get both HSPA and LTE. If you're gonna advise people, at least do some research.

Not so fast bud. It may support TMO, but not all it's bands. It also doesn't support ATT LTE 5 or 17, so......... As I said, it won't work well, so don't do it.

Did you even read what you said? "No LTE for sure." Don't try to save face after I called you out. Face it, you were wrong and didn't do your research BEFORE you wrote that comment.

Maybe he was a bit wrong but there's no need to get all offensive. Posted via the Moto X Pure Edition

I disagree. His reply was condescending after I corrected his misinformation.

Condescending? Maybe you need to watch more sports. Check out College Game Day. Not so fast is a reference to what Coach Lee Corso says all the time. Calm down a bit.....life isn't just about phones.

Not trying to save face. I only read ATT and didn't see his TMo included. Calm yourself down bud. How about you admit you were wrong.....in fact, more wrong than I was. At least my error would keep him from buying the phone which is only partially supported by either network. Your error would leave him with a crippled device. Maybe you should have done your research. No LTE for sure on ATT is still a valid statement as not having band 17 is a HUGE deal for ATT. T-Mo LTE would work but HSPA may not in some areas. As I stated, I didn't see his inclusion of T-Mo I'll still stand by my recommendation of "Don't Do it." Can you stand by your comment that HSPA and LTE will both work for ATT and T-Mo?????? I doubt it.

I have the Moto Droid, using it on T-Mobile in the Boston area. Getting both LTE and HSPA+, no issues at all on either. My LTE is as fast as all my other devices on T-Mobile as is my HSPA+. Couldn't be happier. Have the 64gb version.

Ok, but the Turbo has no mention of 2100 MHz, so that cripples T-Mo in both LTE band 4 and HSPA+. It has 1700 MHz which is why some get LTE and HSPA+, but others may not. The point is that this phone is not fully supported by either ATT or T-Mo and getting it to use on either of those networks is something one should not be recommending if you are looking for full support. That said, it will still work and if you don't care about full support, then have at it. My original statement of "Not Well" and Definitely Don't Do It," still apply. No LTE is not right as I should have said.....Some LTE.....blah blah. Certainly, this dude saying it will have both LTE and HSPA on both ATT and T-Mo is very inaccurate. Still...............don't do it!

Yep, it works just fine on T-Mobile. God forbid someone do ten seconds of research to see whether people are (or aren't) using the device and how much success they've had.

Why the fuck do I need to admit I was wrong? It works perfectly fine on T-Mobile or AT&T. (The latter is more limited.) You blatantly stated that it will NOT get LTE but it will on both carriers. You assumed it wouldn't get HSPA but it does. Sit down and shut up, tool.

Buy the phone out right from vz. Then take it to straight talk. Definitely the oath I'm taking for a business phone.

Moto droid.... Best is red. No compitation to tat Posted via the Android Central App

Screw that! I don't consider that to be blue at all, maybe midnight blue. Posted via the Android Central App

Midnight what? Posted via the Android Central App

Thank you. Posted via the Android Central App

Haha Posted via the Android Central App

Will the 64GB version be available in that blue color? Posted via My GN4 VZW XLTE

Yet another exclusive for the exclusive.

It's a shame, because I don't like Best Buy, and I don't like Verizon, but I do like all of the exclusive blue colors that BB gets. Sent from my Nexus 5, behind six proxies

INTERNATIONAL RELEASE DAMN IT!!!! Posted via the Android Central App

DID ANYONE NOTICE THAT THEY CHANGED THE SPEAKER UP TOP COMPARED TO OTHER COLORS

OMG REALLY Posted via the Moto X Pure Edition

To me this is the best looking turbo yet. The nylon one looks ugly and old and the other two look cheap. Posted via Android Central App on my Verizon HTC One M8 on T-Mobile.
Android Central Newsletter
Get the best of Android Central in in your inbox, every day!
Thank you for signing up to Android Central. You will receive a verification email shortly.
There was a problem. Please refresh the page and try again.