Motorola Atrix 2, Xoom Family Edition available today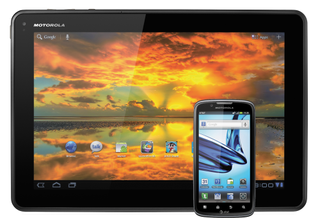 A bit of new kit from Motorola is available today in the United States. First up is the Motorola Atrix 2. That's the obvious ssequel to the original Atrix 4G (read our full review). It's been nipped, it's been tucked, it's a bit faster, and it's probably got Atrix fans who bought the first version in February a bit riled up. Oh, and it's available for $99 on contract.
Then there's the Motorola Xoom Family Edition. It's a lot (if not exactly) like the original Xoom. Same 10.1-inch display, NVIDIA Tegra 2 internals, 5MP camera. And it's got a slew of apps preloaded, included, including the kid-friendly Zoodles, Quickoffice, Asphalt 6 and SIM City Deluxe. It's going for an entirely reasonable $379 at Best Buy.
More: Atrix 2 at AT&T (opens in new tab); Xoom Family Edition at Best Buy (opens in new tab)
Android Central Newsletter
Get instant access to breaking news, the hottest reviews, great deals and helpful tips
Nice price point options regardless what you have purchased in the past.

I will check out the Attrix 2 comparing to Samsung galaxy S2...
great price for the Xoom...still waiting for news on HTC holiday...and of course will see if galaxy nexus will come to ATT anytime soon...

I guess you could say a "few" of us Atrix 4G owners are upset. We bought the "Best Smartphone" and it isn't. Less than a year, after figuring that they could not fix all of the problems with the Atrix 4G, they change the processor and bring out a new replacement. Remember the story about Costco getting a notice from their product managers to take the Atrix off the shelf for a replacement soon to come. I worked in retail product management. So what did they know that we didn't.
I have my third Atrix 4G and it still has the same problems. Right in the middle of a phone conversation, it just shuts down. Watching a video... shuts down. Reading mail... have to pull the battery after waiting 5 minutes to see if it will settle on its own. I complain to ATT and I am told to call Motorola and see if they will do anything for me. What does that mean. Anyone else?

Sounds like it's time to raise hell with Moto, and hope that they swap out the OG Atrix with the refresh. I once bought a used phone from eBay, which came with a used Moto BT. I called Moto up to ask questions about device, they told me that it was over a year old and out of warranty. After a few more minutes of talking to the operator on the phone, she ended up sending me a newer model which came with everything charger and all. I only had to send beck the old device, postage paid. It's worth a try, right!

Does this Xoom have a better screen then the original Xoom?

I see nothing wrong with the original one. That said, it is the same size, resolution, and aspect ratio. Although I think someone mentioned it might be a slightly different tech. The only really difference with this Xoom, other than the lower price and included bloatware, is that it has half the storage (16GB).

Yes, this one has an IPS panel instead of the LCD on the original Xoom. IPS displays produce the most realistic colors.

The Atrix 4G and the Xoom was Motorola's way of saying "First".

If they're going to make a "family edition" tablet, it sure would be nice to have separate user accounts.

Going over the official Moto specs list, the Family Edition has an aluminum back panel, a very slightly higher capacity battery, and a worse-quality front camera (1.3mp vs 2mp on the original). It also weighs a bit less (650g vs 708g)

2nd biggest reason for not getting the bionic, it's old it's brother on AT&T is already getting an update. 1st biggest reason is the prime.

Do SD cards work on any of the Xooms yet?

Where have you been? They have worked for several months on all Xooms. (Although they are READ ONLY)

lol, their store in San Francisco didn't even get them in. Really getting tired of AT&T, they don't even carry the SGSII in store, have to buy it directly from the website.

Bummer. Best Buy did not have the Atrix 2 in their store or their system. Want to try it out there due to gift cards.

Walmart (closest option other than a shoddy ATT affiliate) had neither today when I checked.
Finally sold all four SGSII they had in stock too...

The XOOM FE is a complete re-design. Why do you keep saying it's identical to the original?

Oh Dang, is Sim City Deluxe a Xoom FE exclusive at the moment?
Android Central Newsletter
Get instant access to breaking news, the hottest reviews, great deals and helpful tips
Thank you for signing up to Android Central. You will receive a verification email shortly.
There was a problem. Please refresh the page and try again.