Motorola adds six more phones to Android 4.4 update list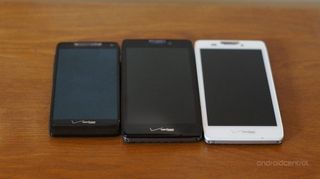 List gives no indication of when updates will actually begin rolling out
Motorola was quick to refresh its software support page to indicate which devices are set to receive Android 4.4, and it has just updated the page again with six more devices. Verizon and Motorola's 2012 Droid lineup are the big new additions, including the Droid RAZR M (branded and Dev Edition), RAZR HD and RAZR MAXX HD.
Interestingly, Motorola's support page is also now indicating that AT&T's Atrix HD will also be updated to Android 4.4, along with the U.S. Cellular Electrify M. They join the ranks of the Droid RAZR HD Developer Edition, the full lineup of 2013 Droid phones and of course Moto X variants on the Android 4.4 update path.
As is typical with these changes to the software support page, there's no indication as to when the updates will be making their way out, but simply knowing that as of now Motorola plans to update the devices is good. Naturally we'll have a better indication of when the device will receive the updates officially as the process moves along.
Source: Motorola (opens in new tab); Thanks, Ryan!
Andrew was an Executive Editor, U.S. at Android Central between 2012 and 2020.
Go Moto, Go! The Atrix HD is interesting to see on the list Posted via Android Central App

Yet here I sit with a N7 FHD running Jellybean...

ahhh... stop complaining, its not pushed yet they are just saying these phones will get the update. moto X is the only exception... Also, noto X ota is out you can easily sideload if u want

I can pretty safely say your Nexus 7 2013 will get a KitKat update before the Atrix HD.

I hope the N4 gets it soon.

Ditto, otherwise I'm ready for the pitchforks and torches to come out! Posted via Android Central App on my white Nexus 4 with StraightTalk

What's really sad is that there is nothing for the original RAZR/MAXX. Of all the phones that could really use this update, they won't get it. Insane...

I think they used the now defunct TI OMAP processor family.

The original Droid RAZR came out in October 2011, the RAZR MAXX a couple months later. Both of these phones only got Android 4.1 earlier in 2013. I think it might be a bit much to ask for another update for a phone over 2 years old at this point. I wouldn't be surprised if Motorola decided to do it as an act of good faith, but you can't actually expect that update to come.

I'm well aware of the stated reason why they won't do it; however, I just remarked that of all the phones that really could use it, it won't get it. There are plenty of us who will still be on contract for a good 9 months to a year or so, struggling with these phones as they get older and slower as newer, lower spec phones will have this version. It doesn't make sense if this is supposed to be the version that makes the greatest step to unify Android that they won't push it out to fairly recent Android phones that are still due to be updated. I don't see them doing it all - it's not even in the "maybe" column, it's a "no."

So your phone gets slower with every new phone that comes out? That's some evil phone you got there.

That's not what I said, or even close to what I meant. The phones are slowing down, and any release that would alleviate that situation would be welcome.

I agree, Google should be updating a bunch of older Moto phones to KitKat, especially if they want to retain customers who might not have had the best experience with older buggy versions of Android.

The DROID RAZR, DROID RAZR MAXX, DROID Bionic, and DROID 4 are all TI OMAP-powered, like the Galaxy Nexus. There's an assumption the Galaxy Nexus isn't getting KitKat officially because there's no support from TI. If that's the case, it's not going to happen for the Motorola TI phones either.

What I don't understand, is that my Galaxy tab 2 has an TI OMAP chip, but it runs an AOSP 4.4 without any problems that I have found. Why would it be any harder for a huge company to update a device to 4.4 with a similar processor? Posted from the awesome new Nexus 7

Is that an official build? Posted via Android Central App

Is that an official build? Posted via Android Central App

Funny how I just got a rid of my Maxx HD for a Moto X... Posted via Android Central App

Yeah we'll see. They did the same thing a year ago, and were still selling GB phones on the promise that they'd get ICS. http://www.phonearena.com/news/Motorola-makes-it-official-No-ICS-for-Mot... Still a little salty about that one.

I was able to move away from the Photon 4G back in the spring, but that definitely left a bitter taste in my mouth.

You haters living in the past never seize to amaze me.. The people who ran Motorola, the one's who stole your heart, don't work there anymore.. It's a Google company.. Everyone is already seeing. Open up those eyes. It's real.

Lol. Moto updated a VERIZON Moto x to 4.4 before Google could push out its update to the nexus 4. Posted via Android Central App

Moto on a roll Posted via Android Central App

Would that mean a direct jump from 4.1.2 or do we have to wait to get 4.2, then 4.3 until we finally get 4.4 two years from now? Posted via Android Central App

probably a direct jump to 4.4

That would be some kind of jump for my Razr M

And RAZR I? (Xt890), whit intel atom 2Ghz, su similar to RAZR M Posted via Android Central App

I asked Moto directly today about Razr i, they have no idea. Absolutely useless.

Not that similar.
Intel ROM images for KitKat still need to be posted by Google (Intel have done their part) and it's still going to be an issue for the GPU as it is the same as the Galaxy Nexus which caused all of the issues for the GNex update to 4.4 in the first place. I'm hoping for the RAZR i to update to but I would go with a 50/50 chance of it even being CONSIDERED for the update. :(

I loved my Moto x but the screen on the Note 3 won me over for a little while. I hope moto comes out with a 5" - 5.7" 1080p moto x 2 soon. I know, lol, the X "just" came out not long ago but I can always be excited for the next big thing from moto right? :)
I just like a little bigger screen than the moto x .
Great news here for everyone with a moto product! good job Moto !!!

Nice to see older devices getting updates. Fragmentation seems to be getting less and less on Android! Posted via Android Central App

Quite Enjoy 4.3 jelly bean serves its intended purpose, will be patiant for it to arrive on my note 3 however long that may take lol Posted via Android Central App

Does anyone have ANY news on an AT&T roll-out, as they were the launch partner?

Damn no kitkat 4.4 for the photon q???damn im glad i switched to the moto x . motorola always have to leave some devices in the back burner smh.... Posted via Android Central App

How old is the photon? Posted via Android Central App

@Andrew do you knew if that means the razr i which is basically the international version of the razr m but with a Intel chip will get 4.4 Posted via Android Central App using galaxy s4

When will the note 3 get kit kat? Posted via Android Central App

This is an article about Motorola phones, how does the Note have anything to do with Motorola phones? Posted via Android Central App

Long live Motorolas with SD cards!

Sooner rather than later I hope. Posted via Android Central App

I am getting my update on my moto X right now.....how awesome. Way to go Motorola Posted via Android Central App

Motorola being acquired by Google seems to be panning out nicely Sent from my LG G2 via Android Central App

Too late, got my Nexus 5. Selling my RAZR HD soon! Probably increase the value of my sale! Posted via my Shnexus 5

HOW IS THIS POSSIBLE!!!!!!!!!!! MY 2013 NEXUS F***IN 7 HASN"T EVEN GOTTEN IT YET. ITS A 32GB WIFI MODEL WTF GOOGLE!!!!?!?!??!

Haha Posted via Android Central App

Shame isn't it? Posted via Android Central App

Nice to see that the Droid RAZR M is getting KitKat. That's cool that it's leapfrogging from 4.1 to 4.4

Please add the Droid 4...... Posted via my Nexus 10 using the totally awesome Android Central App

Motorola can say anything they want its up to the carrier to push the update

what about the droid maxx

How about using some of the extra resources that will be spared to power the laggy launcher. Or perhaps circles widget on third party launchers? Posted via Android Central App

My nexus 7 had an update waiting when I got home. Fast!

Well I we never buy or get another Motorola product again cause all the bullshit abo updated motor x and other they never updated their older phones so that tells me their products are some bullshit! I don't care what they say! Fuck Motorola!!!.. and so on!
Android Central Newsletter
Thank you for signing up to Android Central. You will receive a verification email shortly.
There was a problem. Please refresh the page and try again.