Moto X available from Verizon starting tomorrow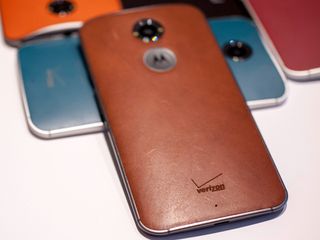 The new Moto X will be available for Verizon Wireless through Moto Maker beginning tomorrow, September 26. The new Moto X was initially available in the U.S. to customers purchasing the phone from AT&T or buying the GSM unlocked version.
Customers will be able to purchase the Moto X from Verizon for $99.99 or $149.99 on contract for the 16GB and 32GB models, respectively.
The new Moto X was originally announced earlier this month, and features a 5.2-inch, 1080p display, a 13-megapixel camera, and runs Android 4.4.4. It's powered by a 2.5GHz quad-core processor, and has 2GB of RAM. Verizon is the second U.S. cellular provider to carry the 2014 Moto X, and the phone is expected to roll out to Canada, Europe, Asia, and Latin America shortly.
Will you be getting a Moto X on Verizon? Sound off in the comments.
Source: Verizon Wireless (opens in new tab)
Check out our picks for best phones on Verizon and best prepaid phones on Verizon!
Get the Android Central Newsletter
Instant access to breaking news, the hottest reviews, great deals and helpful tips.
I second that!!! Phone junkie

This is not the Droid you are looking for. Posted via Android Central App

This is not the Droid I'm looking for. Posted via Android Central App

That is not the droid he's looking for. Posted via Android Central App

That's not the he the droid's looking for. Posted via Android Central App

It's the Droid he's not looking for.

He's the droid it's not looking for Posted via Nexus 7 2013 or Galaxy S5

The droid that he's looking for is not it.

He is looking at the Droid, and it is not it.

That's the one. Oh, wait that isn't it. My bad.

I'm waiting on that ugly beast also!

Considering the fact that I went snorkeling in Hawaii with my Moto X on Sunday, yes I will be buying a new one. FML.

I would gladly pay 1 MotoX 2013 to go snorkeling in Hawaii

so does this mean there are no standard versions available in the store to just purchase? it is still not listed on the verizon website.

Unlocked and clean of bloatware or I will keep rocking my normal Moto x Posted via Android Central App

Remember we are talking about Verizon Posted via Android Central App

If you're lucky you may get little bloat...but no doubt a giant 'VERIZON [LOGO HERE THAT YOUR NEIGHBOURS CAN SEE FROM FAR AWAY] Edit: Looked at first image again. It actually isn't that bad.

I think I am going to. Edged up from my Lumia Icon to an HTC M8 on Monday. Given the moto actions, I think I would like it better, so I will likely be returning the M8. Posted via the Android Central App

Gotta see the Nexus first. Fingers crossed that hell freezes over and Verizon will carry it this year!

Highly doubt it. Verizon and Google have been in a stalemate since Gnex.

I doubt it too. But on the other hand Motorola and Verizon have a pretty good relationship so I can hope! Posted via Android Central App

Your hope is futile, but good luck anyway,

Any word of the 2014 Moto G on VZW? Posted via the Android Central App

Sweeeeeet!!!!! I wish I could trust that leather back. I work construction and my helper has a genuine leather wallet case for his note 3. Had it about to months and it's severely worn. Damn..... Posted via Android Central App

Dude! Case by day....leather by night!

Leather looks vintage when worn. Nice! Posted via the Android Central App

Definitely upgrading from my OG Droid Razr. So worth losing my unlimited data plan for this phone. I'll just have to cut back.

I'm just not the type of person who wants to pay an extra $400 on a device I may see myself switching over in 2 years. Plus, right now they're going to offer me a promo 6GB data plan for the same price.

You pay that 400 dollars anyway and keep paying. That's the point of the contract. Posted via Android Central App

Lol wut? I'm not signing up with that silly Verizon Edge plan. I'm just renewing my contract for another 2 years with a great service that I've been using for many years.

One day you will regret not keeping your unlimited data. If I could only go back in time and warn myself.

What is the full price? Not giving up my unlimited data. Posted via Android Central App- Via HTC One

It is $499 for the 16gb Pure version, so I guess Verizon version is around there.

That Verizon logo on the leather back, does't look that bad.

Be glad, it's used to be on the back, on the front, on the status bar, when you boot up and shut down the phone. They're just being nice that the logo isn't 5 times as big this time. http://www.androidcentral.com/sites/androidcentral.com/files/styles/xlar...

The 2013 moto X only has 1 logo on the back too, and no silly status bar thing either Posted via Android Central App

Definitely want to trade in my RAZR for the new Moto X!

Anyone know if this one is a nano sim? Posted via the Android Central App

Yes I assume it will be nano sim, since the original was as well.

, The nexus that should have been "size" Posted via the Android Central App

Specs are almost the exact same. It would be virtually the same phone without the Motorola apps. It would hardly be an upgrade at all in any area. I believe Google will keep the Nexus 5 on sale alongside the phablet.

Yep! Getting 2 via motomaker. One is for wife who's excited too :-) Posted via Android Central App

I have been waiting to get one for too long. Verizon, get with it and allow the latest phones on your network on launch day.

I'm in for 1 to replace my galaxy nexus! It will be such a relief to no longer deal with the performance issues and terrible battery life of the gnex...

I'm extremely happy with my Ultra. Actually I even traded my G2 for it. I won't be buying the new Moto X but I'd be happy to win one in a contest;) Posted via the Android Central App

What color is that leather Moto X?

I'll be buying the new Moto X on Verizon of contract in a couple of months. Just like I did with the original Moto X. I'll buy straight from Motorola though. The less I have to involve Verizon in the process the better. They are a pain to deal with. And if they were not my only option for LTE I wouldn't be with them at all. Posted via Android Central App on the Moto X

I hate that I still have to get the Verizon bloatware on this device even if I pay full price. I bit the bullet and ordered a Moto X with a black leather back to replace my original Moto X. The Moto X is a great phone experience. However, it is ridiculous that you cannot uninstall carrier apps when the phone is not subsidized.

I have what might be a strange question. Would someone please provide me with a list of the bloatware on this phone? I'm blind, so a screen shot isn't any use to me. It's time to buy a new phone. I want a phone without bloatware, but that isn't possible on Verizon. Leaving Verizon isn't an option here, so I have to find a phone with the least added crap. I want the Moto X for it's front facing speaker. That would stop me from showing my screen to everyone when I point the speaker toward me.
Thanks for the info.