Moto Maker customized Moto X for Verizon just $49 on-contract until Nov. 18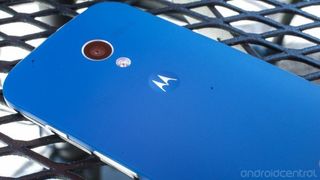 Save an additional $50 on your custom Moto X this week
It may be just a few days since Moto Maker went live for Verizon, but the carrier is putting out another discount on the handset. Following up on a $100 on-contract price drop that put the handset at just $99, you can now pick up a customized Moto X on Big Red for $49.99.
There's no special coupon or promotion at play here either — just head to the Moto Maker site (directly or via Verizon) and go through the process, the $50 deduction will happen at checkout.
Source: Verizon (opens in new tab); Motorola (opens in new tab); Thanks, Ben!
Andrew was an Executive Editor, U.S. at Android Central between 2012 and 2020.
I'd take advantage of this discount and apply it to a wood backing. Wishful thinking indeed

Imagine being locked into contract for 2 years with Verizon. At least their ugly logo is not on the front of the device like some other phones. Posted via Android Central App

If I don't hear of the so called verizon/ google products they are allegedly working on together by the end of december, I might get the Moto X but use the 12 month payment plan verizon is offering to keep from extending a contract and keep my unlimited data. I think it won't be a nexus phone unfortunately, probably the nexus tablet and google smart watch. 10-1 the N7 lte won't even be released till 2014 anyways even though verizon said they'd test it out with 4.4.

Are you talking about Edge or something else? I thought it was 24 mo payment program , forcing you to give up unlimited data. Posted via Android Central App

Verizon has a "Device Payment Plan" which allows you to buy a device at full retail, and finance it for 12 months. There is a 2 dollar finance charge per month, and requires a down payment of first payment and taxes.You have to do this at a corporate store, not available online or through telephone sales.

Good to know. tnx for the info. Posted via Android Central App

I guess you didn't hear that Verizon raised the full retail price when they announced this little promotion. Another reason I am glad I left Verizon at the beginning of the month.

Also the full white or full black 16 gb version is on sale for $450 full retail, the original model that they offered before the moto maker versions were out.

This makes it tougher to wait for a wood back. $99 for a 32GB model is pretty sweet. I'm starting to think that maybe the wood backs aren't so friendly with cellular radios? There has to be some logical reason for the hold up. Posted via Android Central App

And the wood backs will come 11/19.

Probably. I'm really starting to think there's a logistical or performance reason for waiting so long for wood. Hehe, wood. Posted via Android Central App

Lol Posted via Android Central App

It's probably the quality control issue, not radio interference. Wood is a natural material and production of it is very sensitive - especially for such sophisticated cut. It's not like after preliminary testing , you just program machines to melt a ton of metal or plastic into specific shape and sit back. There is so much more to it - just starting from the raw material behavior.
Motorola probably jumped the fence as they did w engraving. Announce just everything to get attention and then figure the stuff out. Very immature move from an old company. Posted via Android Central App

Good point. Even with basic carpentry, so much of the reason things are done they way they are is to cover up the flaws of the wood. You can't do that with something this precise. I can't imagine it will be easy, and the price will almost certainly reflect that. Which in turn will cause another round of complaints. Makes me wonder if they really thought this through.

Great point. Thanks for the reality check. Posted via Android Central App

Nice! Posted via Android Central App

They're really making it difficult to wait out the wooden backs Posted via Android Central App

In 2014 Google should have a customizable Moto X Nexus. Posted from my Nexus 5 via Android Central App

If only I wasn't grandfathered in on unlimited data... I've been wanting one of these. Posted via Android Central App

I've never seen so many people freak out about wood. By the time you guys wait on these wood backs the x2 will be coming out. Posted via Android Central App

Yeah, and I would question the ability of real wood to hold up over the life of a 2 year contract considering how beat up the aluminum frame is on my HTC. It's cool, but I'm not convinced it's a great idea. I wouldn't order it on day one, that's for sure.

Too bad they jacked up the off contract price to $549 and then gave you $50 off. It was $499 the other day. I might have pulled the trigger for $449 Posted via Android Central App

Same here. I mean, if they had G2 on sale for 5 days (vzw) for 449, they could have lowered the moto x price too.
I gotta wait a little longer now. Posted via Android Central App

I'm thinking they might have seen an uptick in cancellations by Galaxy Nexus owners switching to the Nexus 5 on other carriers. Probably not anywhere near a signfifcant number, but this is probably just an easy way to counter it somwhat.

galaxy Nexus only sold about 400k phones and on verizon it might be only 100k... and most would have switched by now

Lmao Yea right pretty sure nexus owners make up well less than 1% of Verizons 130 million plus customers.. Posted via Android Central App

if you get a wood phone in addition to malware and virus do you now have to worry about termites too?

Dude, take a shower and wash your clothes. You'll have to get out of the iPhone6 line to do so, but trust me, it's worth it.

Are you brain dead? Posted via Android Central App

It took some convincing but i finally talked them into honoring this discount on BOTH my orders i made on Monday. Cha-ching! $100 back.

Who did you call, Verizon or Motorola? I ordered mine on Monday too, so I'm rather perturbed by this price drop...

I chatted with the Motorola rep online this morning, and he said it was a Verizon discount, so I needed to talk with them. I haven't had a chance to chat with Verizon yet, but it appears that is the way to go.

Yes, please tell us. I ordered Tuesday night.
Excited to see it coming today, though!

How exactly did you do this? I just talked to Verizon who passed me off to Motorola who offered me a $50 Visa card. Which hopefully will work out.

I got stonewalled by a chat representative from Motorola, but it took no more than 60 seconds for a phone representative to offer me a $50 online store credit, which is exactly what I wanted. And I too ordered on Monday. This effectively made my 32 GB Moto X $500 (bought off-contract). So great!

I'd like to know, how many of you considered/would consider resale if the phone, while picking colors.
I really don't, but I'm not ready to be so "creative" , since I don't know if I'm gonna get bored with it too soon (punchy colors especially). Posted via Android Central App

Well if you are buying this on a two year contract, which is what this deal is for, it probably doesn't matter. Any phone not made by Apple is almost worthless after two years. I wouldn't expect this one to be any different. But yeah, generally the more customized to your taste something is the less it is going to be worth to somebody else. Every unique feature reduces your available market.

This deal is only for new customers. Existing customers are screwed because Verizon won't allow you to early upgrade. Good deal though for $50 on a great phone.

This bugs me. There are absolutely no rewards for customer loyalty anymore. So why remain loyal? I won't.

Agreed. Sprint and AT&T are the same way, too. Posted via Android Central App

Reminds me of rental agreements BS. Usually after a year rent goes up and if you decide to leave the Move-in discount for a new guy is back. So, if you were a decent tenant , paying rent when due , you are rewarded with 50-100$ bill increase. Landlords simply know how convenient is the process of moving out. Posted via Android Central App

This is BS because they raised the off contract price by $50 so its a wash.

I'm assuming this is because of the struggle Verizon customers are having with motomaker. If you have a business account, you need to purchase a redemption pin in-store, Verifying account info doesn't work half of the time in the moto site, and even Verizon reps and managers seem to be unprepared/untrained for motomaker. It makes sense to offer a discount because the people who are trying to order online are also people who are at the end of there contract. They are the ones who are very likely to leave Verizon if they cannot get everything to work smoothly.

I really dislike Verizon with their CDMA bs but they have the best coverage in my area by far. I have yet to find a decent alternative. I hate to love the coverage. Posted via Android Central App

I love my HTC one but I would love to get my hands on that sweet sweet device. Posted via Android Central App

I bought mine through MotoMaker off-contract for Verizon $499 two days ago. I called Motorola regarding the promo. Initially they offered me the $50 for accessories, but I asked for more options and instead they're sending me a $50 Visa gift card, good for cash. Sweet! Anyone else should give them a call!

I bought my Moto X though the MotoMaker on Monday. Just for the heck of it I chatted with their Online Support and asked if I could get $50 credit. They ended up giving me $50 credit to spend in the accessory store. Which works for me because I want to pick up a Navigation dock when it's back in stock.

I made my phone yesterday and got it today came from a not 2 and I love it. Amazing Posted via Android Central App

The new model is here time to dump the old. I can't figure out why Virizon does not make it free if you sign the dreaded 2 year contract
Android Central Newsletter
Thank you for signing up to Android Central. You will receive a verification email shortly.
There was a problem. Please refresh the page and try again.