Moto G6 vs. Moto G5 Plus: Should you upgrade?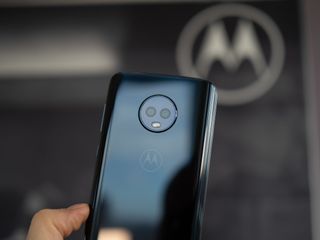 There are two constants in the world of technology: that phones will get faster and cheaper year over year, and that Motorola will find a way to confuse and vex its customer base.
Such is the reality of this year's crop of Moto G phones that debuted in mid-April and will be available, depending on the market, in the coming days or weeks. (Some of the models are already available in Brazil and will be sold in Mexico and India shortly.)
So here we are, with many Moto G customers figuring whether they should upgrade to the top-of-the-line Moto G6 in the coming days and weeks. For some parts of the world, that phone will be the Moto G6 Plus — we already have an overview for you if that's the case — but for those in the U.S., the upgrade path is a bit murkier. That's because the Moto G6, not the G6 Plus, is the upgrade path, and while it's definitely an upgrade, there are some compromises to the proposition. Let's take a look.
Moto G6 vs. Moto G5 Plus What's new?
When you compare the Moto G5 Plus to the Moto G6, the newer model looks like a considerable upgrade. While the 2017 G flagship isn't bad-looking, it's rather staid compared to the shiny glass finish, replete with curved back, of the taller, more mature-looking Moto G6.
While both phones have front-facing fingerprint sensors, the newer phone's is smaller and wider, a symptom of the diminutive bezels above and below the new 2:1 LCD panel.
The G6 also sports a second camera to augment the primary sensor — one Motorola promises performs better than that of the Moto G5S Plus. Ugh, that phone.
On the inside, the Snapdragon 450 isn't an improvement over the Moto G5 Plus's Snapdragon 625, but it's not an out-and-out regression, either. They're basically the same chip, with Qualcomm bringing its expertise down to a lower price point with the 400 series. The Snapdragon 450's clock speeds are a little lower on a per-core basis, but that shouldn't affect overall performance. That you can only get the Moto G6 with an ample 3GB or 4GB of RAM should put it in good stead compared to the Moto G5 Plus's 2GB entry SKU.
Moto G6 vs. Moto G5 Plus Specs
Swipe to scroll horizontally
Category
Moto G6
Moto G5 Plus
Operating System
Android 8.0 Oreo
Android 7.0 Nougat
Display
5.7-inch IPS LCD
2160x1080
18:9 aspect ratio
5.2-inch LCD 1920x1080 (424 ppi)
Gorilla Glass 3
Processor
Snapdragon 450 1.8GHz octa-core
Adreno 506 GPU
Snapdragon 625 2GHz octa-core
Adreno 506 GPU
Storage
32/64GB
32/64GB (U.S.)
16/32GB (APAC)
32GB (LATAM/EMEA)
Expandable
microSD card up to 128GB
microSD card up to 128GB
RAM
3GB / 4GB
2GB (LATAM)
3GB (EMEA)
3/4GB (APAC)
Rear Camera
13MP, ƒ/2.0
12MP, ƒ/1.8 | 12MP, f/1.7, 1.4-micron pixels, dual AF pixels
Rear Camera - Secondary
5MP RGB (for depth)
N/A
Video
1080p @ 60fps
4K @ 30 fps
Front Camera
8MP
front-facing flash
5MP, f/2.2, 1.4-micron pixels
Connectivity
802.11 a/b/g/n 2.4 GHz + 5 GHz
Bluetooth 4.2
Wi-Fi 802.11n dual-band
Bluetooth 4.2
NFC (except U.S.)
Battery
3000mAh
Non-removable
3000mAh
Non-removable
Charging
USB-C
15W TurboPower charger
Micro-USB
15W TurboPower charger
Water resistance
Water-repellant nano-coating
Water-repellant nano-coating
Security
Fingerprint sensor (front)
Face unlock
Fingerprint sensor
NFC
No
No
Dimensions
153.8 x 72.3 x 8.3 mm
150.2 x 74 x 9.7 mm
Weight
167 g
155 g
Colors
Deep indigo, Black, Blush
Lunar gray, fine gold
Finally, while the software is still very much a simple affair, the Moto G6 runs Android 8.0, while the Moto G5 Plus is stuck on Android 7.0 Nougat for the foreseeable future.
That means, in addition to the plentiful improvements Google brought to the table with Oreo, Motorola's newest Moto features, like contextual Moto Voice that performs local functions in addition to calling out to Google Assistant, make the G6 feel considerably more modern than its 2017 counterpart.
Moto G6 vs. Moto G5 Plus Should you upgrade?
The reality is, given that the Moto G6 Plus isn't available in the U.S. most Americans wanting to replace their 2017 model with the 2018 budget flagship will have to choose to go from a Plus to a non-Plus. That is more of a branding issue for Motorola than a practical one for users, though, given the similarities in specs, and shouldn't pose any day-to-day concerns.
Indeed, the Moto G6 is wholly improved over the G5 Plus in almost every way.
The more important question is whether you should replace your Moto G5 Plus with a Moto G6 or jump straight to the now-heavily discounted Moto X4. That's a better phone than the G6 in a number of ways, though it retains the wider-and-shorter traditional 16:9 aspect ratio that's largely disappeared in the industry.
At $249, the Moto G6 offers tremendous value for money and should be an obvious update path for anyone looking to buy one of Motorola's excellent 2018 budget phones.
See at Motorola (opens in new tab)
Get the Android Central Newsletter
Instant access to breaking news, the hottest reviews, great deals and helpful tips.
Daniel Bader was a former Android Central Editor-in-Chief and Executive Editor for iMore and Windows Central.
I had a g5 plus and it was solid. If I we're in the market for a budget phone, honestly, I would consider this Motorola way of giving up on the US market. Tgat said, I'd probably be looking at the new Nokia with a 630 - 3/32. Though, honestly, Nokia should have also brought their best of the u.s. but didn't (the 4/64 isn't sold here... Probably won't cover our bands). Nokia also chose to one-up Motorola by making their latest an Android one device. It'll be pure Android and get faster and longer-lasting updates. In essence, my opinion is while Motorola is walking away Nokia is doubling down.

I agree.
I upgraded to the G5 from G4 but am now looking at the Nokia's.

I too had a Moto G 5Plus. The only thing that held me back from getting the Nokia 6 (2018) was that they only have the 32 GB /3 GB variant. Making do with a huawei mate se but I think Nokia is the phone to beat.

Sell that lenovo garbage and buy a Nokia 6.1. Its superior in nearly every way. It's too bad they aren't bringing the 4gb/64gb version to the states but I suppose if you had to have it you could import it. Either way, you get a much cleaner more solid device with the nokia 6.1.

The Nokia is not any better kitten.

I think the Nokia is better than both, it's got a solid camera with 4K video recording, a better SD630 chipset, good ol aluminum unibody and chunky 5.5" screen, but most importantly it gets timely updates due to being Android One device.

But is it worth upgrading from the G5SPlus?

I think the consensus so far is no.
Upgrade to something else.

Worth it because it has usb-c.

I broke my z play and was waiting for the g6 plus. That didn't work out since I live in the US so I just got the x4. The x4 mostly seems like an slight upgrade over the z play. The exception being screen size which isn't too big deal for me. The battery size might be the only thing I miss from the z play but I think the x4 battery will be plenty for 1 day.

Nokia 6 is far better than the Moto G6 in every area. Bye Bye Moto.

Not worth the upgrade at all.

Not worth the upgrade. Moto's move is confusing. If they wanted to push the X4, make the 6GB RAM/64GB storage version available in the U.S. with Oreo and Android One support and get rid of that 3GB variant. Offer credit toward the purchase of the Moto X4 by a G5 trade-in and BAM. The X4 sales would increase. I read the reviews about how slow the camera was and how unstable the build was, which wasn't reported on the 4GB and 6GB variant. At minimum, the 4GB variant should have been sold instead of 3. I'm disappointed Motorola refused to use the SD 636 instead (which would have made the G6 Plus a better upgrade and probably sold in the U.S.) and did not use Android One for updates. In other markets, the Redmi Note 5 Pro and ASUS ZenMax Pro M1 are better b/c they use the SD 636 and the price is cheaper. $250 for a SD 450 is an insult. A person would literally be paying for the new design and 18:9 aspect ratio, not performance. And I feel like that SD 450 will be more problematic than the 625 and 626. I think Moto is abandoning U.S. customers. If the Z3 Play lacks a headphone jack, then good night Moto. I have a Z2 Play and see no reason to upgrade to anything from Moto. The Z3 Play not having a SD 660 when every upper midrange device has a SD 660 now is disappointing. The conservative battery sizes is also very annoying. The Nokia 6.1 isn't even a solid midrange option in the U.S. because the 4GB variant isn't even sold here. I had a phone with only 3GB RAM and it sucked. So what is up with the U.S. NOT getting solid midrange options but only having to choose from Samsung/Apple phones? If it were me, I'd wait for the BlackBerry Key2 or get one of last year's flagships at a discounted price.

You have a Z2 Play that was released June 2017. 11 months later and you're thinking of upgrading, why?
Or, do you usually upgrade on a yearly basis?

Not worth the upgrade. Hoped and expected more. If you have the 2GB, upgrade and get the Moto G5 plus 4gb. The G5 plus with maximum specs is the best you can get for a budget phone. Your next best bet is to buy a used previous generation flagship phone. But as always, buyer beware. ,

I am on Verizon and need a CDMA phone. What budget phone options do I have? Nokia 6.1 and 7 plus would be GSM phones in the US. I guess either G5+ or G6 is the only option.

I have no issues with my G5+ (64 gb / 4 gb version), it feels snappy and with the Quick Charge 3.0, charges fast enough for my needs. What I like doing is charging the phone while using Google Maps in the car. It has no problem keeping the phone charged, while actively using Google Maps. I'd also consider Xiaomi Mi A1 - it looks to have identical specs. to the Moto G5+, but less expensive and is an 'Android One' phone, meaning it should receive timely security updates.
You may need to purchase a Qualcomm Quick Charge 3.0 charger, as I'm not sure they bundle them.
Downside is NO warranty (in U.S./Canada), which could be bothersome. Also - the camera is not as good if that matters to you. Pretty sure you can buy them on Amazon.

I thought about upgrading, but Amazon started having those $350 deals for the Essential. Much higher end phone for not all that much more $$. Did love my G5+, though.

I have had the Moto G5+ (64gb / 4gb) for about 1 year now and I'm reasonably happy with it. I purchased it certified refurbished and I feel I got a good deal on it. Yes - we don't know when the G5 series will be updated to Android 8, but it will and frankly I don't really care because my version (RetUS - Retail US) is getting reasonably timely security updates and has battery life that meets my needs. I upgraded from the Moto G3 (8gb / 1gb), because there was simply not enough internal space to update and/or add apps, even with an sd card. So many apps refused to be written to the external storage unfortunately. Otherwise, for my use - I'd likely still be using it. 1 big strike against these phones of course is Lenovo - absolutely horrid customer service/forums. But I'm sure other manufacturers have other issues.

i have the 4ram G5 + and recently damaged the screen a bit, its nothing for me to continue to use but it brought me here wondering when the next one was coming out. I have been a fan of the G series having 3, 4 and 5 and might get the g6. It might seem trivial but i would love to know if the new one uses the same finger scanner the 5+ uses, for me the 5+ is flawless, it recognizes my finger every time and its instant. my favorite feature on the entire phone. i enjoy the series cuz im rough, i dont feel as bad when i brake them and i still feel i have a quality phone.

"Lacks NFC" is NOT a con.