Moto G5S Plus coming to the U.S. Sept 29 for $230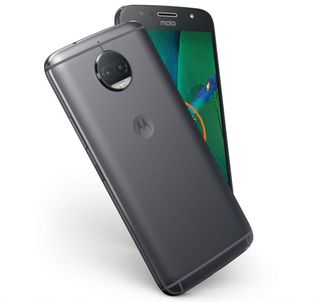 Back in August, Motorola quietly unveiled revamped "special edition" versions of its popular Moto G5 and G5 Plus smartphones, aptly titled Moto G5S and Moto G5S Plus.
Today, the larger and more expensive of those two phones goes up for pre-order at a number of U.S. retailers prior to its release September 29.
Available in Lunar Gray or Blush Gold, and in 32GB ($229.99) or 64GB ($299.99) variants, the phone sports a larger 5.5-inch 1080p panel than the regular G5 Plus, and has more metal (this one is called an all-metal body) and an upgraded dual camera system, with two 13MP sensors. Keep in mind that both variants are $50 until September 28, after which time they'll rise to $279.99 and $349.99 respectively.
The phone still runs the same Snapdragon 625 processor as its Moto G5 Plus counterpart, but the $229 32GB entry level model comes with 3GB of RAM instead of 2GB, while the 64GB variant maintains the same 4GB of RAM. When purchased unlocked, the phone works with all four major U.S. carriers, including Verizon and Sprint.
Motorola will continue to sell the Moto G5 Plus in the U.S. for the foreseeable future, and once the special pricing ends, the G5S Plus will sit some $50 more than the older model.
This week, Motorola also announced that its Moto X4 "budget flagship" would be coming to the U.S. both as an Android One/Project Fi device and unlocked through Motorola retail.
See at Motorola (opens in new tab)
Android Central Newsletter
Get instant access to breaking news, the hottest reviews, great deals and helpful tips
Daniel Bader was a former Android Central Editor-in-Chief and Executive Editor for iMore and Windows Central.
Would like to see a speed and multi-tasking video comparison of the G5S+, and the X4.

I doubt the performance difference would warrant the $170 price gap when comparing the 3gb ram versions of both.

"Keep in mind that both variants are $50 until September 28" Awesome! A $50 phone!!! ;)

Looking forward to AC's hands-on review. Very interested to see how the new dual camera performs. Have purchased various members of my family Moto G series phones over the years. We currently use the G4, G4 Plus, and the G5 Plus. Really curious how the G5S Plus compares to the G4 Plus. An upgrade is in order there if the camera is noticeably improved.

Still no NFC though I guess...:(

Yeah it doesn't seem like the G series will ever get NFC. I just wish they would come out with a true successor in the original Moto X series.

The G5 Plus does have NFC, at least the XT1681.

That's the international version correct? It just seems odd they'd remove NFC for the US version where payment apps are widely used

Yeah, is one of the international versions. Really odd, given that in Argentina we don't have payment apps or even card readers with NFC payment.

Sounds pretty stupid, in Argentina no app payments can be made but has NFC! In the US you have the app payment and no NFC Nice going Lenovo. Plus, not much difference between this phone and the G5plus! Yikes! Why!

Hmm, sounds like the situation with Sony and the fingerprint reader. I wonder who Moto would need to pay in order to activate/add NFC to their US devices...

I think the worst thing that happened is the Lenovo takeover of Motorola. They have over saturated the market with less than great phones!

Yeah...no NFC is a bummer. Maybe for 6 series we can get it here in the USA. I use mobile payments to often now to get a phone without it now.

I cannot make calls using google hangouts dialer,somebody please help me fix this

Moto has too many phones. I'm overwhelmed!

Precisely. And I'm a disgruntled Moto G5 Plus user who can't stand Lenovo messing up a once awesome brand.

Fix the typo... It's not 50....its 50 dollars lower

No good cases for this yet

With the same specs for the most part, it seems it's more for those who want a slightly bigger screen and dual camera set up and not so much as an upgrade compared to the G5. I find the lack of nfc interesting especially because of the growth and usage of Android pay. That is one thing I miss on my G5 but still find it to be a stellar device.

Might get for me mom but no NFC bothers me but for my mom she won't mind or care.

Hmm. So an improved camera and better build quality over my Moto G5+. I do think I would've taken these over my current phone but it barely has incremental updates to justify getting it.

I almost bought the current model. The bump to a 5.5 inch display makes this much more appealing to me. Looking forward to some reviews.

I wonder if it will get the ghost touch issue that ruined the G4.

Nice ,but a bit classic design...

Too many phones, much confusion with consumer's. What's the difference between this & the G5plus!

Slightly bigger at 5.5 inches, better build quality (more metal), and supposedly better camera. Other than those 3 there are no differences. And to add to the confusion there around the same price as the Moto G5+.

Between this, the X4, and the Z2 Play, Motorola's mid range feels pretty crowded and I'm unsure who each phone is targeted at.

While I agree that it leaves the consumer feeling overwhelmed at the sheer amount of choices I'm also somewhat grateful that there's a lot of attention on Midrange Phones, as I no longer have a desire to pay more than $500 for a phone.

Pre-ordered mine for $206 with student discount. Can't go wrong. I'll use it as a backup device or one I'll use when I go hiking.
As for no NFC: for this price, what do you expect?

Glad I got the G5+ now. 5.5" is too wide for me to use one handed and not risk dropping the phone. Also, being in Australia, I got NFC so I get to use Android Pay! I love this phone :)
Android Central Newsletter
Get instant access to breaking news, the hottest reviews, great deals and helpful tips
Thank you for signing up to Android Central. You will receive a verification email shortly.
There was a problem. Please refresh the page and try again.