Moto G 2015 camera tips and tricks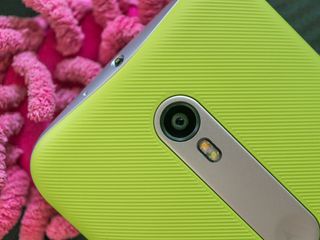 The Moto G 2015 has a pretty decent camera — especially considering the price. While you're not going to get the same quality as you would from a stand-alone camera, or even something like the LG G4 or one of Samsung's latest models, your new Moto G is capable of taking some very good pictures.
A lot of depends on your technique (the photographer is always more important than the equipment), but knowing your camera is important, too. Here are a few tips to make the most out of the camera on the Moto G 2015.
Read now: Moto G 2015 camera tips and tricks
Quick capture
Sometimes you need to get the camera app open and ready quickly, and the Moto G has a cool trick to help. Quickly twist your wrist from side to side (a chopping motion turns on the flashlight, so be sure to go from side to side) and you'll be whisked right into the camera app, ready to snap a pic.
it takes a few tries at first to figure out just the right motion, but once you have the hang of it you'll find it's fast, easy and consistent — three things important when taking pictures.
Focus and exposure control
Image 1 of 2
You can use the Moto G camera app in the "normal" mode where you have an automatic focus point and tap the screen to take a picture, or you can use the focus and exposure ring control. We recommend the latter.
You'll find it in your settings (just swipe in from the left to get there) and it makes a big difference. Drag the circle so that it's on the spot you want to focus on, and then you can set the exposure by dragging your finger around the circle. Tap anywhere to snap a pic, or tap and hold to take burst shots.
HDR auto mode
HDR stands for High Dynamic Range, and it's a technique photographers have used for a while. It works by taking several pictures at different exposure settings, then stitching them together into one picture where everything is visible. It helps when you're in a situation where bright whites would get washed out if you wanted to see what's in the shadows, or vice versa.
The Moto G has good HDR software built in, and more importantly, there's an automatic mode that works well. In auto mode, the camera decides when to take more than one exposure and create an HDR image. We've found things work well enough to leave auto HDR enabled all the time.
Night mode
Night mode works by increasing the ISO so that the shutter can work faster in low light. The issue here is that a higher ISO means more "noise" in the finished image, so you need good software. The Moto G 2015 has a pretty good night mode setting, and it's something you should try.
The next time you want to Instagram your plate of food in a dark restaurant, try using night mode to see the effect. It's also great for non-food pictures, too.
The basic settings
Swiping in from the left while in the camera app opens a handful of settings on a wheel-like interface. Spinning through the wheel, you'll find:
Quick capture turns the swivel to open the camera gesture on or off
Shutter sound turns off the camera shutter sound
Location geotags your images (which can be useful in apps that can attach an image to a place, but there are privacy concerns)
Storage location allows you to save pictures to the internal storage, or to the SD card
Panorama is a built-in Panorama mode
Timer is a 3 second or 10 second setting, and it's the delay between when you tap to take a picture and when it actually snaps it
Photo Adjusts between 16:9 9.7MP images and 4:3 13MP images
Video offers the choice of HD 1080p video capture or 720p Slow motion modes
Low light toggles night mode on or off
Control focus and exposure turns the focus and exposure ring controls on or off
Flash allows you to turn the flash on, off or have it fire automatically when the lens wants more light
HDR enables HDR mode, disables it or turns on auto HDR mode
These tips and tricks will help you get some great pictures out of your Moto G 2015. Now get out there and snap away!
Android Central Newsletter
Get instant access to breaking news, the hottest reviews, great deals and helpful tips
Senior Editor — Google Ecosystem
Jerry is an amateur woodworker and struggling shade tree mechanic. There's nothing he can't take apart, but many things he can't reassemble. You'll find him writing and speaking his loud opinion on Android Central and occasionally on Twitter.
Either you guys really love this phone... Or you're getting nicely compensated for all the press it's getting!!! Haha Posted via the Android Central App

Lol but to Jerry's credit there VERY well written Posted From my Nexus 6/Nexus 7 2013/Surface pro 3

Every third article it seems Posted via the Android Central App

Because it's the best phone at that price point. Posted via Android Central App (Moto X)

It's an important phone.
Coming from a Moto G1 (temporarily :)) and looking only at the negatives, I worry about the very small advance in processor, screen and gpu.
It can store a lot of apps, unlike many, but mine does now bog down a little. This is about the camera though, and it's great that has been vastly improved it would seem, for the same money. In the UK the 2/16gb is £209, whereas the X Play 2/16gb is £279. That has to be weighed up. I wouldn't be surprised if I end up getting a G3 though, seeing as work and money are not overflowing right now. It is great value, but for me or anyone with a previous model it won't obviously be a big surprise - although OK I see Jerry et al thinks it runs very well and is now a good mid range phone.

If only they actually had some in stock... Posted via my Moto G LTE

I've been pleasantly surprised by the Moto G camera especially the HDR it's so crisp and clear. My Moto G seems to have sharpness right to the edges and I'd go as far as saying it's way better than most of the Sony cameras and it uses their sensor

I have a g4 and a moto g 3rd gen. After using the g for a week, I'm branding like Hilden. Moto g for me as my main driver! The battery life is what I need and this baby delivers Posted via the Android Central App

Hey I am planning to gift this phone to someone, I over all liked the product but am not sure about the camera quality ? can you please share your experience with the camera.

Thanks Jerry! Posted via Android Central App (Moto X)

The Moto G 2015 is pure awesomeness! I personally can't wait to buy one and use it as my daily driver. I'll use my Nexus 6 around the house. Posted via the Android Central App

"the photographer is always more important than the equipment" Not so with the Moto G 4G. The camera on that POS couldn't focus and was crippled by overly aggressive noise reduction. Fine, it your photographic style is blurred paint daubs, but for anyone else... Motorola acknowledged the problem but failed to do anything about it. I went through four Moto G 4G handsets, returning each one as faulty. This poor experience from Motorola has put me off the brand for life. There is no way I will entertain the notion of purchasing a handset from the company (regardless of who owns it.)

I wish Moto would release some of the gestures apps into the Play Store. Would think they would work great on the N6 and add value to both brands. Posted via the Android Central App

Another good tip: use Google's camera app for videos. It actually lets you record at 720p, which is plenty and half the size of 1080p videos.

Thank you Jerry. I just bought this phone and your article is clear and useful. You have saved me hours. Ed

Anyone else have blurry photos from the 3rd Gen Moto G? I replaced my wife's Samsung Galaxy S2 (8MP camera) with the Moto G 3rd Gen which has a dual-LED 13 MP camera. If full sunlight at a distance, the Moto G 3rd gen resolution shows better detail than the S2. But only slightly. But indoors with good light, the S2 does a much better job at being in focus and sharper. And with the flash on, the S2 beats the Moto hands down. The Moto with the flash on, is more sensitive to movement than without the flash on and so with the flash on, images tend to be more blurry. Which is the opposite of how it works on the S2 LED flash, and other camera Xenon based flash systems. Also, the Moto has terrible close up focus. I can use the S2 and get within 6 inches or so of a label of text and it is sharp. With the Moto it will not focus up close. It shouldn't be hard to beat the S2 camera! I returned the Moto X Pure because it couldn't beat my Galaxy S3 camera.

I have the Moto G 2nd gen. It's a great phone. I nearly purchased the 3rd gen one, but when i read there's no gyroscope... I take a lot of photospheres with the google camera, but with the G 2015 version not possible anymore. I can see where Motorola wanted to save money. The Style and Play don't have it either, just the Force, which is seriously expensive though.
Android Central Newsletter
Get instant access to breaking news, the hottest reviews, great deals and helpful tips
Thank you for signing up to Android Central. You will receive a verification email shortly.
There was a problem. Please refresh the page and try again.