More images of the OnePlus 3 leak to show off a USB Type-C port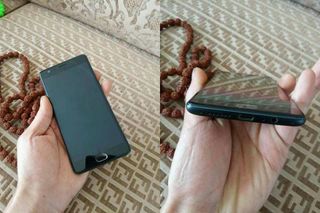 The OnePlus 3 continues to be leaked out for everyone to see ahead of an official announcement and now we have new images that show off a USB Type-C port. Said images were leaked by Twitter user The Malignant, who published two of them to showcase how the device looks.
The two images actually match what was leaked earlier this month, but with the added view of a USB Type-C port on the bottom of the handset alongside the 3.5mm headphone jack. The OnePlus 3 is expected to sport a 5.5-inch Full HD display, 2.2GHz Snapdragon 820 processor, 4GB of RAM, 32GB internal storage, 16MP camera, an 8MP front shooter, and will run OxygenOS 3.0, based on Android 6.0.1 Marshmallow.
What do you make of the leaks so far surrounding the OnePlus 3? Sound off your thoughts in the comments!
I think this phone looks quite good. I mean not particularly original, with it's HTC back, but still quite nice. Shame it's a oneplus. I'm not sure I want to buy from that company. Posted via the Android Central App

It looks like a Samsung Posted via the Android Central App

It looks like a phone with a button. Posted via the Android Central App

It's a button with a phone Posted via the Android Central App

It looks better than a Samsung, IMO. Posted via my LG G5

And that matters because? Posted via the Android Central App

It does look good. Better than the OnePlus 2

I felt the same but the buying experience (we bought a OPX for our son last Christmas) was excellent fair play and the presentation (e.g. the unboxing and how it's all packaged) was A1. Not sure what they're aftercare is like but aside from Apple there's not many companies who are great in this realm. Posted via the Android Central App

I by contrast, think I really do want to buy from the company, in large part believing in what they can be doing with the OxygenOS stuff, having a dedicated Cyanogenmod thing going which I'd hope verged on being a closer-to-Nexus-calibre experience of timeliness than obviously carrier deployment(Canada here, 's ugly)
I've similarly really wanted to buy a Sony phone the last few years but the problem is the same, I don't value their feature specializations beyond the merits of their strong mid-range offerings; their Z5 was way more than it was worth(especially its flawed 4K top end model).
I hope this OnePlus 3 may be more compelling than the 2 was, might hold out to see what they do for a sequel to their X though: I was real close to buying in and part of me quite regrets not pulling the trigger on it. That said, I have the same feelings toward the Sony M5 which doesn't seem to have gotten much of any of the distribution love that its lesser predecessor M4 Aqua did, but Sony's pending rethink with their X line seems promising too. So here's to hoping we see some wisely measured mid-releases this year rather than a continuation of the scramble overreaching for the top because lets face it, that's where companies like OnePlus can really compete. Posted from my Huawei Nexus 6P Posted via the Android Central App

looks just like black galaxy s7 with usb type c port

The s6/s7 look just like a few chinese phones that have been out for a while. What's your point?

32GB I hope that replaces the 16GB model and FHD. Really OP? Posted via the Android Central App

Idk why you need greater than a 1080p display, it's just a battery drain.
I wonder how long Motorola's new thin moto x will last with its rumored 2600 mah battery. It'll probably have terrible battery life. It's not worth it. Hell, we still don't have hd through our satellite provider. Posted via Android Central App on 1+1

Fine, let's stick with 720P . Even better battery. Posted from Nexus 6 running Android N

I need 4K display to mirror that screen on my 4K TV.

The OnePlus Two was supposed to be the 2016 Flagship Killer. Why is OnePlus coming out with a new model this year?

Because this is the 2017 flagship killer, duh. Posted from my Nokia 3310

Speaking of which - They caught so much flak last year for releasing a hunk of junk with that moniker, I have to wonder if they will use it again?

Because they like their invite system. Posted via the Android Central App

Why did moto come out with a new phone this year or Samsung, or Apple or lg or htc? Posted via the Android Central App

Nothing wrong with a good 1080p panel at all. OP need to sort out the optimisation of OOS. The OPO with CM was better than the OP2 with OOS, but with a custom kernel the OP2 was awesome. Get some of the awesomeness OP. Posted from my Nokia 3310

Hey finbaar I own a OP2 and was wondering about this majic kernal you speek of and where one could find it.

Looks like 5.5 inch screen.. wishing for flagship spec phone with 4.7 inch screen size :( AC@OPO

It better have a microSD slot and NFC. The lack of those two was the only thing keeping me from a Oneplus Two last year.

Well, on the upside, the headphone jack is where it's supposed to be. On the downside, the speaker isn't. :)

Hopefully it supports quick charge Posted via the Android Central App

Even though the home button looks like the one from the Galaxy S7, I do like the size of it and I really hope the button is capacitive like the Two. I'm not a big fan of a physical home button. Posted via the Android Central App

I'm curious what shape they could make the button that people wouldn't complain about or say it looked like an iPhone or Galaxy? A triangle? Posted via the Android Central App

Octagon Posted from Nexus 6 running Android N

A willy XD Posted via the Android Central App

People will still complain. They act like 3 year old kids. Posted via the Android Central App

And unless the phone isn't used for VR, I feel like the FHD resolution is perfectly fine, but I feel in one year, every flagship is going to have to have a QHD display, not only if VR takes off, but just to stay relevant. Posted via the Android Central App

Every flagship does NOT need to have VR. to me it's not a selling point the software being worth a damn is. Posted from my Nexus 6/Nexus 7 2013/Surface Pro 3

More cheap rubbish. No thanks. Posted via the Android Central App

I hate the company as much as the next guy, but it's not complete rubbish lol, but you are entitled to your opinion. Posted from my Nexus 6/Nexus 7 2013/Surface Pro 3

Half rubbish? Haven't heard that word in a while. Posted from Nexus 6 running Android N

You might take that back after you read some of my replies to your other comments. Lol Posted from Nexus 6 running Android N

Seriously? Have you ever used one of their devices? Everyone is entitled to their opinion but this is certainly not cheap nor is it rubbish. If you made a fair comparison may be i would believe you :-) Posted via the Android Central App

I wouldn't sully my hands with one. When a flagship device can be had for a mere 50 pounds a month why would anyone settle for less? I suppose they are good for developing countries or people who aren't phone obsessives.

I used to think it was reasonable to pay upwards of £40 a month just to have a good phone, then I realised the networks are making mugs of people and essentially naming their ticket on upfront phone costs. It's not uncommon now for people to buy outright and choose one of the many amazing sim only deals out there. Bought my phone for £550, plus a rolling sim only with unlimited data for £11 a month. No 24 month commitment and I know I'm not getting ripped off. Here in the UK networks will charge around £40 per month for an iPhone 6s, PLUS they'll snag you between £49 to £99 UPFRONT. So, £49 plus £40 X 24 = £1009 over 2years. The phone is only £539 to buy outright?? It's no wonder buying unlocked is becoming so popular, although I appreciate the monthly contract route is the only option for many. Posted via the Android Central App

"A mere £50 a month" lolololol Posted via the Android Central App

I think 12 pounds fifty a week for unlimited texts, unlimited calls, 20 gig data, s6edge plus, and awesome insurance that gives me a new phone a matter of hours after smashing or loosing the old one is cheap. Especially when I spend 6 hours a day staring at the darling thing.

Looks like an iPhone Posted via the Android Central App

Looks like a hybrid One Plus X/One Plus 2 to me. Not really a bad thing but not particularly stand out either. People should really not be so alarmed when they see just FHD, the take up on 4k is still early days - over 75% of the world is still watching in Full HD on their tv's and the images still look great (The Force Awakens on Blu Ray is testament to that!). Having had the S7 edge for review I failed to see a huge difference in such a small screen simply because websites and apps are not optimised yet for 2k resolution. Why would One Plus risk savaging battery life when their 1080p panel is already damn near perfect? (the One Plus X and One Plus 2 screens are excellent given the cost). It's likely the invite system will be ditched this year but we'll see....... :-) Posted via the Android Central App

I like what Sony did for resolution when the Xperia Z3 came out. They left the Z3 with the FHD display and gave the Xperia Z4 Tablet the QHD display at a size when you could actually tell the difference at 10.1 inches. Posted via the Android Central App

I didn't get a 1+2 due to the lack of NFC. Will the 1+3 have NFC? If so this will be an option for me. I really liked my 1+1. Posted via the Android Central App

In my opinion, which means nothing because everyone's vary, I think its just "OK". Its not bad, but nothing I haven't seen before. I get it, there is only so much variation in design you can have with a slab of metal, glass, plastic or whatever. Designers can't risk alienating their primary buyers by changing what those buyers consider "normal". The same principal applies in automotive design. And just like automotive enthusiasts, those on this site (myself included) are tech enthusiasts. We are more critical, and we know what we want with extremely varying opinions and some with brand loyalty. Personally, I think designs across the board could be better, but the majority is ok with a "pretty shiny thing" that texts, makes calls and can take selfies and post things on instagram. Posted via the Android Central App

I guess it is very well be a solution for those who don't care about 4K screen, VR, and mirroring to 4K TVs. If its camera is able to record 4K videos, it should be able to display them in all their glory. If not, then it's not a "flagship killer" at all, a step below the best.

I had the OnePlus One and that was an excellent phone with one major flaw for me, very poor support for Rogers Canada LTE bands in my area. This made a pretty good phone into a very slow brick. So I sold it after a year. If you do go with an off-carrier phone make sure you read the fine print regarding radio band support. Posted via the Android Central App

Getting more disinterested with every leak. OP1 and 2 had their own identity but this is just a mashup of HTC and Same-sung. What am I gonna do now.

When will it launch? Any idea? Posted via the Android Central App
Android Central Newsletter
Get the best of Android Central in in your inbox, every day!
Thank you for signing up to Android Central. You will receive a verification email shortly.
There was a problem. Please refresh the page and try again.