Moasure ONE brings actual rocket science to any measurement you could ever need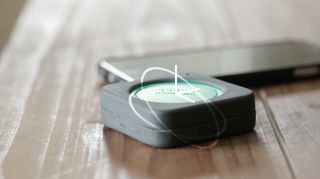 Smartphones have ushered in cool new ways of measuring things around the home, whether by using accelerometers, cameras, or other onboard sensors. And be honest — it still feels pretty cool to use your phone to hang level hanging some art in your home or using a cutting-edge augmented reality to measure virtually any space in your home…virtually!
The Moasure ONE is a cool new gadget that hopes to offer the next big leap in measurement technologies. Using a sophisticated array of accelerometers, gyros, and magnetometers, the Moasure ONE is able to plot its position in three-dimensional space and record it to measure distance, angles, levels, area, and even 3D space and volume.
It's all built off of the success of the standalone Moasure app (opens in new tab), a paid measurement tool which uses the accelerometer and sensors in your phone to take measurements for distances, angles, space, and height differences. The Moasure ONE is designed to pack even more sensors and work with your phone to take more accurate measurements.
Part of what makes the Moasure ONE such an exciting concept is the ability to easily measure in ways you simply can't do with conventional tools. Say you want to measure the thickness of a wall separating two rooms, or the combined size of two rooms. With the Moasure ONE, it's as simple as setting it at the starting point, tapping the measure button, and moving to your next measurement point. Everything is tracked in the app, and you can easily export and share your measurements.
The Moasure One Kickstarter Campaign has already surpassed its funding goal. With a retail price set at $250 there's still time to jump in early and save up to 44% by pledging towards the Kickstarter in its final days. Backer prices start as low as $139 and there are multi-packs available if you know some people who would love this. The Moasure One will start shipping to backers in December 2018.
Marc Lagace was an Apps and Games Editor at Android Central between 2016 and 2020. You can reach out to him on Twitter [@spacelagace.
I'm still smarting at being burned on a Kickstarter for only $9...so I pretty much refuse to ever back any more Kickstarters. No...I need actual products available in the real world before I'll send anyone money.

Me too but it was a $65 burn for the edge Moto mod on Indegigo. It was supposed to be a configurable led ring around the phone for notifications. Some guy from Poland had the idea, strung the community along for about a year, then just vaporized into thin air, with $1,000s of dollars pledged. If these crowdfunding platforms are going to let this happen over and over again, then I don't have interest in supporting that business model at all.

I've backed 2 products so far and got both. My first KS project was the Bragi Dash, and after 2 years and countless updates/frustrations we did get them. Not without some issues, but Bragi addressed them. Since then they've come out with 2 more products without having to go through a funding site. That's the model I wish more companies followed. Use fundraising sites to get you going and then self sustain or go through more traditional channels for funding. Just like the stock market and bitcoin, you should only pledge/invest an amount that you'd be "ok" with losing. The Measure ONE seems possible, but it also seems a little too good to be true. I'll download the app, but I'll wait for this idea to be available in a store before I'd consider buying it. I have a gut feeling telling me to stay away. I'm not sure how a "sensor puck" could be more accurate and have more features than a smartphone.

Hi shryx86, I'm the Founder & CEO of 3D Technologies, the company behind Moasure. I'd like to reassure you that Moasure ONE is not too good to be true. :) We developed the current Moasure app for both iOS and Android; it uses the smartphone's internal motion sensors (accelerometers, gyros and magnetometers) to measure it's own movement in 3D space, and hence provide the user with measurements. Unfortunately the accuracy of the app is limited by the performance of the phone's motion sensors, so that in practice the app provides 2 accuracy, depending on the phone model. We've developed the Moasure ONE module ("sensor puck") using significantly higher performance motion sensors, to replace the smartphone's internal motion sensors. Not only does this mean that Moasure ONE offers higher accuracy (+/-0.5% for linear measurements), but it enables us to provide additional measuring modes e.g. measure area, volume, circles, arcs, levels, inclines, as well as irregular curves and shapes. These additional measuring modes could in theory be made available in the current app that uses the smartphone's internal motion sensors, but the measurements would be so inaccurate as to be unusable - hence why we don't make them available in the current app. I'd just like to add that we already have fully working prototypes here in our labs - this is not vapourware - and since we're now over 300% funded, we will be shipping in November. I hope you decide to join us in revolutionising the way we all measure. :) Alan
Founder & CEO, Moasure
Android Central Newsletter
Thank you for signing up to Android Central. You will receive a verification email shortly.
There was a problem. Please refresh the page and try again.