Get 20% off high-speed 4G data service! [Best deal for LTE]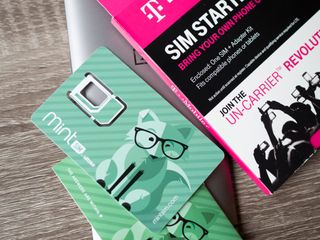 That's why we're super excited about this awesome deal (opens in new tab) from Mint Mobile, available exclusively to Android Central readers. For a limited time, use coupon code ACMINTSIM20 to receive 20% off any 6- or 12-month plan.
Mint Mobile is an alternative carrier with one focus: offering the most consistent high-speed 4G LTE data (it runs off T-Mobile's growing network) at insanely low prices.
You'll receive unlimited talk and text, with insanely low prices on ultra-fast, reliable 4G LTE data. Here's how it breaks down after the coupon is applied (opens in new tab):
2GB of high-speed data just for $13.60 per month 1
5GB of high-speed data just for $20.27 per month 1
10GB of high-speed data for an insanely low $26.93 per month! Best deal! 1
Choose the plan that's best for you (opens in new tab) and start saving today, with no contract required. This is a limited time offer reserved just for Android Central readers. Remember, use coupon code ACMINTSIM20 to receive 20% off any 6- or 12-month plan. The deal expires March 31, so get going!
Learn more at MintSIM.com (opens in new tab)
1. Savings based on 12-month plan. Includes regulatory recovery fee. Plan requires compatible phone. Please see mintsim.com for details.
Get the Android Central Newsletter
Instant access to breaking news, the hottest reviews, great deals and helpful tips.
Daniel Bader was a former Android Central Editor-in-Chief and Executive Editor for iMore and Windows Central.
Almost as good as my T-Mo deal 3 lines unlimited err-thang for $80/mo...NOT! Lol

T-Mobile is 2 lines unlimted "err-thang" for $100 with a limited time offer of a third line free.

I know. They gave me 20% discount for life to match my ATT Corp discount. So ingot the 2 lines for $80 and then added a free line when the promo came out.

So what the hell is ' ingot ' ? That is not a real word.

Except that it is. https://www.merriam-webster.com/dictionary/ingot Though I would guess it's a typo in this case.

I'm seriously considering going to Mint SIM after you guys talked about it. But the 6 months plan would be too expensive for me. I'll probably try the 3 month plan. If you guys move the discount to this plan also I'll consider it even more than before

Mintsim is great if you never need customer service

I'm on AT&T so I'm comfortable with no customer service.

You can say that again! The first time they posted the SPONSORED story about them I attempted to reach them by phone, email and live chat...TWO WEEKS later I got a reply! As in all things in life, you get what you pay for..I hope those that use them are happy though..:)

Maybe I'm missing something, but if I buy 3, 6, or 12 months of service up front, isn't that essentially a contract? Technically no, because I don't have to keep using them, but will they refund my money if I buy 12 months and decide after 3 that they won't work for me?

I may try this out to try out T-Mobile service on an extra phone. If all works well I may move to T-Mobile from att.

I've been using MintSim for about three weeks now. I have two lines and was able to get the 3 month special pricing at 11.67 per month. I paid upfront and with shipping two SIM cards and two day delivery cost me around $76 It took me about 10 minutes per phone one an Android the other an Apple iPhone 7 for setup. Obviously both phones are unlocked. I ported over both phone numbers, one took about 15 minutes the other around 6 hours to be fully transferred over. Their website is so easy to use and it's very user friendly. MintSim for dummies. Service has been great. Download speeds run about 16 Mbps. What's really surprising upload speeds run about 22-24mbps. I only have three bars at my house in case you are curious. If I drive about 2 miles or so I'm closer to the T-Mobile tower. Both down and upload speeds are 19-22mbps range. Call quality is very good and clear. I use an Honor 8 the other phone a 7 from Apple is also good clarity too. For the pricing and what you get it really is a good deal. Go on YouTube and see some videos of a guy using MintSim in Denver. He's a T-Mobile user and mint SIM outperformed them.

Don't do it. I switched from Cricket since the Mint SIM rate was so cheap and coverage shows LTE in my area. I didn't realize the cheap rate was a temporary promotion that would revert back after 3 months. Horrible signal at my house, but I could only discover that after activating the SIM--and now I can't get a refund. Sometimes data doesn't work even though it shows a signal. And now that I need to go back to Cricket, I'm having a difficult time finding out my Mint SIM account #. The account number isn't on your account page. They make you call to get it, but no one answers the phone. I asked Live Chat, and they said I had to call. On the other hand, Cricket was great. Why did I forsake you, Cricket? Why?!?!?!?

Matt. That's unfortunate you had such a bad experience. Did you ever get through to customer service and they supplied your account number?

Yep, after 3 phone call attempts and an online chat session. Last week I paid $57 for 3 months, which is a great price. But I'm not sure I can take much more. I'm sure it's good for those with great T-Mobile coverage, but supposedly I'm in an LTE area and it's been bad.

I had the same experience. Took me three days to get my account number and pin. This information should be available through their web portal. I hope I have the numbers written down correctly, because when I finally did reach someone I could barely understand their broken English. My 3 months is not up yet, but I can't take the poor connections and dismal support any longer. Throwing away the last 7 weeks and switching (hopefully) later today.

I get the feeling some of these articles are sponsored content. Does AC label sponsored content somehow?

At the end of the article: "This post may contain affiliate links. See our disclosure policy for more details." Of course that's on most posts now, so it doesn't mean much.

I did see that, but I'm never sure if that's just a link that helps AC if you get a particular device/service or if that also indicates the article's content is sponsored. Not a huge deal, just wondering.

So we always make sure to label something as sponsored. This is not a sponsored post per se, but a deal that was provided to us by Mint SIM. We don't endorse the product from an editorial perspective — I couldn't care less which carrier you use — but we stand behind the service as something we like. Does that make sense?

So basically this is like paying for a one month regular plan that hangs around for three months. If our don't like it, it's like paying for a month on the main network. Not a bad deal to try out a new network.

Run! Run the other way. Their support SUCKS. They won't give you information over e-mail, and when you finally reach someone on the phone they barely speak English and are impossible to understand. It has taken me three days to get my account number and pin so I can switch providers. I've never had a company keep my account number and pin hostage and made it so hard to obtain! I advise anyone who is foolish enough to join MintSIM to call and obtain their account number and pin immediately so you have it ready when you want to switch again (and believe me, you WILL want to switch). I was happy for about a month of using MintSIM. Then then drops and poor connections started. I've stuggled getting support ever since. My 3 months is not up yet but I am SO glad to be leaving!