Microsoft Office apps to be pre-installed on select Samsung Android tablets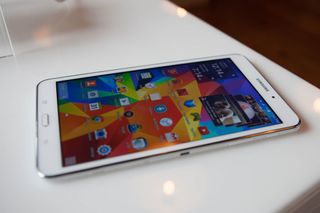 The company had already announced that the upcoming Galaxy S6 and Galaxy S6 edge would have Microsoft's OneNote, Skype and OneDrive apps pre-installed, along with offering those owners 115GB of free storage on OneDrive for two years.
Now Samsung is extending that pre-installation partnership to include Microsoft Word, Excel, PowerPoint, OneNote, OneDrive, and Skype on "select Samsung Android tablets". Specific tablet models were not announced.
Those pre-installation deals are for consumers, but businesses can also benefit from the new Samsung-Microsoft agreements. Samsung said:
The new partnerships were announced after Microsoft and Samsung settled an ongoing legal dispute in early February over patent royalty payments.
Source: Samsung (opens in new tab)
So will they actually work on 10.5" tablets? Right now Microsoft considers the Tab S 10.5 to be 0.4" too far into the pro space and won't let you edit files without a subscription. (They have a hard stop at 10.1" for what they consider consumer tablets.)

I gather it will work on the 10.5 inch and larger tablets now, but you're still on the hook for buying a subscription. Meh, I say.

When it first came out you couldn't edit on it. However now you can edit and create documents. You still need to subscribe to gain all the features, but many work without the subscription, certainly on the iPad version. Posted via the Android Central App

Yeah, this kind of sounds like a way to hook people into subscriptions. Though, I will withhold judgement until I see more evidence of that. I wish you could just buy a copy of the software and leave it at that, but everyone these days wants to jump on the subscription bandwagon. I understand it creates a steady, yearly revenue stream for the company, but I don't like the steady, yearly expense for me. Especially since it's usually overpriced for individuals. They would get wider adoption of these things if it were a bit cheaper. And stop forcing us to store stuff in the cloud! Sometime we have to work off-line! I can't use OneNote on my Note 10.1 at work, because it REQUIRES an internet connection. Even though my phone will at least let me work offline, then update when wi-fi is available. But for some reason, the tablet won't let me.

I think the subscription model evolved because people were tired of paying $300 every 3 years so they could open the new office file format.

I think it's fine for business users, I have a subscription on my drafting software at work, so I get the new version every year. But for individuals, it can get costly for something they may use once every couple weeks. The versions that are "free" with your PC's are pretty limited. At least in the case of the last two I've bought, though admittedly, that was over a year ago since the last one. I was able to buy full versions through the "home use program" for pretty cheap, but I'm concerned about how that's going to work with the new subscription model, once we upgrade.

You have to admit. Office is still leagues above Google Docs, even on Android. Posted via the Android Central App

Why do we have to admit? Posted via the Android Central App Note4 Tmobile

Meh I still prefer docs.
So much for admitting. Posted via the Android Central App

I agree. I have a Tab S 10.5 and using Office is such a better experience, especially with One Drive backing up all of my files. I'm paying 9.99 a month though. I really wish it were free, or a little bit cheaper because for everything else I prefer Dropbox. I'm not about to pay for both though. Posted via the Android Central App

How long until touchwiz gets put on the Surface? Posted from my Droid Turbo, Kelly and Ozone

No thanks Samsung. I just replaced an OG Note 10.1 with a Surface Pro 3 that gives me a lot more functionality and choice than you can provide; one of which is full administrator access as needed (no hoping for root access). The other is the ability to run full desktop programs. :)

I would assume since you know it's running full blown Windows 8.1 which is a full blown desktop operating system. Gotta have to be captain obvious sigh. Android is a mobile platform FYI, nothing to do with this Posted via the Android Central App

I know that (had thought about putting that in my original post too). Despite it not being a direct comparison (because they're two different platforms), my point still stands that Samsung adding Microsoft Office options does nothing to entice me to switch back to one of their tablets (may be it will for others, but not me). This Surface Pro is what a real tablet should be IMO. Microsoft gets it! I've derided them for a long time about Windows 8 and the Metro UI, but have finally seen the light! I'd be hard pressed now to ever consider an Android tablet again.

Yay more bloatware to inevitably remove! Posted via the Android Central App

One word... "DELETE" From my Note 3 to thee

I'd rather have Hancom Office.

Do you think designers hate bloat just as much as me? Do you think Microsoft is paying a decent penny to let there junk in? Posted via S5A from the commode.

Yes Posted by my soon to be retired Note 3

Microsoft Word alone installed uses already over 200 mb. For so many people a waste of storage space. It better be removable. I personally like OfficeSuite Pro (for sale € 0,99 every month it seems) and even free WPS Office more anyway than both Ms Office and G-Docs. Posted via Android Central App
Android Central Newsletter
Thank you for signing up to Android Central. You will receive a verification email shortly.
There was a problem. Please refresh the page and try again.