Microsoft Launcher for Android takes over for Arrow with new features, design tweaks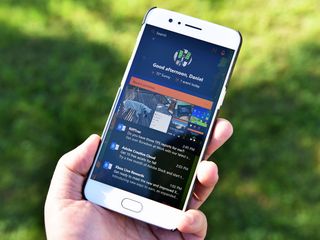 In late 2015, Microsoft surprised many with its very own Android launcher (read our review) dubbed "Arrow." Although not an official application, Arrow was instead part of Microsoft's Garage cadre of apps that its employees developed on their own time.
Today that all changes, as Arrow is now just Microsoft Launcher for Android. But there is a lot more than a name change, including some new features and the first application of Microsoft's Fluent Design System outside of Windows 10.
Related: Google Pixel 2 and Pixel 2 XL — Specs, pricing, and everything else
What's new with Microsoft Launcher for Android
Microsoft is continuing to build new features into its Android launcher, including a focus on "Continue on PC." Instead of using the share target, which is not intuitive, those using Microsoft Launcher for Android can long press on documents, images, and more to directly continue the experience on their Windows 10 PCs.
That feature requires users be on the forthcoming Windows 10 Fall Creators Update, which is set to be released on October 17. You can read our guide on how to link your phone to your Windows 10 PC to get started.
New features in Microsoft Launcher for Android include:
The Feed — Info at your Fingertips. With just a quick swipe-to-the-right, Microsoft Launcher offers a tailored feed of your important events, top news, recent activities, favorite people and most frequently used apps.
Beautiful and customizable — Launcher has wide-ranging ways to let you personalize your phone, it's easy to set colors of backgrounds, and new "gesture" support will let even hard-core customizers create the environment that makes them most productive.
Continue on PC — And of course, Microsoft Launcher has been designed to make it easy for you to continue what you're working on seamlessly — whether it's photos, documents and more — on your PC
One of the more familiar features that Windows 10 users will appreciate is the ability to pin contacts right to the main launcher. Options let you open the contact's full information or immediately dial that person. Later on, Microsoft expects to have notification support for pinned people reflecting the My People feature in Windows 10.
The Feed is also very impressive. Fully customizable, the Feed shows you the recent activities, latest news, calendar events, contact information, weather, and it even has a delightful greeting for you based on the time of day. Users can set the background to be translucent, dark, or light themed with customizable colors like accent colors in Windows 10.
The Microsoft Launcher for Android is fast, and those who already use Arrow will be very familiar with the layout and settings. Users can still customize the grid, swap out icon packs, log into their Microsoft Accounts, back up and restore, disable animations, and more, which makes the launcher very much your own.
Where to get Microsoft Launcher for Android
For those who are already enrolled in the Microsoft Arrow beta program, an update to the launcher to make it Microsoft Launcher for Android should go live today and happen automatically. Your app layouts, wallpaper, and more all remain the same, as this is just an app update, not a reinstallation.
Those who have Arrow launcher installed from the Google Play store can sign up for the beta today to get the new Microsoft Launcher for Android right away. If you have never used Arrow, you can get into the Microsoft Launcher for Android preview and get the new experience now. Just download the app.
Download: Microsoft Launcher (free)
Today's announcement follows the similar one that Microsoft's Edge web browser is coming to Android in the coming weeks. The combination of Microsoft Launcher, Edge, Skype, Cortana and more on Android should make Windows 10 fans with Android phones quite pleased.
Get the Android Central Newsletter
Instant access to breaking news, the hottest reviews, great deals and helpful tips.