Microsoft Launcher for Android takes over for Arrow with new features, design tweaks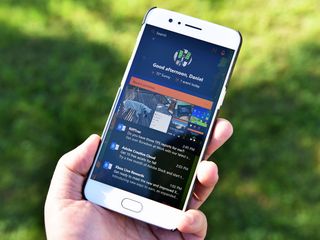 In late 2015, Microsoft surprised many with its very own Android launcher (read our review) dubbed "Arrow." Although not an official application, Arrow was instead part of Microsoft's Garage cadre of apps that its employees developed on their own time.
Today that all changes, as Arrow is now just Microsoft Launcher for Android. But there is a lot more than a name change, including some new features and the first application of Microsoft's Fluent Design System outside of Windows 10.
Related: Google Pixel 2 and Pixel 2 XL — Specs, pricing, and everything else
What's new with Microsoft Launcher for Android
Microsoft is continuing to build new features into its Android launcher, including a focus on "Continue on PC." Instead of using the share target, which is not intuitive, those using Microsoft Launcher for Android can long press on documents, images, and more to directly continue the experience on their Windows 10 PCs.
That feature requires users be on the forthcoming Windows 10 Fall Creators Update, which is set to be released on October 17. You can read our guide on how to link your phone to your Windows 10 PC to get started.
New features in Microsoft Launcher for Android include:
The Feed — Info at your Fingertips. With just a quick swipe-to-the-right, Microsoft Launcher offers a tailored feed of your important events, top news, recent activities, favorite people and most frequently used apps.
Beautiful and customizable — Launcher has wide-ranging ways to let you personalize your phone, it's easy to set colors of backgrounds, and new "gesture" support will let even hard-core customizers create the environment that makes them most productive.
Continue on PC — And of course, Microsoft Launcher has been designed to make it easy for you to continue what you're working on seamlessly — whether it's photos, documents and more — on your PC
One of the more familiar features that Windows 10 users will appreciate is the ability to pin contacts right to the main launcher. Options let you open the contact's full information or immediately dial that person. Later on, Microsoft expects to have notification support for pinned people reflecting the My People feature in Windows 10.
The Feed is also very impressive. Fully customizable, the Feed shows you the recent activities, latest news, calendar events, contact information, weather, and it even has a delightful greeting for you based on the time of day. Users can set the background to be translucent, dark, or light themed with customizable colors like accent colors in Windows 10.
The Microsoft Launcher for Android is fast, and those who already use Arrow will be very familiar with the layout and settings. Users can still customize the grid, swap out icon packs, log into their Microsoft Accounts, back up and restore, disable animations, and more, which makes the launcher very much your own.
Where to get Microsoft Launcher for Android
For those who are already enrolled in the Microsoft Arrow beta program, an update to the launcher to make it Microsoft Launcher for Android should go live today and happen automatically. Your app layouts, wallpaper, and more all remain the same, as this is just an app update, not a reinstallation.
Those who have Arrow launcher installed from the Google Play store can sign up for the beta today to get the new Microsoft Launcher for Android right away. If you have never used Arrow, you can get into the Microsoft Launcher for Android preview and get the new experience now. Just download the app.
Download: Microsoft Launcher (free) (opens in new tab)
Today's announcement follows the similar one that Microsoft's Edge web browser is coming to Android in the coming weeks. The combination of Microsoft Launcher, Edge, Skype, Cortana and more on Android should make Windows 10 fans with Android phones quite pleased.
Surface Phone - powered by Android...

That doesn't sound half bad, to be perfectly honest.

It's a realty. Especially the way that MS has invested research heavily in ARM processors. They could very well do it.

Man my friends and I were just talking about this. Can you imagine a liquid cooled android phone by MS that would be incredible.

LG G6 already has a heat pipe.

Been using Arrow for quite a while. Great to see Microsoft get smart and drop the idea of a mobile OS and just focus on their services and software on Android and iOS.

It makes me sad; as though they were onto something with their mobile efforts (WP7 and WP8), then abandoned it after they couldn't figure out where to go next.

I agree. I had a WP7, WP8 and WP10. I finally just abandoned WP and went to Android last year.

same here ... Had been using WP since 2010
& switched to android last month

Oh, they will, and I think this launcher is just the first step. Microsoft was really smart to do this, and it gives us a glimpse on what their game plan might be. As much as I am an Android stalwart, I really love what Microsoft is doing here right now. After all, I was a Windows Phone fan before I jumped ship to Android.

So, while I'm still holding out hope for "Andromeda" Windows 10, Windows on ARM, and it being applied to a handheld, phone-sized device - probably bearing the Surface brand name, such a thing being released in 2018 or 2019, and my hopes to own one come fall 2019 at my next phone upgrade, a Windows Phone is not an option for me now in fall 2017. That leaves me stuck with either Android or Apple - or in my particular case, limping along my iPhone 6+ as I either wait out the Pixel 2 XL or the iPhone X - both having their attractive and unattractive aspects (in terms not only of the phone hardware itself, but in terms of OS/ecosystem as well). As it concerns Apple vs Android, I like both for differing reasons, and I dislike both for differing reasons, and as a general rule, I tend to feel like "the grass is always greener on whichever OS I'm -NOT- using at the moment". Being on iOS right now, that makes Android sound pretty attractive. But both my wife and now, my daughter use iOS, so for the integrated apps, it'd be a lot handier for all of us to all be on one platform. Also, when and where they differ, I do generally tend to prefer iOS versions of apps over their Android counterparts, so that's another counter-incentive. I also have an Apple Watch which I've actually grown to like. I don't like the ideas of having to either lose the wearables thing, buy an Android wearable to go with the Pixel, or else try to "Franken-pair" my Apple Watch to my Android (which I understand is possible - though ugly".) I also have an iPad Air 2, so other than Apple TV and car play, I'm already entirely immersed in the ecosystem. Although having a second iOS device could work just as much in terms of freeing me up to go pursue Android as it might in tethering me to iPhone, since I've basically never used my iPhone and iPad in tandem, and I'd still have access to [most] iOS apps which i tend to favor, as well as still having something to enable me to continue having "Handoff" with my mac and app share with the family. Indeed, the more I think about it, the more I think that having the iPad actually works more strongly to push me towards an Android Phone than away from one - as I've tended to feel my iPhone and iPad are pretty rendundant, causing the iPad to fall into some pretty serious neglect. Perhaps with an Android Phone, the iPad will feel less redundant, and it'll get more use - especially in terms of being able to stay in the loop with Jodee and Chloe in the Apple apps like messages and face time and find my friends. Also, using a slightly Windows-dominant mix of Windows 10 and macOS in my own home computing, a feature that I've only very rarely really used, but would still hate to lose is Handoff (Continuity). However, with similar functionality working its way into Android universally via Windows, and apparently, in accelerated form via Microsoft Launcher, that takes away one of the hurdles I would face in moving from Apple back to Android. Indeed, it is actually quite attractive, as I've been wanting, not to cut macOS out of my life - not at all, but to make my home computing even more Windows dominant, so the ability to [quote unquote] "move 'handoff' over from mac to Windows" is really appealing! Plus, if I'm hoping to move to an actual Windows device to serve as my "phone" in 2019, why not start "priming the pump" by moving over to as many MS services as I can, all neatly working with Microsoft Launcher for Android. I mean, this I could do without Microsoft Launher, of course. Heck, much of this I could even do from an iPhone. But it seems to all be best with Microsoft Launcher, as well as Launcher itself putting you in something of a "Windows Environment surrogate" that brings you as close to the real thing as you can have - without the real thing. Look, nothing is decided yet, and I am still at least as likely - if not even still MORE likely to find myself with an iPhone X when this is all over than a I am with a Pixel 2 XL. In fact, this Launcher idea even creates a hurdle for me as one of the biggest reasons I would go Pixel if I went Android is the lean, clean, "vanilla" software, without having to add a bunch of software layers, like I'd have to do on a Sammy if I wanted "vanilla". And i'd be adding a software layer that would only gym up the works - a detriment of Android over iOS in the first place, only exacerbated by added layers But at the end of the day, what this news today gives me is something I've been REALLY wanting - a solid justification for making the jump back to Android beyond simply feeling bored/confined by iOS and Apple, and wanting to leap the fence for the nth time, where the grass [at least appears] greener from my current vantage point. If nothing else, it gives me a lot to think about! :-) Cheers!

Backing up the current version just in case...

Tested the beta version, I actually like the subtle changes on the feed.

Arrow is probably the only launcher I've not tried yet which is surprising since I've had so many Windows phones but I've just installed this and I wish I'd done so sooner. The utility page to the left feels very familiar to iPhone too

Microsoft never needed to produce a phone to make money in the mobile sector. Just make interesting and compelling services.

It still isn't Nova. Not interested.

Good move, Microsoft. Now they know how to play the game.

If this new launcher doesn't have an alphabetical menu jump, I'm not going to be terribly interested.

Hopefully, they will integrate Cortana soon.

I may give this another shot. Last year I tried Arrow, and it was just OK. Kind of buggy, and slow.. I'm sure it's more stable now.

This is 'sort of' what I said Microsoft should do. I really feel like they need a phone like the S8 made by Samsung or Nokia (whoever, just built exactly to Microsoft's specs) for Microsoft that has a Microsoft Mobile launcher but is Windows at it's core. Google Now, Bixby etc all gone. Cortana is the default.
Outlook app etc are all the Native apps. Edge the Native browser. Maybe with some Live Tile options.
Has a full blown sync with windows much like iPhone to MacOS (iCloud sync) but even better.
That first post isn't a bad one. Microsoft Surface phone or Windows Phone, powered by Android. I would buy it. (ps: the S8 as it is now, the one in the MS store, is just a plain jane S8 with a few MS apps thrown into the mix. Nothing is Microsoft defaults)

After trying it out on my S8 I have to say I prefer TouchWiz. Coming from Motorola I usually go with the Google Now Launcher or Moto's stock interface. When I got my S8+ I figured I'd have to change the launcher after hearing horror stories about TW but I actually prefer it now. I've tried a few other launchers but settled on TW for this device.

Very nice! I'll use this launcher when I'm in the mood for a different look, not Sense and Nova.

Can someone help!!! Brand new to Android, decided to drop L950 after Joe's tweets. Love wm10 and frankly shocked how in many ways the OS is by far so much more productive. Anyways, trying to switch to Android. I have Ms Launcher and for the life of me cannot figure how to pin a contact. What am I doing wrong? Please help. Thanks

Any launchers that keeps two devices synced?? I use Nova launcher..
I know I can backup the launcher and restore the settings on a different device, but is there a launcher that lets you sync different devices? I sometimes save link to my 'desktop' on my tablet and would like to have it on my phone also without having to go through the process of saving it manually and all that...

Mine doesnt say "Good Afternoon Felipe"(nor show my profile pic) and i cant change colours or change the background for some reason...
Android Central Newsletter
Get the best of Android Central in in your inbox, every day!
Thank you for signing up to Android Central. You will receive a verification email shortly.
There was a problem. Please refresh the page and try again.