Lollipop now hitting Dell Venue 8 tablets, forcing encryption during update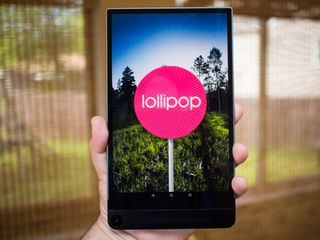 One of the big topics to come up during the launch of Android 5.0, especially after using the Nexus 6 and Nexus 9, was the inclusion of full disk encryption to the platform. Nexus users quickly discovered they had little say in the matter, but most manufacturers have left encryption as a choice in both updates and new device releases. During the update to Android 5.0.2 today, Dell Venue 8 users will notice a step in between agreeing to reboot and start the update and the "Android is upgrading" screen. This sleek little Intel tablet is encrypting the device during the update process, and it's happening without user consent.
We've discussed the upsides and downsides to full disk encryption at length, and the bottom line is always the same. Encryption only makes your device more secure in a handful of specific scenarios, and the performance hit many users see as a result isn't worth it if all you're doing is browsing Facebook and watching movies. Dell's target market isn't exclusively casual users, however, so the encryption update makes a lot more sense here. Enterprise customers and folks who plan to use this device as a lightweight laptop replacement will appreciate the added security measure, especially knowing it can't be disabled once the update to Lollipop happens.
This is the first time we've seen a manufacturer enable encryption during the update process, and aside from adding an extra 3 minutes to the update process there doesn't seem to be any difference, which is great. As we discussed in our review, performance has never been an issue with this Dell tablet, and an initial look at the update doesn't reveal any immediate cause for concern. Lollipop appears plenty fast on this device, and now that the device is up to date it stands as a reasonable alternative to the HTC Nexus 9. Dell's update will likely roll out to all of their users throughout the day, so keep an eye out and be sure to head to the forums to discuss your Lollipop experiences!
YESSSSSSS! Can't wait to get home and update!

Encryption should default on all devices but before that google should do something to improve the performance.
maybe work with oem to make a standard hardware for encryption.

That's actually why they amended the info on Lollipop, it went from required mandatory encryption to recommended encryption, because of the performance issues associated with it. My understanding is the performance hit can be mitigated by better inclusion of Hardware support for the encryption.

Which is likely why this tablet doesn't suffer so much from it. Intel's CPUs are pretty good performers and have the Encryption support built-in. It can also depend on the quality of the storage chips used, as well.

Man, people goin be aaannngry! Especially if it causes slowdown... And dell probably can't afford the bad feeling. But it could be worse, you could live in Britain! Unless you do, then if you don't like this consider it salt for your wounds. Wubba lubba dub dub!

I updated lat night and had a performance boost on my high end games. Everything got faster. I assume the x86 CPU is being utilised better with the 64bit code in Lollipop, plus Intel's architecture is designed for encryption processing.

Nice,
Cant say i know any owners Posted via My G2

Dell updated something???

Really happy that the update is finally done. This should also pave the way for better x86 compatability in Android 5.0. To my knowledge these are the first x86 devices to get the 5.0 update. With that being said, forcing encryption is a terrible idea. I've tried it on multiple devices and ended up factory resetting to remove the encryption within a week. the performance slowdowns were just crazy compared to un-encrypted devices.

The owner of the device should be the one who decides to encrypt or not. If Google or the devices OEM wants to decide, then they should supply the device for free.
As of now, I have the option to encrypt my phone or my tablet and I like it that way. Posted via Android Central App

My thoughts as well. It's MY device so the decision whether to encrypt or not should be mine and mine only. I'd be rip roaring pissed if Dell did this to my Windows PC (used to use them personally and professionally but have since moved on to a Surface Pro 3). What gives with Android where this is an acceptable practice?

In my experience, the encryption performance impact is only evident on slower CPUs. Since most recent products in the last couple of years are not in that category, encryption is beneficial. On my 2013 Moto X, for example (encrypted in Kitkat), there was no noticeable impact to performance or battery life. I think most knowledgeable users will have already encrypted. The benefit / trade-offs are probably not well understood by end-users, so protecting them from being compromised as a default is a good thing. Remember too that Lollipop uses ART, so the performance boost is a counter to any impact.

Not true at all. Encryption turned my Shield tablet into a nearly unusable brick within about a week of use. I'm talking 10 seconds from say, hitting the multi-tasking button to when it would display the cards. No such slowdown when it's unencrypted. I am a knowledgeable person, and want to use encryption, but the encryption is pointless and useless if it means that the devices are too slow to use for their intended purposes.

There is a noticeable difference on the same hardware between Lollipop and KitKat when encrypted. My X2 had no issues when encrypted on KitKat and became unbearably slow on 5.0. In the end I factory reset and am running unencrypted - hoping the 5.1 update resolves it but Motorola are stating mute on the subject.

The Dell tablet has an x86 CPU not an ARM 32bit, so it will handle encryption far better than other devices. Also the performance boost of an x86 CPU on Lollipop should be a plus, as this version of android handles 64bit processes in the OS.

I don't like the idea of forced encryption. Don't get me wrong... I love crypto but on a possibly consumer device without hardware assisted encryption it's got problems and even then there could be specific reason you don't want it. I'm guessing with some of the security issue that have plagued many platforms this is something we are going to see more and more of though.

Freedom of choice is the name of the game! Force something on people and the mob don't like it Posted via the Android Central App

I'm tired of the vendors making these "decisions" for the customer, especially if it has the possibility of causing issues. A good example is I ran into an issue recently where java wouldn't let me run a security appliance's java app because it had some kind of security violation. Java completely refused to let me run it even if I added the system to the exclusion list. Ironically, I was trying to run the app so I could UPDATE the appliance, which would give it a new, updated java app that didn't have the security violation preventing me from running the previous one. In this case, the vendor of java, Oracle, was preventing me from doing my job.

Isn't this tablet from 2012 or 2013? I've been debating about getting a tablet and this one keeps coming across my radar.. Nice to see it's being updated to Lollipop which is something that won't happen with my GS3 :(

This is for the Venue 8 7840 which came out in January. Posted via the Android Central App

All Dell Venue 8 7000 tablets now bricked. Posted via Gold 64GB Galaxy S6

I updated lat night and had a performance boost on my high end games. Everything got faster. I assume the x86 CPU is being utilised better with the 64bit code in Lollipop, plus Intel's architecture is designed for encryption processing vs current 32bit ARM CPUs from some vendors.

Luckily my Venue 8 model 3840 won't get the lollipop update :( Posted via the Android Central App

This update seems to speed up everything on the device. Probably placebo effect, but there is for sure no performance decrease. Posted via the Android Central App

Update is smooth as butter.

>Nexus users quickly discovered they had little say in the matter Funny, neither my Nexus 5 nor my Nexus 10 encrypted itself with updates. I have the option to encrypt it if I want to or leave it open (which I have). That sounds like I had a LOT of say in it.

While it is good to see that the encryption seems to work well on this particular tablet Dell still should have given users a choice. Some people obviously want, and have need of encryption. Others couldn't care less. If a user doesn't want or need a feature no matter how good it may be it is wrong to force it upon them. Posted via the Android Central App

Users can also choose to buy their Tech from other OEMs. It's Android. There are tons of them.

I have a Dell Venue 8 model 3830. Has 4.4.2 on it. Is there any plans for upgrades?? Posted via the Android Central App

What about the 3840 Posted via the Android Central App
Android Central Newsletter
Get the best of Android Central in in your inbox, every day!
Thank you for signing up to Android Central. You will receive a verification email shortly.
There was a problem. Please refresh the page and try again.