The Logitech G512 SE Lightsync RGB mechanical gaming keyboard is down to $69.99 on Amazon. This price is also matched at Best Buy. The G512 SE has mostly sold for around $150 until this price drop. The regular G512 can be found for around $100 on Amazon and elsewhere, but that version uses mechanical switches that are more tactile than clicky. Either way, today's drop to $70 is a new low price.
Click Click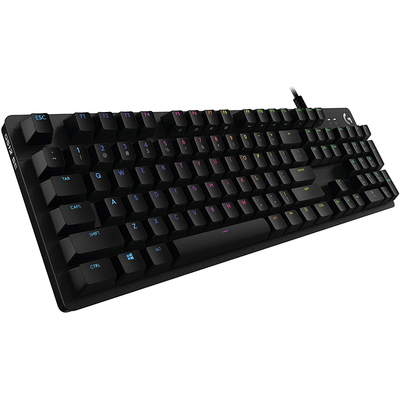 The keyboard uses RGB and Lightsync for fully customizable per-key lighting. The switches are clicky with tactile feedback. The USB 2.0 pass-through lets you attach a mouse, flash drive, or other device. Has keys dedicated to media and lighting.
$69.99 $150.00 $80 off
The G512 keyboard has per-key RGB custom lighting that gives you access to the full color spectrum. Plus, use Logitech's Lightsync technology to make the keys game-driven for some interesting patterns and effects. You will be able to customize all of this using the Logitech G Hub software, which is free and easy to use. It also gives you access to other things like custom macro programming. You'll also be able to use it to customize based on the game you're playing, connect to third party apps like Discord, and share your gaming profiles with the Logitech community.
The mechanical switches deliver a satisfying clicky feeling with tactile feedback. The keyboard is made with aircraft-grade aluminum alloy so it's thin and light while staying durable enough to last a long time. Additions to the layout include the ability to use the function keys to control volume, play and pause, mute, toggle game mode, change lighting, and more.
You'll also get a USB 2.0 port with pass-through built into the keyboard. This is a great way to plug in your mouse. You could also use it to access a flash drive or charge your phone.
The keyboard is only compatible with the Windows operating system, and it is backed up by a two-year warranty from Logitech. Users give it 4.6 stars out of 5 based on 31 reviews.
We may earn a commission for purchases using our links. Learn more.